88 Fortunes Mobile Slot
Play 88 Fortunes With 1000% Bonus Up To £1,000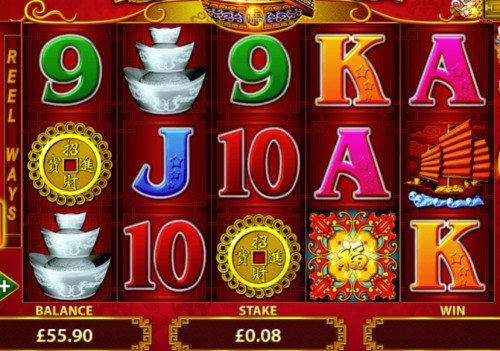 Mobile Slots - Register Here - View Promotions

88 Fortunes Mobile Slots
SG gaming have released yet another cultural delight with their Mobile Slots which invites you to taste the culture of the Orient. Play across the 5 x 3 reels, soak up the mystique of China and take advantage of the 243 different ways to win the game! If you love a high variance game, you're in for an absolute treat with 88 Fortunes! There's an exciting free spins round on offer along with the clever top tier betting features, a 88x* multiplier on offer and access to a constantly growing progressive jackpot bonus! Expect plenty of wins too, thanks to the 96% RTP.
88 Fortunes Game Info
RTP
96%
Features
Free Spins, Jackpot, Wild
Developer
SG
Reels
5 Reels
Paylines
243 Paylines
Eastern cultures have always been fascinating, and while there are many different regions to be explored in the East, it is unlikely that the West's obsession with China will fade any time soon. They have so many brilliant aspects of their culture. From the food to the fashion, to their music. It is literally a whole new world!
Game Summary
So, it makes sense that SG once again explored China with their online slot game 88 Fortunes which they made with a little help from their in-house design team Bally Tech. A flight to China may cost a fair whack if you're in the UK, and there's also the risk of culture shock if you do find the funds for the trip. So, why not have your cake and eat it? Experience the culture from your sofa – or wherever you choose to play from AND have the chance to win the cash jackpot which will give you enough cash to make as many trips to China as you want!
One of the unique selling points to 88 Fortunes is how SG and Bally found clever ways to incorporate the theme. They chose 88 Fortunes as a title, as the Chinese believe that the number eight is an omen of good luck, so the number 88 must be even more lucky!! In the West not too many people believe in numerology, but it is still massively ingrained in the Chinese culture.
There is even an 88x* multiplier on offer, and they've factored in the number 8 with the minimum betting amount too! But let us be honest, it's the fact that you can win 88 x* your original stake amount as you spin which is the most exciting part about the multiplier!
There were a fair amount of Oriental-themed online slot games when 88 Fortunes was first released. However, 88 Fortunes was set apart with the unique feel of the slot. There are plenty of cute aspects of the Chinese culture – the lucky golden cats for example! So, SG and Bally created a slot game which was as cute as it was authentic and stylish. The red and gold colour scheme will definitely add to the authenticity as you spin the reels.
There is little to separate the symbols on the reels with the background and the rest of the other stuff that is happening on the screen as you spin the reels. So, it can be a little overwhelming visually, but after a few spins you'll be familiar and comfortable with the reels in no time.
88 Fortunes Mobile Setup
There are numerous different aspects to 88 Fortunes which set this slot apart from the other online slots available to play today. So, it may not be ideal if you are fairly new to online slots, or you are just looking for a simple experience. There may not be many bonus features, but there are plenty of new elements to this online slot.
Instead of using different bet lines as you would in other online slot games, 88 Fortunes mixes it up slightly and requires you to make winning combinations just by finding symbols which run from left to right. This is how you will be able to enjoy 243 different bet lines with 88 Fortunes instead of your average offerings of between 5 and 50. Obviously, not everyone will be delighted by the prospect of betting with that many bet lines, but it is always nice to have the option!
There are also a fair number of symbols which you will see on the reels to 88 Fortunes, which will make it a little more difficult to make a winning combination. You'll see a mix of standard and specially-themed symbols; the low value symbols are ones which you will probably have seen before, they include A, 9, 10, K, J and Q.
While you can still hope to win a fair amount of money by matching 5 symbols in a normal online slot game, with 88 Fortunes, you'll only receive 1 coin if you match five of them! It is a good job that there are enough higher valued symbols on the game too which also incorporate the theme, you can expect to see Chinese coins, ingots, birds and ornate ships.
At this point we will point out that the process of setting your bet amount is also a little different, rather than just having a minimum and max amount you will be able to choose different levels to play with. The higher the level you choose, the better the perks you enjoy will be! As you can imagine, playing with those lower value symbols can be frustrating so, if you want to go with the top tear, you can introduce plenty of 'gold symbols' these will ensure that you trigger more big wins. You'll be able to keep an eye on how many gold symbols you are playing with, as this will be displayed to the side of the reels to help you keep track.
But it's not all 'go hard or go home', the top levels are entirely optional. You'll just need to find the best way to play which suits your budget and your playing style. Although for players who are working with a budget, it is advised that you check out some of the alternatives we have suggested down below.
Bonus Features
Grab your notepad and pen, because it's time to go through the bonus features of 88 Fortunes. There's a fair amount to say here. So, it is definitely worth saying at this point that if you are looking for a classically styled online slot game, you will be fairly disappointed that there is so much to learn. But for those willing to learn a few extra rules and have plenty to look forward to as you spin the reels – there is plenty of appeal to 88 Fortunes.
Firstly, you'll get two bonus features with 88 Fortunes. One will be a fairly standard offering of a free spins bonus round, then you will get the progressive jackpot feature which can be a little more difficult to understand.
Free Spins Bonus Round
The free spins bonus round is probably the only thing which SG have kept straight forward with 88 Fortunes which is a nice surprise!
If you are no stranger to online slots, you'll easily get to grips with the gameplay here. Triggering the game is incredibly easy. To enter the free spins round you will need 3 or more scatter symbols (gongs). Unlike many free spins rounds it doesn't matter how many you find on the reels because the standard amount of free spins is set to 10*. That may not seem all to generous, but once you understand the gameplay in the free spins rounds, you won't be able to wait to try it out for yourselves! As you are whisked away from the main mode of play you will notice that every time you spin the reels, only the higher value symbols will appear. This not only increases your chances in making a winning combination, it also increases your chances of winning big! It is very unlikely that you will come away from the free spins bonus round without seeing an increase to your coin balance, and you won't have needed to spend a penny on your spins.
Even though the original allocation of the free spins is set to ten, there's always the ability to extend your play by finding even more gong symbols on the reels while you are in free play mode. If you've thought ahead and surrounded yourself with the lucky number 8, then you may just end up playing the free spins round forever!
Progressive Jackpot Bonus
It is almost a wonder why any online slot player chooses to play an online slot game which doesn't offer a progressive jackpot bonus, especially when you consider that you have the chance to win a life changing amount of money with every single spin of the reels.
Progressive Jackpots are a fairly new feature in online slot, so, if you haven't come across them before, we will do our best to explain just how exciting winning a progressive jackpot could be!
A progressive jackpot isn't set to any fixed amount, instead, it's constantly growing – apart from when it ends up in some lucky player's coin balance that is! The amount comes from the money which is being paid in by players around the globe. Hence why you will see a much smaller return to player rate to what you can expect from a slot game offering a fixed jackpot. Now, that seems pretty easy to understand, but there's a nice little trick to ensuring that you have the best chance of cashing out with a huge amount of money.
We briefly touched on gold symbols and Top Tier playing before but we will explain in a little more detail here. Playing Top Tier grants you more gold symbols which are waiting in the balance, so it literally pays to have the highest number of gold symbols to play with! But even if you can only afford to pay with the lowest bet amount, you've still got a really good chance! But the option is always there if you want to make the progressive jackpot a little more of a reality.
At this point we should probably mention that there is not one, but three jackpots in the 88 Fortunes online slot game. However the minor and major jackpots are nowhere near the size of the grand jackpot! But there's still so much to play for! If you're lucky enough during the main gameplay you will be taken to a side game where you will need to play a pick n mix game, if you make the correct selections and match 3 symbols you are guaranteed to see an increase to your coin balance.
About the Mobile Slots Developer - SG
SG Interactive and Bally Technologies weren't always two sides of the same coin. Once, they were totally separate entities with very different histories. So, to truly understand their enviable legacy we will have to run you through how they both started independently before coming together in a force which is strong enough to take on the likes of Playson, Eyecon, Pragmatic Play and Microgaming.
We'll start off by introducing you to Bally Technologies, considering that they are were established much, much earlier than SG. In fact, they were in operation far before the internet, even far beyond the time people had a telephone in their home! And yes, we're talking about the landline, not the smartphone! So, what were they up to back then? They made children's toys originally, before they were able to take advantage in the progression of technology and could take part when it came to creating more exciting games such as land-based slot machines. They had an incredibly big influence in shaping the world of gaming terminals, we have a lot to thank Bally Tech even if we never knew it at the time. No one usually questions who the brand is behind new toys, well, they certainly didn't back in the day! Considering how much change Bally have seen as a company is almost overwhelming, so, it says a lot about their work ethos that they are still a powerhouse of a company. In the 1970s Bally were well established as a provider of games such as pin ball machine and one-armed bandits, they were renown throughout Europe for providing exhilarating and innovative slot machines. So, it was a natural leap into the online slot game world. Bally certainly made their mark in the early days. With specially licenced slot games such as the Wonder Woman online slot and the Betty Boop online slot. You may not see many of their original titles around much these days, what is much more common are the online slot games which they have created in partnership with SG. The two industry giants combined back in 2014 when SG made the acquisition of Bally Tech. But it was never their intention to totally transform the company. Instead, SG made the decision to keep Bally just as it is and kept Bally as an in-house team which works for SG.
Bally weren't the only big game developer which SG saw a lot of benefits in owning. SG also snagged Barcrest who are responsible for Rainbow Riches. Considering the history of Bally, as you can imagine, they weren't a cheap company to buy outright! Just think of how many expertise they have picked up along the way from running since the early 20th century! The sale went ahead in 2014 for the sum of 5.1bn dollars.
Now that the three companies are combined, they have 500 employees in total who are mainly located in their Manchester and London offices in the UK! However, the brand's reach is well on its way to moving into global domination territory!
Back to the online slot game in question. Here is what the game developers said about 88 Fortunes on their website where you will also be able to give the game a go for free using the demo
"88 Fortunes is the perfect chance for players to test their luck! Featuring 10* Free Games that can be endlessly re-triggered. The game features the All Up game style, which gives players the chance to buy gold symbols to increase their winning opportunities. As player buy more symbols, they become eligible for more jackpots. This game is sure to spread fun and fortune to all players! "
Similar & Related Games to 88 Fortunes
Considering that SG are no longer just a standalone online slot provider, it should come as no surprise that they have a pretty sizeable portfolio between all three of them. Most online slot game developers only usually get to cover a theme once, but there are plenty of alternatives from SG gaming! We've found the best two online slots which keep the same theme but offer a certain amount of variance!
Fu Dao Le Online Slot By SG: It was a fairly common complaint with 88 Fortunes that there was far too much going on with the screen. There were so many things popping out with you, and it could get a little too much especially if you spend a fair few hours on a slot game at a time. So, SG's game Fu Dao Le strips back the graphics and offers you a much more zen gaming experience. That's the main reason we chose to include Fu Dao Le on this online slot. As well as the fact that the online slot offers you 243 different bet lines to take advantage of, along with a generously high return to player rate which sits at a pretty 96%. The colour scheme behind the slot is brilliant too. Online slot games have always had the ability to help you reduce your stress levels, the same can certainly be said with this one!
Emperor's Gold Online Slot by SG: Traditionalists are sure to love Emperor's Gold by SG, it still does a good enough job of celebrating Chinese culture, but SG have chosen to go with a more classic feel this time which takes us right back to the roots of online slots at the same time as offering cutting-edge beautiful graphics which really make the reels pop. The 5x3 reel slot grid offers a meagre number of bet lines at ten, however a low number of bet lines is fairly standard when you play on a more classic online slot game! So people who like the classics slots will probably anticipate that already! There's a 'big bet feature' which is totally optional for you to use. By placing down a higher stake you will be able to boost the return to player rate from 94% to 98%, so there is definitely an incentive when it comes to using the big bet feature. If your main complaint with 88 Fortunes is that it was a little overly complicated, then you will definitely enjoy how simple SG have left this online slot which still gives you the ability to explore the Chinese culture in an authentic way.
Similar mobile 88 Fortunes in the News
When is the last time that you opened up a newspaper or magazine and saw a review or article about an online slot game?
It doesn't happen all too often, so, when it does, you know that the game is going to be a pretty big deal. And it is safe to say that 88 Fortunes made some pretty big waves in the online slot game community. The online slot even allowed SG to open up to brand new markets such as Bulgaria. Pretty much every gaming partner has been eager to get involved with the release of 88 fortunes.
The Managing Partner for National Lottery Bulgaria, said, "Scientific Games' digital products have proven an excellent fit for National Lottery Bulgaria, outperforming our expectations within the first 24 hours of launch. Our players are engaging with the games immediately, and we see demand and repeat gameplay growing every day."
So, you can see there why so many online casinos are keen to partner up with SG!
*Any references to bonuses and free spins are subject to the following terms: New players Only, £10 Min fund, £1,000 Max Bonus, Max Bonus Conversion equal to lifetime deposits up to £250. 65x Wagering requirements and Full T&C's Apply.
*All values (Bet Levels, Maximum Wins etc.) mentioned in relation to this slot game are subject to change at any time.