Burning Wins Mobile Slot
Play Burning Wins With 1000% Bonus Up To £1,000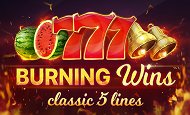 Mobile Slots - Register Here - View Promotions

Burning Wins Mobile Slots
Get your classic slot fix with the HD online slots by Playson which offers an easy way to win big on the 3x3-reel 5 bet line set up with 96.21% RTP. Amigo Slots are proud to host the old-fashioned HD game along with hundreds of other slots such as 'Star Burst', 'Rainbow Riches', 'Fluffy Favourites' and 'Bonanza'
Burning Wins Game Info
RTP
96.21%
Features
Red sevens grant the highest prize
Developer
Playson
Reels
3 Reels
Paylines
5 Paylines
Sometimes there is no better feeling than reverting to the basics. If you're fond of minimalism the Burning Wins Mobile Slots is sure to be of appeal for its uniquely simplistic yet infinitely entertaining mode of play.
Game Summary
The no frills game features 5 pay lines over the 3 x 3 reels and it's pretty much as old-fashioned as it gets. If you formerly had a lot of love for the land-based slot machine but you'd now like to enjoy the same exhilaration from your sofa, bed, or even your bath (- we won't judge you), Burning Wins is the perfect game to make your transition with.
If you've taken the time to look around Amigo Slots, you'll have noticed that there are plenty of online slots to suit everyone. From those who like Sci-Fi and Adventure films, to those who want to spin the reels to the songs of their favourite Rock bands such as Guns n' Roses or Megadeath. Yet, Amigo Slots recognises that sometimes, less is more. While some players may go out in search of the complex games which require a lot of strategic thinking, many players want a relaxing experience where they can sit back, watch the reels spin and their coin balance increase.
A great perk to the laid-back slot machines which tend to be more suited to players who are not yet confident to play on the slots suited for high rolling players is the above average return to player rate. As the game developers don't have to pay out for merchandising fees, you see more of the money that you put into the game coming back to you! Either way, there's still no shame to be found in the preference for something classic and traditional – which is why classic Sega and Nintendo games will never lose their appeal! The simplicity brings us back to our childhood or nostalgic times before the 21st century and we were given more choice than we knew what to do with!
If you opt to go traditional, there's no better way to get back to basic than the 2018 online slot which was released by one of the fastest growing software development companies of recent years; Playson. If wouldn't surprise me to hear that the game developers spent a fair amount of time in land-based casinos before developing Burning Wins. As the game developers who have been involved with the gambling industry since the 1980's, it's safe to say that's highly likely. If you had a favourite land-based arcade spinning the reels on Burning Wins will take you right back there with the very first spin of the reels.
Burning Wins Mobile Setup
Most of the modern slot machines will use different symbols to fit in with the theme of the game. For example, an Egyptian-themed slot will incorporate symbols such as scarab beetles, pharaoh dogs, sphynx cats and talismans. Yet, with Burning Wins, it is literally the definition of a Fruit Slot with different fruit symbols appearing on the reels.
If you don't want to be distracted by flashing animations or quirky imagery in the background which may draw your eyes away from the reels, you're sure to appreciate the serene yet plain purple background of the game. Combining the gold with the purple gives the online slot a regal feel, which indicates the effort which Playson went through to create a high-end, no frills game which still suits people who care about graphic quality. Mentioning no names, some other traditional slots can appear to be fairly grainy, and don't quite match up to modern day standards, yet, there's no chance of Burning Wins being regarded as archaic as any time soon.
Burning wins has the most simplistic set up you can expect from an online slot with just three reels and three rows. Usually, you'll find most basic online slots with the 5 x 3 set up. But the lack of rows is more than made up for by the RTP which rivals many other classic themed slots. Still think a limited amount of symbols on the reels as they spin a bad thing? You'll soon see how the limited number of reels makes it easier for winning lines to be created. So, if you're more concerned about the regularity of your wins instead of the size, that's just another reason why you should try your luck with Burning Wins.
Before you start to spin the reels, it pays to know what the different symbols in the game are and what they represent.
The classic watermelons, plums, lemons, oranges, cherries and bar symbols are there joined by the usual high paying suspects; the bells and the lucky sevens. As you land the winning combinations on the online slot, you'll be able to hazard a guess at where the otherwise unthemed slot acquired its name – the winning combinations will catch fire to add a little heat to the game.
Some of the symbols are worth more than others – as there are no bonus features to speak of, we'll cover the highest paying symbols down below. Yet, to give you a basic idea of the kind of wins you can make on Burning wins, the maximum jackpot will be 300x* your initial stake amount, while the lowest is 35x* your initial stake. Depending on your bet size, you're still blessed with the ability to win yourself a tidy amount of cash which could even pay for your next holiday. While the total jackpot amount isn't sizable in comparison to the high rolling online slots, it's certainly not something to sniff at!
If you're no stranger to online slots, you're probably starting to wonder when we're going to get around to talking about the Wild Symbols and the Scatter Symbols. That's because to make sure the simplicity of Burning Wins went uncompromised, there were none included.
So, instead, in the Bonus Features section, we'll tell you what there is to get excited about when it comes to Burning Wins!
Bonus Features
It's not all too often that we can leave the bonus features section for an online slot empty at Amigo Slots. Yet, Playson have given us relatively little to talk about.
So, we'll run you through the maximum pay outs from landing each kind of symbol.
Matching three of the cherry, orange, lemon or plum symbols on a pay line will win you 700* coins max.
The watermelon and lemon symbols when matched on a pay line will win you up to 1500* coins.
Matching three Bar symbols on a line can win you up to 2000* coins.
The bells symbol can offer a maximum coin amount of 4000*.
The one which you'll really want to watch out for is the 777 symbols matching. If you're lucky enough to land three of those on any of the 5 pay lines, you'll cash out on the jackpot prize of 6000* points.
So, the basic game with Burning Wins really is all you get, there are no side games, bonus rounds, free spins, scatter cards or 50/50 chance wagers to place. The basic game is all you get – which is perfect if you're looking for a nice and easy stress-busting game which is very generous in terms of how frequently it pays out.
Just as no two online slots are the same, no two online slot players are the same. So, while some may find the lack of bonus features a hindrance, there are just as many that players that are delighted to spin the reels time after time and not go in search for a more complex alternative to the game.
About the Mobile Slots Developer - Playson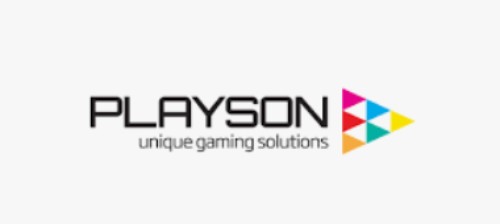 Burning Wins was created by one of the fastest evolving game developer's Playson. Even though the small company may be fresh from their online inception in 2012, they have already made a myriad of games which wormed their way onto the top lists of 2018. While Playson may be new to the world of online gambling, they have been well-immersed in land-based casino betting since the 80s and it definitely pays off in their uniquely designed games.
In 2015, Playson had a major breakthrough when they gained the licence which allowed them to operate in the UK. This not only opened their games up to thousands of new users who log onto online casinos daily in the UK, but it also gave Playson the ability to establish itself as one of the more serious software developers in the industry. Online Slot gaming is just one way that Playson are making waves with their electronic gaming solutions which a myriad of online casinos are all too eager to get their hands on. They also create interactive Poker, Roulette and Blackjack games.  
Online casinos aren't the only organisations keen to work with Playson either. In the past, they've collaborated with companies such as 1x2 Gaming and Pariplay to co-create and co-launch games.
Once you spin the reels on one of Playson's games, you'll soon see how they got their acclaimed status in the industry. Their games have been created with innovative tech and capacity to create viscerally stunning HD graphics.
Playson's headquarters are located in Malta, yet, in recent years they have spread across the globe and now employs over 250+ of the sharpest minds in game designing. Even though online slots are a big part of the company, they also cater for land-based casinos with gaming solutions.
At the end of 2018 Playson had over 40 online slot games in their portfolio which includes Crystal Crush, Lucky Staxx: 40 Lines, Wild Warriors, Fruits & Jokers: 40 Lines and Book of Gold Double Chance. Once you familiarise yourself with Playson, you'll start to see a common trend of simplicity to their games while many may reflect on old-school online slots as being glitchy with poor quality graphics, Playson have ensured they have brought simplicity into the 21st century with their games.
Playson are constantly adding new and reinventing their most popular games for their website, the rate of production is only accelerating as they increase their workforce in different parts of the globe.
When you hop across to the Playson website, you'll get to see just how proud they are with what they cooked up for Burning Wins. This is what they had to say about it:
"Burning Wins by Playson is a new classic slot with 3x3 game field and 5 lines. A fruit machine that will be pleasing players all over the world.
avouritesA combination of paired red sevens grants the highest prize possible. Simple, elegant, everlasting - just like your audience likes it!"
Similar & Related Games to Burning Wins
As you'd expect, there are a fair amount of games which are similar to the classic set up of Burning Wins. The classic theme is without doubt the most popular theme on the market. So, we've done all the hard work for you and scouted through the games offered by Playson which bear a resemblance to Burning Wins.
Super Burning Wins: The most obvious similar game to Burning Wins is the sequel of Super Burning wins. Yet, if you're looking for a major facelift to the online slot to have happened, you might be disappointed. They've kept the layout of the game, with the same level of simplicity as Burning Wins with just one exception; there's a 2x* multiplier which is triggered when you fill the reels with the same symbol giving you the potential to win a 1500x* stake. Paired with the boosted RTP which now sits at a pretty 96.26% we wouldn't blame you for preferring to spin the reels on Super Burning Wins instead!
Phoenix Fire: Phoenix Fire is strikingly similar to Burning Wins, yet the game which was released three months after Burning Wins adds a little bit extra flair to the gameplay. You'll still get to enjoy the classic set up of a traditional online slot, with just a little extra flourish courtesy of the extra features which appear in the form of a Phoenix. What better creature to represent in a slot game other than the Phoenix which represents resilience, hope, and victory?
Sevens & Fruits: If you've noticed Playson's trend to keep it simple by now, Sevens & Fruits certainly won't disappoint, the simple and clean 5 x 3 reel slot makes the gameplay slightly harder to get repeated hits, yet, with a generous RTP of 96.31%, there's practically nothing to lose. While Playson have included a Scatter symbol in Sevens & Fruits – it doesn't actually do anything such as enable free spins, perhaps Playson are simply preparing you to become the high roller you were destined to be.
Similar Mobile Slots (not made by Playson)
If none of Playson's online slot games are of appeal, we've selected other top online slots which are sure to be of appeal for anyone looking for a simple slot experience from a major-league game's developer.
Rainbow Wilds Online Slot: The classically formatted slot was produced by Iron Dog Studio, upon the release of this game, they took traditionally styled online slots to the absolute next level. The format is much more in line with the modern set up of five reels and four rows, which give you 1024 different ways to win. On top of that, players also have the ability to access three bonus features including a free mode round. Given that there's so many ways to win, there has been absolutely no compromise to the RTP which still stands at a modest 96.06% RTP. Rainbow Wilds is sure to go down a treat with any players looking for a simple no frills set up which comes with an impressive number of features.
7s To Burn: Barcrest created a strikingly similar set up to Burning Wins with 7s to Burn, they've turned up the heat in the online slot which may not boast the HD graphics of Burning Wins with the 3 x 3 set up but the game does offer a chance to play with the Wild symbols – just in case you were wondering what all the fuss was about with the Wilds. The RTP is a fairly low 95.10% but that's just the price you have to pay when you want to test your luck with the wilds!
Fire n' Hot: Fire n' Hot was created by Tom Horn Gaming who jumped n the fiery fruit trend with their 2017 release which keeps it simple on the reels, yet gives you a little extra to look at in terms of a backdrop. Any Greek Mythology fan will be stoked to see that Fire n' Hot takes place in the magical depths of Hades. You'll play across 5 reels and three rows, yet still keep to the same amount of paying lines as with Burning Wins. Yet, Fire n' Hot offers a slightly lower 95.74% RTP. But, at least there's the chance to double your winnings and a fair amount of other bonus features such as wilds and scatters.
Burning Win Online on Mobile
Burning Wins is available to play via PC and via the app. To get the most out of the gaming experience you may want to play the game in Portrait Mode instead of Landscape mode. This will ensure that none of the quality is lost and you still get the same visual treat as you did on your desk top or laptop.
Given that the animation and graphics are fairly simple and should be supported even by the oldest of smartphones, Burning Wins is an ideal game to play on your Android or Apple device.
Burning Win News
When a hotly anticipated film or album is released the media are all over it, sadly, the release of Burning Wins didn't quite make newspaper headlines. Yet, some publications didn't fail to notice the announcement of Burning Wins. On June 5th, 2018 Playson released the details of Burning Wins. Their Press Release stated the following:

"We have kicked off summer with a hot new release of yet another featured fruit slot, part of our Timeless Fruit Slots campaign.
Burning Wins brings simplicity back in style, with a straightforward invitation to just Spin & Win! Bare of extra features and with a self-explanatory 3x3, 5 lines grid layout, this game is sure to appeal to players of all ages and levels of experience. 
The nostalgic may find themselves heart-warmed by the concept of it all. There is unsurpassable charm in getting to play an old-time favourite subtly enhanced with modern tweaks: HD graphics, brilliant colours, seamless playing experience and ever surprising 3D animations."
 In December 2018 the popular game review website LCB speculated on what is in store in Playson's future:

"Launching new releases isn't the only thing Playson takes pride in. In other words, the group has reached several important supply agreements during the last couple of months, including both operators and software studios. The company's portfolio spans across a wide network of brands, such as Video slots, Paf and Betsson Group, offering tables games and roulette offerings as well."
Why is Amigo Slots the Best Place to Play Burning Wins?
The perks don't just end with your first deposit at Amigo Slots – even if that is more than enough of an incentive to spin the reels with us for the first time. Not many online casinos offer 1000% bonus up to £1,000 with your first deposit, but Amigo Slots isn't your average online casino!
Here are some extra incentives that have made our new customers loyal customers.
*Any references to bonuses and free spins are subject to the following terms: New players Only, £10 Min fund, £1,000 Max Bonus, Max Bonus Conversion equal to lifetime deposits up to £250. 65x Wagering requirements and Full T&C's Apply.
*All values (Bet Levels, Maximum Wins etc.) mentioned in relation to this slot game are subject to change at any time.