Diamond Strike Mobile Slot
Play UK Mobile Slots at Amigo Slots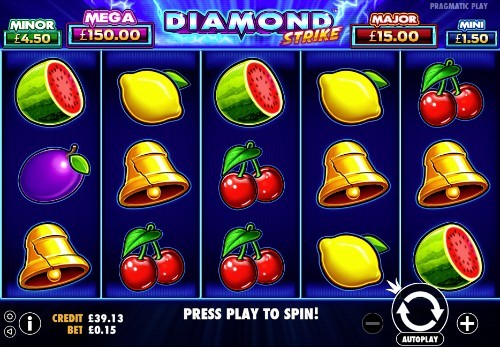 Mobile Slots - Register Here - View Promotions

Diamond Strike Mobile Slots
Looking for a high-intensity slot experience? Look no further than Pragmatic Play's explosively impressive online slot with plenty of bonus perks and a return to player rate of 96.48%
Amigo Slots are proud to host Diamond Strike along with hundreds of other slots such as 'Star Burst' 'Fluffy Favourites' and 'Bonanza'!
Diamond Strike Game Info
RTP
96.48%
Features
Free Spins, Jackpot, Scatter Symbols
Developer
Pragmatic Play
Reels
5 Reels
Paylines
15 Paylines
Have you ever wondered where diamonds come from? Spinning the reels on Diamond Strike may just tell you everything you need to know about the process of mining of diamonds!
Game Summary
Pragmatic Play certainly cooked up yet another gem of a slot with Diamond Strike. They were also keen to keep the gameplay classic – perfect if you're new to the online slot world and you're looking to find your feet. The Mobile Slots may not look all to complex, but Diamond Strike is deceptively progressive with plenty ways of making the most of your stake amount!
Diamond Strike is a 5 reel 3 row video slot which aside from being visually explosive will also provide a pretty exciting gameplay experience. There may only be 15 different bet lines, but for those who don't tend to place a stake on more than a couple this shouldn't be the problem. A lot of the time it is easy to feel that you should bet on ALL the play lines – but if they're limited to 15, so are you. Besides, with the awesome features which Pragmatic Play packed into this game, we'd be surprised if you noticed the lack of betting lines. Instead you can enjoy generous multipliers, bonus rounds, and free spins! Sounds like a pretty sweet deal, right?

Amigo Slots recommends Diamond Strike to any online slot players who are looking to play with a medium size budget. It may not offer 6-figure life changing jackpot amounts, but if you are looking for regular wins, this game may be an awesome option for you. You can place a bet from 15p anywhere up to £75 – which isn't ideal for high rollers looking to slap down some serious cash with each spin. Whatever betting amount you are playing with Diamond Strike you have the potential to win 1000x your stake amount! So, if you're playing with the maximum £75 betting amount that is up to £75,000.
Despite all of the TNT action you will see on the reels, the symbols on the slot are inspired by the symbols found on land-based slots. So, for anyone that wants to see the classic melons, cherries, plums and lemons light up, Diamond Strike is the perfect online slot to relive the joy of playing in your favourite land-based casino!
The gameplay is fairly simple. Match 3 symbols for a 5 coin reward, match 4 symbols for a 10 coin reward, match 5 symbols for a 40 coin reward! And they are just the lower valued symbols on the online slot.
The bell symbol will reward you with 10 coins every time you match 3, 20 coins every time you match 4, and 100 coins for every 5.
But the highest symbol of the game is the lucky red seven which will pay out 10 coins for 3 matched symbols, 20 coins for every 4 matched symbols, or a whopping 200 coins when you're lucky enough to find 5 on them on an active bet line.
The wild symbol of the game is the only non-traditional symbol and it will appear as an unmissable white sparkling diamond. In Diamond Strike the wild will replace every other standard symbol on the reels when it falls – apart from the scatter.  If your wild land on an active pay line, you can win up to 300 coins! Which may still be quite far off the maximum jackpot amount in Diamond Strike, but we'll show you how to cash out on that through our explanation of the bonus features.
Diamond Strike Mobile Setup
Of all of Pragmatic Play's online slots, the graphics and the visual treat that they provide you with when you spin the reels may just surpass what they have created with every other online slot.
The game was released in 2017 and considering that Pragmatic Play release up to 2 new online slots every month, they've definitely set the bar with Diamond Strike. Yet, they didn't go for anything too flashy with Diamond Strike, they created just what their fans wanted with the online slot which pays an ode to traditionalism.
Creating the perfect simple online slot may seem like an easy feat, but to be under the impression that what Pragmatic Play created with Diamond Strike was nothing, but pure genius would be the biggest underappreciation of their talent. As we said before, the aesthetic of the game is VERY minimal, apart from when the reels are spinning that is, then your screen will be lit up with the incandescent visuals. For the soundtrack to the game, Pragmatic Play decided to go with a nostalgic offering of 70s Disco laced with that infectious infusion of funk. There are no side animations to busy up the screen as you are attempting to enjoy Diamond Strike in all of its glory, there's no side animations to distract you, just the pure visual delight of watching the reels spin. The volatility for Diamond Strike has been ranked as medium, so, if you're looking for a great all-rounder with your online slots, look no further. Enjoy the sizable pay outs AND the high frequency of the cash prizes.
While innovation may bring some games to the front of their field, it is the simplicity and solidity of the structure behind Diamond Strike, the simple 3 x 5 reels, the no-frills background, just get stuck in and watch the reels spin.
If you are looking for a little extra action from your online slot, we've got you covered. We host a wide variety of games on Amigo Slots to suit every niche, every budget, every preferred way to play. Although you might want to hear about the bonus features which Diamond Strike has to offer before you decide that it's not for you!
Bonus Features
If Diamond Strike didn't quite seem to be of appeal, wait until you hear what is in store for you with the bonus features! With the online slot you will get the wild symbol which we mentioned before and scatter symbols. In Diamond Strike the scatters can reward you with up to 300 coins whenever they land on an active bet line. To make things even more interesting, Pragmatic Play were generous enough to offer 2 additional bonus features which should be enough to get fans of a more complex slot excited.
So here are the additional bonuses which can help you on your way to buying your own diamonds, or whatever you want to spend your winnings on!
Now, there's no getting around the fact that the bonus features to Diamond Strike aren't exactly new. But they are something far better. They are classic. So, if you're no stranger of the reels, you'll probably have seen some of the bonus perks before.
The feature which will allow you to win the jackpot, is the jackpot bonus round. You will be entered into this round when 3, or more 7 symbols appear on the reels during the normal game play. It is time to get a little it excited if this happens. You'll move away from the reels to a new screen, on that scree you will see twelve tantalising diamonds. If you've ever played a matching game, you'll be familiar with how the bonus game is set up. You will get to choose the diamonds, until you get three pairs that match. This means that you can win 1 of 3 different jackpot amounts.
The mini jackpot will give you a 10x multiplier, the minor will reward you with a 30x multiplier, and the major really amps things up and gives you 100x our stake.
Now, we'll move on to tell you how to get a chance of finding that 1000x multiplier we spoke of earlier. It's the generosity of the mega symbols which will help you to get there! All you have to do to win that desirable 1000x multiplier is match three mega symbols. Considering that the maximum stake amount is set to £75 that means you can be laughing your way to the bank, with £75,000.
If that wasn't enough to seal Diamond Strike's deal, there's also the sweet free spins to look out for! Many online slot games go under fire for not including them, so to keep their reel spinners happy Pragmatic Play have been kind enough to allow players the possibility of winning unlimited free spins!
The free spins can be yours if you find scatter symbols on reel 1, 3, and 5. If this happens, you'll soon know about it. Originally you will be given 8 spins, but if you find more diamond wild symbols on the reels when this happens, your free spins count will be boosted once more.
About the Mobile Slots Developer - Pragmatic Play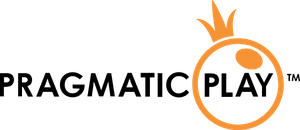 While not many people may have heard about Pragmatic Play back in 2015 when they opened their doors, by 2018, they were one of the most talked about games developers who turned their deft hands to online slot games. Yet, with the talent on their side, their success story is definitely not your ordinary underdog story!
They've conquered the globe since their inception, and most recently, they have made their way into the hearts and jurisdiction of Sweden! The UK is still one of Pragmatic Play's main markets, but their quest for world domination doesn't seem to be coming to an end any time soon.
It is not just online slot games that Pragmatic Play excel in either. In 2019 Chief Business Development Officer commented:
"Lifting the lid on our live casino portfolio is a landmark moment for Pragmatic Play as we underline our multi-product strategy. This step is also highly important to capitalise on our ever-growing regulated market presence."
If that doesn't have you all a little excited from what we can expect from Pragmatic Play, I'm not sure what will. They've promised a range of new live casino products. Considering that they already offer online scratch cards, bingo games, and live casino games, imagine what else they have up their sleeves!
But let's get back to the reels. Ever since Amigo Slots was born, we knew that we needed to make the content from Pragmatic Play a feature. Their inhouse content, is almost unparalleled by any other game developer, as is their rate of production. As of 2019 they are responsible for more than 100 different online slot titles. Yet, as they know that the times and technologies are changing, they are constantly looking for new ways to embrace the wave of change and really offer something new to players of online slot games. They may have touched on every slot game theme there is by now. But that doesn't stop them testing the waters with new and innovative games, as well as classically styled games as players enjoyed Diamond Strike. They know, that sometimes simplicity is key. But what is even more important, is their ability to make sure there really is something for everyone.
And that is the story of how Pragmatic Play captivated the world with their online slots, now their games offer excitement and exhilaration to people in over 78 countries by translating their games into 26 different languages and as of 2018 13 different jurisdictions.
Whenever you see Pragmatic Play's name, you know there will never be any compromise to quality. They've set the bar for themselves with their popular titles, and they will always ensure that they will aim above it for their next release.
Thanks to their ability to keep up with modern trends and tech, Pragmatic Play games are some of the most mobile-friendly games you could care to play. If your phone can keep up with the HTML5 software (and it probably will), you'll have no problem when it comes to playing some of Pragmatic Play's features on the go.
Some of their most recent titles which you may have heard of include: Wolf Gold, Leprechaun Song, 3 Genie Wishes, Gold Rush, Chilli Heat, Great Rhino, and Da Vinci's treasure. Wolf Gold has even been successful in scooping up awards! But you'll always find Pragmatic Play's name featured prominently amongst the top lists of online slots!
Here's what Pragmatic Play stated when Diamond Strike was released back in 2017:

"Hit the jackpot in Diamond Strike™, the 3x5, 15 lines video slot. The diamonds are wild and stacked on all reels. More diamonds are added in the high reward FREE SPINS FEATURE. When you hit 3 golden 7 symbols, you have the chance to win up to 1000x your bet in the Jackpot Bonus Game!"
Similar & Related Games to Diamond Strike
If you are looking for an alternative simple slot to Diamond Strike, it can be an absolute minefield to find a good one which will suit you. So, Amigo Slots have taken the time and effort to find the best other options out there for you. There are literally hundreds of online slot games which have their own individualistic twist on simplicity. We'll do our best to run you through the best options currently available to you.
Magic Crystals by Pragmatic Play: Visually, everything stays the same with Magic Crystals. The 5 reel slot, is similar to Diamond Strike in many ways, yet, they've made the theme their own and in place of more classic symbols such as fruit, bells and 7s, you will instead get to play with different crystal symbols. Similar to Diamond Strike each of the crystals are worth different amounts, yet, one slight criticism of Magic Crystals is that it can be a little hard to follow the symbols on the reels, but all of that is forgotten with the 243 different bet lines to place a bet on, oh and wild symbols which will kindly double your reward! There's also a bonus round offering you up to 25 free spins and a 3 x multiplier! Sweet.
7 Monkeys by Pragmatic Play: If you're after a highly visual online slot with a little appeal of the wild, then look no further than Pragmatic Play's stunning game 7 Monkeys. With a jazzed up theme and plenty of colourful characters to get onboard with, you'll soon lose yourself in the slot which takes you to the depths of the lands where the monkey is king. In the midst of the jungle, you'll find the slot with the slightly lower 92.71% RTP, but there are plenty of features which make up for that. Which come in the form of generous cash jackpots and the chance to grab 150 free spins. Now the free spins may be unlimited with Diamond Strike, but your chances of getting up to 150 in one go is fairly slim!
Diamonds are Forever: 3 Lines by Pragmatic Play: Diamonds are Forever: 3 Lines may very well have been made with the same visual template as Diamond Strike, but the game play is very different as there is only one reel on this game. Now, that may not be enough for people who are looking for a more complex game, but for those who favour simplicity, they will soon come to relish in the wonders of Diamonds are Forever. The jackpot amount is significantly lower, offering just 6000 coins, but with a high RTP of 96.96% there's still a lot to love about the online slot.
Similar Mobile Slots (not made by Eyecon)
If somehow you found that none of those online slots by Pragmatic Play were quite for you, here are the best alternative games from other industry-leading game developers.
Starburst by NetEnt: No frills games don't have to be boring, which is proven with NetEnt's most popular game starburst, with 10 different pay lines, a max jackpot of 50,000 coins and a 96.1% return to player rate, there isn't a lot which isn't to love about Starburst. If you haven't played the online slot before, you might want to put the game on your slot bucket list.

Dazzle Me by NetEnt: If the name doesn't get you excited, the gameplay definitely will be. NetEnt cooked a dazzling storm with their ever-popular slot which definitely mixes it up from what you get with Diamond Strike. Instead of playing on a 5 x 3 grid, the reels have different numbers of rows in the following formation 3 x 3 x 4 x 4 x 5 layout – so that the reels look a little like a pyramid on its side. There are 72 different pay lines to bet across, and one of the biggest jackpots you will be able to find from an online slot standing at an impressive 96.1% RTP.
Black Ice by Realistic: Prepare for a drop in the temperature with the Black Ice online slot by Realistic, it is slightly frostier than Diamond Strike, but if that's what does it for you, you'll also be able to have a chance of winning the 10,000 jackpot by playing across 10 bet lines on the 5 x 3 reel slot which is visually flawless. There is also a lot to be said with the features offered by Black Ice through the free spins, bonus features and wilds!
Diamond Strike News
While you can be sure that Amigo Slots will always give you the full lowdown of our online slots, we thought we would also let you know what some of the best review websites have to say about Diamond Strike:
Here was the review from Pogg.com
"The Diamond Strike slot game can be found at casinos offering Pragmatic Play software. Pragmatic Play are one of the newer slots game developers on the market but their products are polished and professional in feel and operation."