Eagles Flight Mobile Slot
Play UK Mobile Slots at Amigo Slots
Mobile Slots - Register Here - View Promotions

Eagles Flight Mobile Slots
Eagles Flight is a 5 reels, 40 paylines UK Mobile Slots game by High 5 Gaming. Eagles Flight has Wild, Scatter symbols, Double Wild, and Free Spins features, and an RTP of 96.50%. The best place for you to enjoy Eagles Flight is here with us at Amigo Slots, which is also home to more than 500 great online slots including Starburst, Chilli Heat, Rainbow Riches and Fluffy Favourites.
Eagles Flight Game Info
RTP
96.5%
Features
Free Spins, Scatter Symbols, Wild
Developer
High 6 Games
Reels
5 Reels
Paylines
40 Paylines
The dramatic scenery of North America is our setting for Eagles Flight. There may be no animal more readily associated with the United States than the eagle, and so this Mobile Slots celebrates that noble bird in all its glory. There's also a pinch of North American symbolism present in the slot, helped out by the background setting of the canyons at sunset. It's all we can do not to put our hands over our hearts, and start singing the Star Spangled Banner.
Game Summary
Although the presentation of Eagles Flight is a little basic, it's quite a big slot. The layout is an expanded 5x4 set of reels, within which there are 40 paylines to spin for. The reels are red and contained within a golden frame with winged flares at the top left and right-hand corners. Between that and the backdrop of canyons and sky, we find ourselves distantly reminded of the movie 'Top Gun,' although there isn't a plane to be seen. Unusually for a modern Mobile Slots game, a static photograph has been used as the backdrop. That's certainly the most realistic way to showcase the scenery, but it's a little retro as well. To complete the atmosphere, there's an eerie soundtrack playing to accompany you as you spin.
On the reels, you'll find playing cards representing the low values, but mercifully there are only four of them (J to A). Above that are three representations of animal heads, which may be based on old Native American totem poles. Quite correctly, the top valued symbol in the base game is the eagle, which can appear as either a single eagle or a double eagle. When it appears as a double eagle, it counts as two of the symbols in one.  
Along with the base game symbols, we also have two more to pay attention to. There's a big silver wild symbol, and that can substitute for any of the standard symbols, helping to complete paylines as it does so. It won't, however, substitute for the scatter. That's represented by a golden eagle and is holding the keys to the Eagles Flight bonus symbol. What's especially worthy of note about the wild symbol is that when it's paired with the eagle symbol, it counts as a double eagle - that means that one wild plus one eagle symbol will pay out as if you had three of them in a line. Land a wild next to a double eagle, and the slot will pay out as if you'd lined up four!  
Bonus Features
This is a fairly stripped-back thread by High 5's standards, and it comes with only one bonus feature. Despite the singularity of it, it's a solid offering.
The bonus is Free Spins. You need to see golden eagles land on the middle three reels all at once in order to trigger it. Once you've done that, you'll get seven free spins. Sadly, you can't win any more spins from within the feature, and nor can you re-trigger it when it's started. There is a little perk to be had here though - on any spin (or possibly even all of them), any single eagle symbols which land on the reels may spontaneously be upgraded to double eagles. If you can land them next to a wild, then you could be looking at high winnings.
That's all there is to Eagles Flight - it's a basic and traditional slot, and it's presented in a basic and traditional style. The use of the double eagle symbol helps out with both the level of excitement and the value of your wins, and it's certainly atmospheric and scenic. If we're brutally honest, it's not quite at the level of High 5 Gaming's best slots, but then when we're talking about their best slots we're talking about smash hits like Double Da Vinci Diamonds, and not everything they release is going to hit those heights! Eagles Flight isn't a Mobile Slots game which is going to blow you away. There's nothing wrong with it though, and it's a fine choice for a low-intensity slots session.
About the Mobile Slots Developer - High 5 Games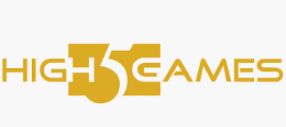 Given the frequent references to American scenery and culture which are present in Eagles Flight, you probably won't be surprised to hear that the company behind the slot is as American as apple pie. High 5 Gaming is based in New York, and have only really been making inroads into the UK Mobile Slots scene in more recent years. They've been covertly trading here for a while though; they have a history of licensing their slots to other developers, and then allowing those developers to release their slots in the UK and Europe, rebadged. That means you may well have played and loved a High 5 Gaming slot before, even if you weren't aware of it at the time!
They might be relative newcomers to UK shores, but they're anything but newcomers to the business of making slots. They started doing that almost 25 years ago, back in 1995, just before the internet really began to take hold. They're still better known at home than they are here, but they now have a permanent UK office, so we anticipate them becoming more active within our market in the near future. We suspect their days of allowing other developers to stamp their own labels on High 5 slots are long gone! We mentioned that we don't feel that Eagles Flight is High 5 at their absolute best, so it's only fair that we point you in the direction of some of what we believe to be their top-tier work; as well as Double Da Vinci Diamonds Online Slot and the linked slot Diamonds by Da Vinci (they really love that Da Vinci theme), spend some time with Gypsy Mobile Slots Game or Lucky Rooster, and see what you think of them.
When they're not reaching their audience the conventional way, i.e. through Mobile Slots websites like ours, they're offering their services through social media. The High 5 Casino is exclusively available to Facebook users, focusing on players who want to play slots but don't want to drag themselves away from Facebook in order to do it. Time will tell whether that turns out to be a profitable move for them.