Fluffy Too Mobile Slot
Play UK Mobile Slots at Amigo Slots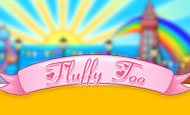 Mobile Slots - Register Here - View Promotions

Fluffy Too Mobile Slots
Amigo Slots are proud to present the cuddliest installation of the Fluffy Favourites franchise yet! The 5 x 3 reel slot gives a generous return to player rate of 95.3% along with the most adorable bonus round. Win up to 3000x your original stake amount from the adorably designed slot by Eyecon!
Fluffy Too Game Info
RTP
95.3%
Features
Hook a Duck Feature, Free Spins
Developer
Eyecon
Reels
5 Reels
Paylines
25 Paylines
Were you one of the reel spinners who caught Fluffy Favourites fever? Been looking for a sequel which lives up to the excitement of the slot? You're definitely not going to be disappointed in Eyecon's reinvention of the magic with Fluffy Too.
Game Summary
I'm sure you can guess from the name that Fluffy Too is the second installation of the Fluffy Favourites series. But how much did they change? Enough for you to enjoy a whole new level of excitement and not enough that you will miss the cute factor which the game exuded.
Eyecon clearly went above and beyond to crank the cute factor up with Fluffy Too. Its packed with sticky-sweet childhood nostalgia. But even better than that, it's not an Mobile Slots which likes to complicate things. Instead of having five or six different bonus rounds to contend with, you'll only get the one main bonus round. Once it's been triggered (and it shouldn't take all too long) then you'll definitely know that Fluffy Too by Eyecon is well worth playing.
So, let's find out how Eyecon really pulled a game-changing move with Fluffy Too!
It would be absolutely criminal for Eyecon to strip away the best parts of the game. After all, they created a sequel instead of a new game for a reason! So, expect to meet the same characters on the reel and you can also expect to see the same kind of layout on the 5 x 3 reel slot. Sadly, that does mean that the graphics haven't been given a bit of an overhaul but considering that Fluffy Favourites is still popular today despite the fairly low graphic quality, it doesn't look like that counts as a con to reel spinners.
However, no matter how many similarities are shared between Fluffy Favourites and Fluffy Too, there is still plenty to get players excited about the new online slot! Could we really expect to be disappointed by Eyecon? At Amigo Slots we have come to depend on Eyecon to provide us with the cutest, budget-friendly slot games, every day our players cash out to the sound of Eyecon's generous prizes. And Fluffy Too already has the potential of amassing a cult following just the same as Fluffy Favourites did. Time will tell on that matter as Fluffy Favourites has been around since 2006, whereas Fluffy Too has only been around since 2017.
If you're new to the online slot world and wondering what the hype about Fluffy Favourites and Fluffy Too and Fluffy Favourites is all about, here's all you need to know to truly appreciate what Eyecon have created!
Fluffy Too follows a standard 5 reels with three rows grid set up. On the reels will be the customised symbols which are unique to the Fluffy Favourites franchise. Each symbol is much more of a character which you will fall in love with – especially considering the fact that they can win you a significant amount of cash!!
The cuddly toy characters are the same as you will have played with on Fluffy Favourites, all slightly dishevelled, yet still infinitely adorable teddy bears which represent different animals. The cute factor is everything when it comes to Fluffy Too, and you will quickly come to appreciate just how integral it is.
Alongside the main reel spinning action, you will get to appreciate a bonus round which the scatter symbol can trigger if you find three or more on the reels but we'll cover the bonus round in a little more detail down below.
Fluffy Too Mobile Setup
Here's all you need to know about spinning the reels in the main gameplay.
The beauty of Fluffy Too is that there isn't an awful lot to get to grips with, Eyecon merged simplicity with excitement and managed to make their best sequel yet!
The setting of the slot will take you right back to childhood with the cute and charismatic background. There isn't an awful lot to see behind the reels, but the nice and soft pastel colours are more than a little easy on the eye. You'll see a carnival fenced off with bunting along with a high tower in the sky, just peeking up from above the pink white and blue reels. There aren't many seaside resorts with a tower, in fact, it could really only be one beach; Blackpool beach. Who doesn't have fond memories of Blackpool beach?!
As with their other online slots, the graphics have been kept light and colourful. Some might say it's 'childish' but some may say it's light and breezy with the golden yellow sand and rainbows making the bright sky even brighter. Was anyone's trip to the seaside ever complete without you playing on penny slots and winning yourself a cuddly toy? Probably not. Although you won't be able to win any cuddly toys from playing the online slot you'll be able to win enough coins through the jackpot to buy yourselves hundreds or maybe thousands of cuddly toys for yourself! Fluffy Too is located right on the beach front, you may not be in danger of getting swept away by the tide as you play, but you will almost certainly get blown away with the prizes on offer from Fluffy Too.
There is no soundtrack with the Fluffy Too online slot, which seems to be a trademark move from Eyecon recently. Their apathy towards including them in their online slots is probably for the better. Who really wants to hear the same few notes played over and over again? While you won't get a soundtrack to the game you will still be able to enjoy the sound effects of the game. The disappointing thuds with every non-winning spin may be enough to make your heart sink, but hearing the ringing of an arcade machine paying out as coins hit the jackpot is definitely worth it. The animations are minimal, aside from when the pink elephant springs to life and treats you to a little dance. (You'll definitely come to love the pink elephant more than any other character on Fluffy Too).

A major bonus point to Fluffy Too is the limited amount of symbols which will appear on the reels, with some online slots it is easy to get overwhelmed with the numerous amounts of standard symbols before you even take into consideration the special symbols.
But the rules to Fluffy Too are easy. Match three or more, and you will be given a coin reward for every matching symbol which falls on an active pay line. There are 25 pay lines to Fluffy Too, bet on one, or bet on all 25 to increase your chances of making a winning combination! With the ability to set your stake amount from as little as 2p, you'll be able to increase your chances of winning and still play on a budget. If you're new to online slots, Fluffy Too comes highly recommended as opposed to an online slot which sets the minimum stake amount at 50p or higher.

There are 10 different standard symbols in Fluffy Too including

The duck & goldfish – 5 matched = 100 coins
The giraffe & rhino - 5 matched = 200 coins
The lion & tortoise – 5 matched = 300 coins
The panda & gorilla – 5 matched = 500 coins
But those wins are nothing compared to what the pink dragon and the purple hippo can win you. The pink dragon is definitely the least cuddly toy on the reels, but it's definitely one of the most generous considering that it can win you up to 1000 coins when you match 5.
But keep your eyes peeled for the purple hippo who can help you to win 5000 coins!

Bonus Features
Now we've got to grips with the standard symbols, it's time to move onto the most exciting feature of Fluffy Too, the bonus rounds! Some may argue that it's all about the cute factor and the high volatility of Fluffy Too, but the online slot reaches maximum levels of cute when the bonus round kicks in!
While Fluffy Too definitely doesn't have the most bonus features in an online slot, the essential elements are right there, and it certainly won't feel like anything is missing as you enjoy the reels. Simplicity really was the key to Eyecon's success with this slot.
Wild Card
The Wild Card which will amp up the excitement in Fluffy Too is the Pink Elephant which is by far the most animated part of the online slot. If you're familiar with how wilds usually work with Fluffy Too it is no different. The symbol replaces every symbol on the reels aside from the scatter symbol, which will definitely increase your chances of forming a winning line. Yet, in this game, the wild comes with the extra added benefit of doubling what you would have won!

Free Spins Bonus Feature
The question on most online slot players lips when they discover a new online slot is 'does it come with free spins?'. With Fluffy Too, you're definitely not going to be disappointed! Not only do you get the chance to win an original amount of 25 free spins, but you can also re-trigger the free spins while you are playing in free spins mode!
To get your hands on the free spins, you'll have to chase down the pink elephants, how many you find will determine how many free spins you are given.

3 pink elephants will give you 15 free spins
4 pink elephants will give you 20 free spins
5 pink elephants will give you 25 free spins

If that doesn't sound like enough, don't be disappointed! There are up to 400 free spins up for grabs once you are lucky enough to enter the free play mode! And that's not all there is to get excited about!
The matching combinations won't pay out like they do in the normal mode of gameplay. Eyecon have been generous enough to allow their slot players to enjoy trebling the amount you would receive if you weren't playing in the free spins round!
But if that wasn't enough excitement for you, the Coin Pusher round will be!
Coin Pusher Bonus Round
If you weren't already aware, Eyecon like to run with different arcade style bonus rounds with each of their games. For this bonus round they have chosen to go with one of the most classic physical arcade games which has ever existed. But thankfully, the coin pusher in Fluffy Too isn't rigged unlike the physical machines were!
To trigger the Coin Pusher round you will need 3 or more scatter symbols to get started. It doesn't matter if you've not had to collect 2ps or 10ps ahead of the game and the chances are far greater that you will walk away with money left.
While the bonus feature may have a coin pusher theme, it's really more of a pick and choose game really. You will be given a number of different options to choose from, if you're lucky enough you can win some pretty tidy multipliers. The highest multiplier on offer from this online slot is the 100x multiplier which will significantly boost the stake amount you used to trigger the bonus round in the first place. While you may not win the 100x multiplier every time, you'll still walk away with at least a small multiplier! No one should leave the fair empty handed!
The jackpot is won through the main gameplay, but the volatile bonus rounds still definitely give you plenty of reasons to get excited about the game!
About the Mobile Slots Developer - Eyecon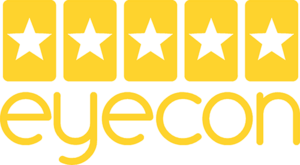 Perhaps understanding Fluffy Too will be a little easier once we introduce you to the developers. The Fluffy Favourites franchise may have been Eyecon's most successful slot franchises, but there's plenty more to learn about them than that!
Today, they are one of the biggest online slot developers in the world. While they are especially popular in the UK, their games are played in many different locations all around the world! Their games are played in tonnes of different countries, jurisdiction, and languages. It would seem that no matter where Eyecon's reel player's come from, they all speak the same language when it comes to admiring the cute yet pragmatic gameplay experience. It should really be no surprised that Eyecon didn't struggle when it came to world domination when they are quite literally a global company with their offices both in Australia and the Channel Islands.
Their games portfolio didn't kick off with an online slot. When Eyecon first started out, their design expertise was solely dedicated to videogames. Their first game was an immensely popular videogame named 'Gore'. Which, as you can imagine, they are now working worlds away from that kind of theme with fluffy favourites. Their first online slot was "Temple of Isis" which has since been renamed to "Temple of Iris" for pretty obvious reasons. Their first slot saw its debut back in 2003. Online slot games weren't nearly as popular as they used to be back then. It's hard to imagine a time when reels were mainly spun on traditional slot machines. But games such as Fluffy Favourites changed the whole landscape of the online slot world. Eyecon ensured that they were right at the forefront of the change, which is why you can follow the evolution of their talent and their tech in their online slot games.
With a 60+ strong portfolio, they are still incredibly proud of their Fluffy Favourite franchise, but if you haven't quite fallen in love with any of their former titles, you might not have to wait around for long before you do as they are significantly increasing their rates of production.
In 2018 Eyecon reels spun over six billion times – that number is only set to increase in the near future.
Here's how they summed up the gameplay to Fluffy Too.
"As you may know, Fluffy Favourites Slots is one of the most popular online slot games around. And now you can enjoy the sequel just as much!  Fluffy Too Slots is full of the cutest and most cuddly animals just like the original, and it has a nostalgic and fun fairground background theme. There are FREE spins and multipliers, as well as an incredible jackpot to be won! Fluffy Too Slots is simply irresistible, so start spinning today. Don't miss another minute! Good luck!"
Similar & Related Games to Fluffy Too
With the Fluffy Favourites series, there's plenty to choose from, but we've found the two best alternatives for you!
Fluffy Favourites by Eyecon: Of course the 2006 original release was going to make the list. Sure, the graphics now seem a little tired, but it's still the number one slot for budget players looking for a nice and simple slot experience, just with a little extra added cuteness. Fluffy Favourites Online Slot comes with the same amount of pay lines and the same RTP as Fluffy Too, it's well worth checking out if you haven't already!
Fluffy Favourites Fairground by Eyecon: It was always going to be a risk releasing two games of the same franchise so close to each other. But Fluffy Favourites Fairground Mobile Slots Game has plenty of appeal. Especially for anyone who has previously been disappointed by the graphics in the earlier slots in the series. The bonus round invites you to hook a duck with the same set up as you can expect from Fluffy Too.
Similar Mobile Slots (not made by Eyecon)
Can anyone actually match Eyecon when it comes to cute and cuddly? Lets find out!
Big Top by Microgaming: If you really must insist on playing a cute online slot which hasn't been made by Eyecon, then Big Top comes highly recommended. It's clear that Microgaming had plenty of their own ideas when it came to the carnival themed slots, which is slightly less cute, but packs in plenty more circus fun.
Teddy Bear's Picnic Online Slot by NextGen: If you've been waiting for an invitation to the teddy bear's picnic all your life, here it is. The online slot rivals Fluffy Too in terms of adorability. Mainly because you'll be helping loveably fumbling bears attempt to sort their picnic out. They're having a right nightmare. Their helplessness definitely contributes to the cute factor, but one thing that really does let the game down is how uninventive they got with the bonus round.
Furballs by Core Gaming: There's cute, and there's cute with a charming sci fi twist, which is exactly what you get with Furballs. Whether you think they're creepy or cute, they are still really fun to play with! While Eyecon like to go fairly minimal with their games, Core Gaming like to pack plenty more action into their online slots, which may mean that you have to blow up a couple of the alien characters. If you can sleep afterwards, then you're sure to love Furballs and all of the sweet payouts it offers too!
Fluffy Too Slot on Mobile
If you're looking to play Fluffy Too on mobile, you definitely won't be disappointed. The online slot boasts the same smooth and seamless gameplay experience as you get with the desktop and laptop experience. So spin the reels wherever you are!
Fluffy Too News
Fluffy Too was always bound to attract plenty of attention, so it's no surprise that it ended up popping up in plenty of UK newspapers. The Daily Mail even included the online slot in their list of the best ways to bust stress! At Amigo Slots we would definitely be inclined to agree!