Lucha Legends Mobile Slot
Play UK Mobile Slots at Amigo Slots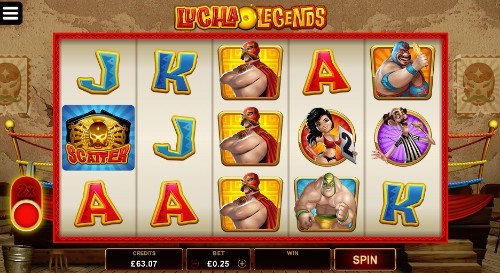 Mobile Slots - Register Here - View Promotions

Lucha Legends Mobile Slots
Amigo Slots are proud to present Microgaming's most exhilaratingly outrageous Mobile Slots. They packed as much action as they possibly could onto the 5 x 3 reel grid which pays a unique homage to Lucha Libre – or in other words Mexican Wrestling. Play with 25 bet lines, a 96.38% RTP, and the chance to win 2,200 your bet amount!
Lucha Legends Game Info
RTP
96.38%
Features
Free Spins, Wild, Scatter symbols
Developer
Microgaming
Reels
5 Reels
Paylines
25 Paylines
For an exotic hit of high-octane action, look no further than Microgaming's 2018 online slot Lucha Legends!
If your average online slot game doesn't pack in enough excitement for you, then you're sure to find plenty of reasons to keep on spinning the reels on Lucha Legends – aside from the massive amounts of cash you are able to win of course.
Game Summary
Microgaming pulled out all the stops with this vibrant slot which comes to life with the ultimate offering of cartoon fun. People who are wanting a much more lax online slot appreciate may want to consider another online slot. But those looking for the ultimate gameplay experience are sure to be enamoured by Lucha Legends.
Lucha Legends is the ultimate online slot ode Mexican wrestling, otherwise known as Lucha Libre. They do things a little differently in Mexico. As you have probably already noticed with their other unique takes on culture. They've certainly put their own stamp on wrestling too. While western wrestlers may also wear pretty inventive costumes, that's nothing compared to what you can expect from Mexican wrestlers. This part of their culture is just as vibrant as the rest! Which is probably why there are so many Mexican-themed slot games such as Chilli Heat, there are even online slots which explore their day of the dead celebrations!
If you thought that wrestling was a bit of a big deal in America and the UK, in Mexico they take wrestling incredibly seriously (even if they have ridiculous outfits and characters). While they also ensure that it is highly entertaining for the viewers, it is also a way of life for the wrestlers. And you can expect to see the same level of commitment from the wrestlers which you will see on the reels of Lucha Legends!
Sadly, you won't be able to get up close to any of the current icons of Mexican wrestling such as Shocker, La Parka, Blue Demon or El Santo, but you will be able to enjoy the colourful characters which Microgaming have created for the online slot. Microgaming have created some brilliant licenced online slot games in the past few years, however for some of their games, they opt to go with images of their own creation. Generally, you will find that through licenced games you will get a significantly lower return to player rate. This is due to how much the game developers have to pay out in fees. So, with Lucha Legends, you'll be able to enjoy a generously high RTP of 96.38%.
To give you a better impression of what Mexican wrestling is all about, "Lucha Libra" literally means "free fight". That means that pretty much anything goes! Unlike with Western wrestling games the rules haven't been tightened around health and safety regulations. Plenty of Mexican wrestlers get seriously hurt. But it's all in the name of good old vibrant Mexican fun!
Microgaming have kept the theme running right through the Lucha Legends online slot. Yet, they have also chosen to include some standard symbols on the reels which will appear next to the specially designed symbols which make this online slot so endearing!
The wrestlers have made sure they have put their best costumes on for you before they appear on the reels. Along with the wrestlers, you will also see a happy go lucky ring girl and a referee who will do his part in overseeing the matches. It won't be long until you find a new favourite amongst the characters! In fact, if you have already had the pleasure of watching Nacho Libre, you will have a good idea on what you will experience as you spin the reels.
Even though Microgaming have gone with a cartoonish and 2D theme, the graphics are definitely still up to scratch with Lucha Legends. We'd even go as far to say that Lucha Legends is a visual treat.
The online slot will transport you to the location of a back street Lucha Libre ring. It's not quite as glamorous as where WWE wrestlers would throw down. In fact, it looks like the floorboards might just go through with all of the action in the ring! But it's charming and welcoming enough to allow you to spin the reels for hours and never tire of the quaint background. The ring is looking a little worse for wear, but you won't get to see all too much of what goes on, as the reels will conceal the ring.
The 5 x 3 grid has a colourful frame with a white background to make sure that the symbols are as prominent as possible. And if you were hoping for an exciting and immersive soundtrack, you definitely won't be disappointed with what Microgaming have cooked up with Lucha Legends. The music is jaunty, fun, and will probably get stuck in your head long after you've stopped spinning the reels. But, if that's not your thing, you can always hit mute and listen to your own music. But that will mean that you miss out on the enthralling sound effects which blare whenever you win!
Lucha Legends Mobile Setup
Now you're well acquainted with what the theme of Lucha Legends, it's time to run you through all of the clever little features, and more importantly how you will be cashing out on all the generous cash prizes. You can certainly make the most of your budget with Lucha Legends!
In total, there are 10 standard symbols which you will see on the reels of Lucha Legends and not all of them are all too inventive. There are four lower-valued symbols which are A, K, Q, and J which will allow you to top up your cash balance ever so slightly. But what you will really want to look out for are the wrestlers.
With Lucha Legends, Microgaming were keen to put a few distinctive twists on their online slot. So, instead of getting one or two high paid slots, you will be able to play with four high paying symbols. Each of these high paying symbols are the wrestlers. If you match 5 of the same wrestlers, you can win up to 450 coins! You'll also get to know the wrestlers on a first name basis! So, who are you going to cheer on? Tag team Pepe and Sal? El Diablo? Burro? Or, Martio? Although I suppose if they are giving you the same cash balance, you won't need to pick a favourite!
The wrestlers will also be joined on the reels by the referee and the ring girl, who will also be able to win you a fairly substantial amount of cash!
Now that's the standard symbols covered, we'll move onto the special symbols in Lucha Legends. There's the wild card symbol which is simply just the logo of Lucha Legends. It works in the same way as usual with Microgaming online slots by acting as a substitute and helping you to form more winning matches. The only symbol which it won't be able to replace is the scatter symbol which is one of the most stunningly apt scatter symbols you will have seen on an online slot. For Lucha Legends it looks like Microgaming put in just as much effort as WWE to make a championship belt!
The stake range in Lucha Legends is set from 25p, or you can place up to £75 on each bet. With this in mind, the online slot would be better suited to players with a small-to-medium size budget. But with the fun bonus features found in Lucha Legends, you will have plenty of chances to make the most out of your money!
Bonus Features
To anyone who is more used to playing online slots with tonnes of bonus features, Lucha Legends may seem to pale in comparison. While you may not have your pick of bonus rounds, online slot fans will definitely appreciate what Microgaming has cooked up with Lucha Legends. If you don't feel that it offers enough in the way of bonuses, we've also run through plenty of alternatives for you to explore to find the online slot which is closest matched to your playing preference.
Free Spins - Bonus Feature
Free spins are probably the bonus feature that most online slot players look out for when they are trying out a new game. Microgaming made sure that with Lucha Legends they definitely weren't disappointed. You won't have to wait around all too long before you unlock the free spins bonus feature in Lucha Legends.
To unlock this bonus feature you'll need to find the scatter symbol which is represented by the championship belt. You'll need to spot the belt on rows 1, 3, and 5. You may only start off with ten free spins, but if luck is on your side you will be able to win even more free spins during the free spins mode. Sadly, the free spins come with no extra perks such as multipliers, but there will be plenty of those on offer from the Super Wild bonus feature.
Super Wild Mode - Bonus Feature
Super Wilds aren't all too common in online slots, so you may not have come across them before. But don't worry, they are incredibly easy to get to grips with, but even better they are one of the most exciting bonus features you could ever hope to trigger. The Super Wild mode will be triggered while you are spinning the reels during normal gameplay. You can expect the feature to kick in when you create a winning combination using the wild symbol (the Lucha Legends logo). However, bear in mind that this doesn't happen every time you use a wild to create a winning combination.
When you are lucky enough to enjoy the Super Wild Mode you will see the wrestlers spring to life and jump into animation. They've got their best moves to prepare you and get you pumped for the massive wins which are about to come your way! When this happens, you will either win a 3x or 2x multiplier, or you may win big through the giant symbols!
Power Up - Bonus Feature!
The Power Up bonus is totally optional. It's not for everyone, so don't feel any pressure to use it! The bonus feature helps you to get the most out of the online slot by doubling the stake amount which you have set. It may seem a little silly, as you could just increase it manually! But there's good reason for Microgaming including this feature, as every time you use the Power Up function you will increase your chances of winning big when it comes to the Super Wild Bonus feature!
All things considered, Lucha Legends is an incredibly simple online slot to play; which is great for slot fans who are new to the reels and are actively searching for simplicity.

About the Mobile Slots Developer - Microgaming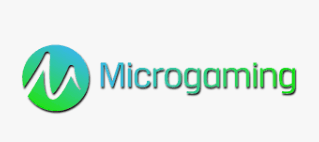 Microgaming has put their name behind some of the most popular online slots which are available to play on Amigo Slots. We are always keen to showcase their talent and allow our customer to experience their innovative in-house content and immersive themes.
Lucha Legends certainly stood as a testament to their talent, which we're sure all of our customers can appreciate. While they may have plenty of competition, Microgaming always seem to come out on top. Especially when it comes to their ability to scoop up awards from some of the most prominent awarding bodies in the online slot wold!
By taking a look back into Microgaming's history, it's easy to see that playing online slots through online casinos just wouldn't be the same. Microgaming opened their doors in 1994 when only a fraction of the technology we have today was around. They weren't just on the curve, they created the curve helping entertainment move away from land-based casinos to the comfort of playing from their home. You also have Microgaming to thank for creating the first ever slot game which was available to play on mobile!
Since the industry-leading company started out they have released a wide variety of slot machines. It almost feels that they have made an active effort to create an online slot game for just about every niche there is! You can enjoy everything from Gothic romance or go on adventures with Jurassic World. Other popular titles include Mega Moolah, Agent Jane Blonde, Highlander, and Break Away. Microgaming has been responsible for some of the best officially licensed slot games. HBO were always going to trust only the most reputable of slot game developers to release the online slot of their Game of Thrones series. The Game of Thrones online slot was brought out in the early days of the series back in 2014, so, it's not as visually spectacular as you'd hope. But for any fans of Westeros, the appeal is definitely still there to spin the reels.
But no matter what kind of online slot Microgaming turn their hand to, you're sure to appreciate the exceptional level of quality. And on average, you can expect to see a new game published by Microgaming every month. Even with those prolific rates of production, they have been careful to cut no corners. Their commitment to quality is probably the reason why they won the award of 'Software Supplier of the Year' in 2018 which was awarded to them by iGaming.
Microgaming isn't really ever far from the eye of the media. They always seem to make positive waves! They wormed their way into the Guinness Book of Records for offering the highest jackpot prizes. They've also been recognised for just how generous their games are after one lucky woman put down a 25p bet and won £16,000!
Now you've met the minds behind Lucha Legends, find out what they have to say about them over on their website where you can play the online slot in demo mode before you choose to spin the reels on Amigo Slots.
"Lucha Legends is a fun and vibrant slot that taps into the global popularity of Mexican professional wrestling, capturing the drama and excitement with several big-hitting features. In addition to 10 free spins, which can be re-triggered, the Super Wild feature and Power Up Mode aim to enhance gameplay and increase the player's win potential. This is a beautifully animated game designed to deliver round after round of action and entertainment."
If even after all that you're still not stoked to spin the reels on Lucha Legends, don't worry, we've got you covered with some alternatives!
Similar & Related Games to Lucha Legends
Sadly, there are no other Mexican wrestling-themed online slots currently offered by Microgaming's portfolio. But, as we said before, they have got practically every niche covered. Perhaps they have one in the pipelines, but in the meantime, why not check out some of the other sports-themed online slots from the iconic game developers.
Centre Court Online Slot by Microgaming: Okay, so Centre Court may be a little more reserved than Lucha Legends, but it is still a solid game by Microgaming. Even though it was one of the developer's first games it has definitely stood the test of time. If you have always wanted to visit the courts at Wimbledon, now's your chance! The 5 x 3 reel online provides a lax gameplay experience, a return to player rate of 95.1% and only 9 different pay lines but you'll still have plenty of fun spinning the reels!
Rugby Star Online Slot by Microgaming: Rugby players can be just as rough and ready as Mexican wrestlers, so Rugby Star is a great option – if you like rugby of course! Now, the cartoonish, silly appeal has been stripped away from Rugby Star and you will get a bit more of a serious and adult visual experience, so it may not be for everyone. But for fans of the sport, there's plenty of reasons to spin the reels, including the game offering 243 pay lines and four bonus features!
Football Star Online Slot by Microgaming: After we've run through Rugby Star, you can probably guess what Football Star is all about. It's safe to say that you will get a very similar experience with this immersive slot game.
Similar Mobile Slots (not made by Microgaming)
If you wanted to stick with the Mexican Wrestling theme, you may find some of these alternatives more to your taste. Even though the theme is the same, there is a lot of variation when it comes to the features and gameplay experiences.
Lucha Maniacs Online Slot by Yggdrasil: Lucha Maniacs was released in 2018, so the online slot has plenty of contemporary appeal combined with a classic set up. The 5 x 3 reel slot game offers 20 different bet lines and an incredibly generous RTP of 96.10% If you were disappointed by the simplicity of Lucha Legends, this online slot by Yggdrasil is sure to be of plenty appeal. There are many of unique bonus features to get to grips with, so it isn't recommended for beginners.
Lucha Libre Online Slot by Real Time Gaming: Real Time Gaming is yet another major league player in the online slot industry. They have become renown to how much excitement they pack into their online slots with the bonus rounds. If you're a fan of Mexican wrestling, then what could be better than actually getting to get a piece of the fighting action?! With the bonus round to Lucha Libre you will need to fight for your cash prizes which really offers a cutting-edge amount of excitement to the online slot.