Magic of Pandora Mobile Slot
Play UK Mobile Slots at Amigo Slots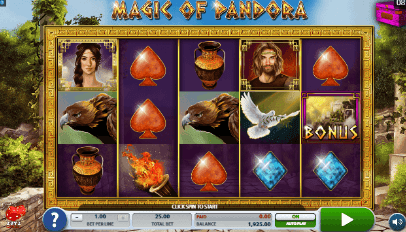 Mobile Slots - Register Here - View Promotions

Magic of Pandora Mobile Slots
Magic of Pandora is a 5 reels, 25 paylines Mobile Slots by 2by2 Gaming. Magic of Pandora has Wild, Bonus symbol, Free Spins, and Reel Modifier features, and an RTP of 96.01%. Amigo Slots is the best place for you to play Magic Box, and it's also home to over 500 great Mobile Slots like Starburst, Chilli Heat, Rainbow Riches and Fluffy Favourites.
Magic of Pandora Game Info
RTP
96.01%
Features
 Free Spins, Random Bonus Symbols, Wild
Developer
Microgaming
Reels
5 Reels
Paylines
25 Paylines
As a figure of myth and legend, it's hard not to feel like Pandora was a little hard-done-by. In Greek legend, she was the first-ever human, just as Adam and Eve were in Christian belief. For some reason, the Gods gave her a magic box containing all of the potential evil in the world, told her to look after it, and also told her she was never allowed to open it. That feels like putting far too much temptation in one person's hands, and so inevitably, she opened it. We therefore have Pandora to thank for all the sin in the world. Much as we shouldn't applaud her for it, I think if we're all being honest, we would have had less fun in life if she hadn't done it.
Game Summary
It's a pleasant change to be playing a Mobile Slots game with Pandora at the center of it. There's not a shortage of Greek God-themed UK Mobile Slots around at the moment, but the majority of them focus on Zeus, or Olympus, or more famous figures. Pandora is every bit as famous and interesting, and we think she deserves her moment in the spotlight! She's got herself a pretty looking slot, too. The golden frame of the reels hangs in the air in front of a sunny backdrop, capturing an ancient garden at the height of summer. The graphics, for the most part, are well-drawn and sharp. We could probably have done without the gray body at the bottom containing the buttons - it makes us feel a little like we're playing through Windows XP.
Playing card suits in green, blue, red, and orange represent the low-value symbols on the reels, and above them are a few symbols we associate with Ancient Greek times. There's an eagle, an amphora, a dove of peace, a flaming torch, a bearded male (he's probably supposed to be someone important, but we're afraid our mythology isn't good enough to identify him), and Pandora herself.
You're probably wondering when Pandora's famous box is going to turn up, and the first instance is as the wild symbol. We say 'the first instance' because a separate depiction of the box has implications for the exceptionally-clever bonus features, which we'll get to shortly. The wild can substitute for all other symbols except the bonus symbol, which is simply represented by the word 'bonus.'
Bonus Features
There are a few bonus features within Magic of Pandora; some of which come as reel modifiers during the base game, but can also be replayed within the main bonus to great effect. We'll take them one at a time.
While you're spinning away in the base game, a different version of Pandora's Box - i.e., not the wild symbol - will occasionally put in an appearance and give you one of three reel modifying effects. There's no way of triggering the box; it will show up whenever it feels like it, but it can happen at any time.
The first of the three tricks the box can do is to give you a Wild Reel. That's exactly what it sounds like - a whole reel full of wilds. That doesn't have to be just one reel either; sometimes two of them will go wild at once for extra effect!
The box apparently likes wilds, because its second effect is to produce a randomly-determined number of Extra Wilds for the reels.
If you think 25 paylines is a little low, then the third effect of the box may put a smile on your face. If you get the Extra Paylines feature, then the number of paylines jumps up from 25 to 50 for your next spin.
You might feel like only having those effects for one spin isn't much use to you, but as they're random reel modifiers, they're only supposed to be little perks. It's when they combine with the main bonus feature that things become exciting, and that feature is Free Spins. You'll need multiples of the bonus feature to appear on the same spin to trigger the feature, and the more you have, the better. Three symbols get you eight spins, four gets you twelve, and five gets you sixteen. If Pandora's Box decides to make a random appearance during the session, you'll get a further four spins.
Here's the clever part: No matter how many spins you receive, you can choose one of the features of Pandora's Box to play them with. Most people will probably opt for the wild reels, but there's a lot to be said for having the extra paylines instead. If you're not sure which one to go with, you can even split your free spins up, and try a few with each one!
The way in which the free spins feature is so customizable is one of the best things about Pandora's Box; you just don't get that much control over your game in the majority of UK Mobile Slots. Why not open the box yourself and see what's in here for you?
About the Mobile Slots Developer - Microgaming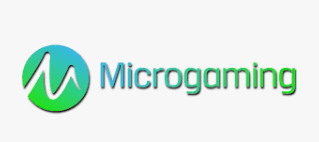 2by2 Gaming has teamed up with Microgaming to bring us this Mobile Slots game, but they're a company with a long and proud history within the industry. They're not one of the bigger names - hence hitching themselves up to the Microgaming wagon - but they have plenty of skill at their chosen craft. The company, which is based in Chicago, USA, estimate that between them they have a combined 120 years of experience at making slot games. That includes their expert mathematicians, sound engineers, and of course, game designers.
The fairly original way in which the bonus features in Magic of Pandora work is quite unusual if you've never come across it before, but then if you've never come across it before you've probably never played another Mobile Slots game by 2by2 Gaming. Slots like Cabaret Royale Mobile Slots Game, Pinocchio's Fortune, The Sand Princess Online Slot and Agent Valkyrie showcase them at their most inventive. Hopefully, through their more recent arrangement with Microgaming, their slots will become more widely available, and we'll be able to bring you more of their interesting creations.