Mighty Kong Mobile Slot
Play UK Mobile Slots at Amigo Slots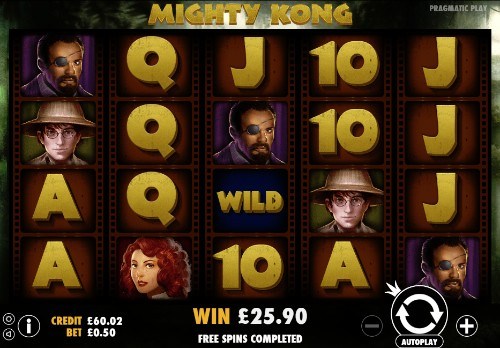 Mobile Slots - Register Here - View Promotions

Mighty Kong Mobile Slots
Prepare for a cinematically spectacular UK Mobile Slots from Pragmatic Play. Mighty Kong serves up an equal amount of action and culture with their 5 x 4 reel slot which offers 50 different bet lines to play across, along with the exciting possibility of winning 1000x your original stake! Expanding wilds, and free spins will also help you to enjoy the volatile slot which offers a 96.64% RTP.
Mighty Kong Game Info
RTP
96.64%
Features
Free Spins, Wild, Scatter symbols
Developer
Pragmatic Play
Reels
5 Reels
Paylines
50 Paylines
Like your online slot games to come with a cinematic appeal? You may very well find your new firm favourite with the Mighty Kong Mobile Slots game from Pragmatic Play. While it isn't a licenced slot from the King Kong franchise, it is definitely still one of the best online slot games which help you to enjoy the unique and compelling story.
Game Summary
King Kong is a film which never seems to be all far away from contemporary culture. Just ask anyone who King Kong is and they'll be able to tell you! Now, you can't say that about many fictional gigantic animals which have graced the silver screen. Well, that's apart from Godzilla. (Yes, Godzilla has their very own slot game too!).
Due to how many online slot games which have been released to explore popular culture, it's safe to assume that there is a key ingredient to their popularity. Our players at Amigo Slots are always keen to spin the reels on games which bring them closer to the characters which they have met before they start the gameplay experience. Films aren't the only popular culture source which is being used for inspiration. There are also now music themed slots which allow you to celebrate the music which came from your favourite rock stars. There's even a Game of Thrones slot game for fans of Westeros to immerse themselves in.
So, it was inevitable that King Kong was going to come to life in an online slot eventually! Pragmatic Play first released the online slot game in 2016 and in the process released one of the most stunning animal-themed slots. King Kong has always been an interesting character in our culture. Ever since the black and white original was released in 1933 people haven't stopped wanting to celebrate the unique cinematic spectacular. Even if you have never seen any of the film adaptions, you will still have a good idea of what King Kong is all about. If not, we will run you through the backstory to ensure that you get the most out of your Mighty Kong online slot game experience!
Warning – there are a few spoilers here, just in case you haven't got to the ending of King Kong, but you're only around 80 years late watching the feature!
The tale of King Kong starts off in the idyllic, peaceful and serene land of Skull Island – as you can probably gather, that isn't a real place! There are plenty of beautiful and exotic creatures on Skull Island, but not all of them were as appealing to hunters as King Kong was. Even regular elephants and lions have trouble keeping alive due to trophy hunters. So, a freakishly giant Gorilla was never going to last in the wild.
After you have seen King Kong in his natural environment, you will see the hunters come ashore and discover the beast. In the band of explorers you will get your token bad guy and your token humanitarians who try to help King Kong, sadly they still end up in possession of Kong and have him shipped over to New York City. His Kidnappers believed that he'd make a great attraction back home, and they were right, people flocked to see the caged beast. But, the people building the cages didn't quite anticipate just how strong he was – he bust out of there in no time. As you can imagine King Kong wasn't exactly light footed, so he left plenty of destruction in his path. After smashing a few shop windows and cars, he eventually made his way to the top of the Empire State Building. Sadly, Kong didn't have the best balance to scale the tallest building in New York and he fell to his death – but not before he pulled a fair few planes from their sky. There's a great moral behind the story that wild animals can't and shouldn't be tamed. But, it's also a perfectly executed silver screen classic.  
The chances are that if you've seen any version of King Kong you will have seen the 1976 adaption which allowed Jeff Bridges to take the lead, and Jessica Lange as the leading lady.
Now that you've got an idea of just how epic King Kong is to play, it's time to let you know just what a spectacular slot Pragmatic Play cooked up with Mighty Kong. If HD graphics are non-optional for you, you will definitely appreciate the time and dedication Pragmatic Play put into this online slot. The animations and graphics may only be in 2D, but the crystal-clear cut of the visuals definitely give the slot a cinematic feel. Even though Mighty Kong is now three years old at the time of writing this online slot review, there aren't any other online slots which can match up to how stunning Mighty Kong is; and we at Amigo Slots definitely aren't the only ones to think so. The classic feel to Pragmatic Play's slots stands as a testament to the cutting-edge tech, innovation, and forward-thinking talent which goes into all of their online slot games.
Other game designers may tend to run with cuter themes or skate by with breezy graphics, but Pragmatic Play certainly aren't one of them. Even though they bring out two new online slots a month you couldn't ask for a better-quality gaming experience from them.
At this point, we should probably mention that the soundtrack is also the perfect soundscape to allow you to get a taste of the action. The music is incredibly similar to the soundtrack of the original!
Mighty Kong Mobile Setup
When you load up the reels on Mighty Kong, what you will mainly see is the 5 x 4 reel grid which takes up most of the screen. However, Pragmatic Play has still given you an impression of just how serene Skull Island is. Which makes the story of Kong getting ripped away from there even sadder!!
One perk to having a reel grid which is so prominent is that the characters really do jump out at you as you watch the characters light up as you match them! The clever animations definitely ensure that the incentive is there to keep on spinning with Mighty Kong. The reels will light up if you're lucky to create a winning combination – which, lets face it you will as this is an incredibly volatile slot machine.
If you look closely at the online slot, you will notice a brilliant ironic twist, that each symbol on the reels appears in its own image in a film reel! Reels on reels. Nice move Pragmatic Play!!
There are 12 symbols which you will want to look out for with Mighty Kong, which is a fairly low number to play with. This means that your chances of cashing out frequently even higher.
Of the 12 symbols 10 of them are standard symbols which are either represented by letters or characters from the original telling of King Kong.
Matching the lower alphabetical symbols which include A, K, Q, J, and 10 won't make you rich, but each little win helps! If you match 5 of these lower-value symbols, you can expect to see 80 coins hitting your bank balance. Yes, we know, we know, that's not what's going to get you excited about the online slot! We'll move onto how you are able to win the 50,000-coin jackpot amount in the 'bonus features' part of this review.
First, we'll introduce you to the higher-value symbols in Mighty Kong, all of which are represented by different characters from the movie.
The five characters you can expect to see are Ann Darrow, Jack Driscoll, Captain Engelhorn, and Carl Denham. The character you will want to get acquainted with most is Ann Darrow who has the ability to win you up to 1000 coins if you are lucky enough to match five of the symbols!
You can probably guess who Pragmatic Play chose to use as the scatter symbol to the Mighty Kong online slot -It's the slightly angry looking gorilla himself! He's only angry because he's been captured though. If you unlock the bonus round he goes free – which is a very nice touch.
You definitely won't miss the wild symbol on the reels either, so you don't have to keep up with another character, the wild simple is just the word 'WILD' which lights up in bright yellow letters. The wild symbol has the potential to become a super wild, but mainly it will just work how wild symbols usually work – by replacing other symbols on the screen to help you form more winning combinations.
If you'd like to increase the amount of wins you see with Mighty Kong, you can always decide to take advantage of the 50 bet lines offered by the game. Play on one, or play on all 50 of the bet lines, it's totally up to you. You'll experience plenty of wins either way thanks to the high RTP which sits at 96.64% which is a lot higher than you will get with many other online slot games. The pay outs from the online slot may not be all too high, but it's all about the frequent wins and the stunning graphic experience with Might Kong!
Bonus Features
Technically, there is only one bonus round to Mighty Kong, but when the main gameplay experience is that exciting, who is really complaining? You may not be able to have your pick of bonus rounds, but there are plenty of other ways in which Mighty Kong allows you to make the most out of your stake amounts. Put it this way, it's certainly not your average online slot experience!
Expanding Wilds Bonus Feature
We've already let you know that the Wild symbol will help you by replacing other symbols and helping you to win more prizes. But that isn't all that's on offer from the Wild symbol in Mighty Kong. The wilds also have the potential to expand! This will happen if the wild symbol lands on the third reel. When this happens, the wild will expand and fill the whole reel. But this will only happen when there are potential wins to be made if the reel expands. If you are lucky enough to see expanding wilds, you should prepare to see some generous amounts of cash being deposited into your coin balance.
Free Spins Bonus Feature
Who doesn't love free spins? Our players at Amigo Slots are definitely fond of free games, which is why we are always keen to feature the games offering the best free spins bonuses! Unlocking the free spins bonus round is fairly simple, all you will need to find are three or more Scatter symbols which are represented by Kong himself.
With this free spins round, it doesn't matter how many scatter cards appeared on the reels. Instead you will get as many with three symbols as you do with five! Even though playing for free is incredibly exciting, most of the excitement of unlocking the bonus round comes from the fun animations! You'll see Mighty Kong leap for the reels and charge right at you! You'll be pretty happy that there's a screen between you and the giant ape as he charges. But eventually he'll lead you away from the main gameplay and present you with a few options.
Because with the Mighty Kong Free Spins bonus feature, you'll get to choose how you would like to play it! Some of our players prefer multipliers, while some of our players enjoy as many free spins as possible! And with Mighty Kong, you get to choose which one you'd like to take advantage of! The ability to tailor make your bonus round has definitely contributed to the popularity of this online slot.
But be careful which options you choose, as the higher the multiplier, the lower the number of free spins you will get. If you opt for the highest number of free spins you'll receive 40, if you opt for the highest multiplier you will get to enjoy an 8x multiplier. There's also a myriad of options in between if you'd like the best of both worlds! You'll probably figure out which way you prefer to enjoy this bonus round after you have enjoyed it a few times!
About the Mobile Slots Developer - Pragmatic Play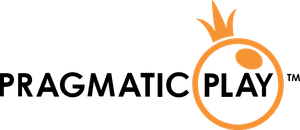 Pragmatic Play aren't your average game developer. They may one of the youngest popular game developers, but that hasn't stopped them from creating one of the most impressive game portfolios we've seen at Amigo Slots!
Even though they have only been around since 2007, there are still over 100 immersive, stunning, and exciting slot games in their portfolio which explore plenty of different themes. They even give Microgaming and Eyecon a run for their money who have been operating for decades longer than them!
Other brilliant online slots Pragmatic Play have cooked up aside from Mighty Kong are Wolf Gold, Peking Luck, Da Vinci's Treasure and Great Rhino! Of course, there are plenty more online slots which contribute to Pragmatic Play's popularity, but we would be here all day if we listed all of them! Pragmatic Play also spend a fair amount of time creating land-based gaming solutions, and yep, that includes traditional slot machines which you would be able to enjoy in pubs and casinos. We will probably never fully move away from land-based gaming, as there is still a lot of fun to be had when it comes to land-based gaming. Yet, no one can deny that for the best slot experience, you won't even need to leave your home! Whether you want to play from your smartphone, tablet, desktop, or laptop, you have thousands of online slot games at your fingertips. All of which are able to offer you jackpot arounds and bonus features which traditional slot machines could never have offered!
By now you might be wondering just how the game developers manage to publish so many games on a consistent basis. While we don't quite know the inner workings of the Pragmatic Play office, we can tell you that there's little chance of them cutting corners to create their online slots! Their mission statement simply reads "Innovation and dedication". They use these two values to make sure each of their online slots are as innovative and exciting as the last! But no matter how many online slots the industry giant produce, there is very little chance of Mighty Kong ever getting lost to history!
Speaking of Mighty Kong, here's how Pragmatic Play summed up the gameplay on their website shortly after the online slot was released in March 2016!
"Attack the giant gorilla in his own lair in Mighty Kong, the 4x5, 50 lines video-slot. If WILD is on the middle reel it expands to fill the whole reel and when you get the chance to meet Mighty Kong himself, he will take you on journey around the world in the Free Spins round, where you can select up to 40 Free Spins and up to 8x multiplier."
Feel free to give the online slot a whirl over on Pragmatic Play's website for free before you place a cash bet with us at Amigo Slots. If you find that Mighty Kong isn't quite for you, we've picked out some of the best alternatives for you down below.
Similar & Related Games to Mighty Kong
Pragmatic Play aren't short on action-packed online slot games, but sadly, there are no more by the game developer celebrating the majesty of giant apes. Of course, that's not the only reason why so many people were inclined to spin the reels on Mighty Kong. Many reel fans also favoured the high-end graphic quality, and fun bonus features. Why not see if any of the online slots will provide you with a nice hit of variety?
Great Rhino Online Slot by Pragmatic Play: The animals which you will see in the Great Rhino aren't supersized, they're fairly big and scary as it is! That's not to say rhinos can't be cute. We're sure they can be! But with this online slot Pragmatic Play have represented them as the dangerous beats that they are. Sadly, the graphics aren't quite as crisp as you would enjoy with Mighty Kong, but the online slot received rave reviews for the bonus features. There are less symbols on the 5 x 3 reel grid set up, and there are also fewer different bet ways, as you will only get 20 different ways to win this online slot. But perhaps 50 different bet ways was too many? That's for you to decide, but the lower RTP rate of 96.53% still stands.
Jurassic Giants Online Slot by Pragmatic Play : If you loved the action and adventure of Mighty Kong, Jurassic Giants is a solid option. Even though it may feel like you're playing with a different franchise. Still, if you have a penchant for giant terrifying creatures, you're going to love the characters that you will meet in the prehistoric world which Pragmatic Play have cooked up. There are even more symbols on the reels as there were with Mighty Kong on the 6 x 4 reel grid. And if the 50 bet ways in Mighty Kong give you too many options, you'll be blown away by the 4096 bet lines in Jurassic Giants!! The icing on the cake to this online slot is the bonus round. Pragmatic Play went all out on the animations once again, this time, you'll see a T Rex and a woolly mammoth go head to head! Oh, and there's plenty of money to be won from the bonus round too!