Rainbow Riches Mobile Slot
Play UK Mobile Slots at Amigo Slots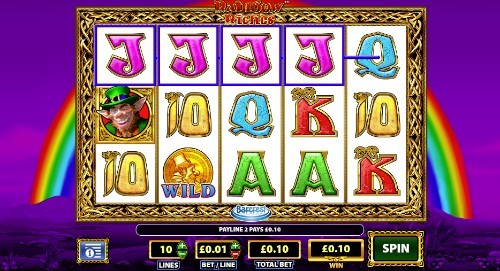 Mobile Slots - Register Here - View Promotions

Rainbow Riches Mobile Slots
Enjoy Barcrest's most popular game through which you can win a 250,000 coin jackpot on the 5 x 3 reels, which offers 20 different ways to win and bonus rounds which keeps everyone talking about the Irish-themed slot. Amigo Slots are proud to host Rainbow Riches along with hundreds of other slots such as 'Star Burst' 'Fluffy Favourites' and 'Bonanza'
Rainbow Riches Game Info
RTP
95%
Features

Road to Riches

,

Wishing Well, Posts of Gold Bonus

Developer
Barcrest
Reels
5 Reels
Paylines
20 Paylines
When it comes to Mobile Slots, Rainbow Riches has been on the top lists for years. Even though Barcrest's game was developed and released in 2005 the game was unique enough to still keep people talking about the slot over a decade after! You'll have noticed by now that Barcrest have released plenty of follow-ups to the game. Yet, no matter how many games they release, people still tend to favour Rainbow Riches!
Game Summary
You'll have to spin the reels yourself to appreciate the true majesty of the game, yet, we'll do our best to explain just why Rainbow Riches has left the UK, along with players all around the world enamoured by the simple slot which is generous enough to give you the chance to cash out on a life-changing jackpot amount.
While it may seem that Rainbow Riches is lacking in certain aspects such as the low amount of fixed bet lines and the low return to player rate at 95%, which isn't too shabby, yet it certainly isn't the highest of all the games which are currently featured on Amigo Slots.
Technology has made leaps and bounds in progress since 2015, and while that may be enough to draw a few online slot players away from the more traditional and iconic slots, Rainbow Riches' popularity proves that graphics really aren't the be all and end all when it comes to online slots. Even though Rainbow Riches may appear as a little bit dated, the characters and simplicity are all part of the charm! Once you get to grips with the bonus rounds, you'll certainly see how Rainbow Riches has retained its popularity status. We'll cover them in more detail below, but first, well give you an idea of how exciting the standard gameplay is!
Even if you're new to online slots and used to playing traditional slot machines, you may have noticed Rainbow Riches slot machines in pubs, arcades, and wherever it is common for one-armed bandits to pop up. There aren't many online slots which have managed to be incorporated into land-based slot machines – this speaks volumes about just how much Rainbow Riches changed the landscape of the online slot world. Although as brilliant as the land-based slot is, the online version which is available to play on your laptop, tablet or mobile is infinitely better thanks for the ability to place a bet from as little as 0.01 to 20 per bet line. This gives you the ability to place a maximum stake per spin amount of 400 and win the maximum jackpot amount of 250,000 coins or £200,000! With a jackpot amount of that size you'll be able to buy your own home in the charming Emerald Isle – whether you see Leprechauns there is another thing entirely.
Rainbow Riches Mobile Setup
Rainbow Riches is one of the many online slots to celebrate the iconic culture of Ireland. There are fewer places in the world which are surrounded by such interesting mythology. The online slot takes part in the depths of Ireland where if you believe the stories, you'll be able to encounter a chance to meet a leprechaun and have a chance of apprehending the leprechaun's gold. Yet, through folklore the leprechaun would only be able to be persuaded to part with their jackpot amount if they were captured. But even then, they would be more inclined to grant you three wishes. Just how they managed to develop super powers is quite another story, as their name roughly translates to 'Shoe marker'.
Nonetheless, leprechauns are a massive feature with Irish-themed slots and with Rainbow Riches the leprechauns may not be the cutest ones you will find appearing on the reels, if anything the Rainbow Riches leprechaun may be a little terrifying, but it's nothing that you won't be able to get over when you have the chance to win a mega jackpot.
The Rainbow Riches slot is set up with a colourful purple background which comprises of a purple sky putting a purple hue over the faint landscape which you will see in the background. While you may not be able to tell in the background that you're in Ireland, the reels will definitely take you over to the Emerald Isle. There is a rainbow illuminating the background, but other than that, there's not all too much to see behind the 5 x 3 reels which are ornately framed in a Celtic-style border. Another great bonus to playing Rainbow Riches is being able to see just how much you are betting, on how many lines, and the total amount you are spending on spins which can be anywhere up to £400. Your coin balance will also be in plain view, so you won't have to look far to see your growing balance!
While many online slots come with their own background music Rainbow Riches only comes with the sound effects which come with spinning the reels, matching of the symbols, and rewards being transferred to your coin balance. With games such as Leprechaun Song it is only too tempting to turn down the soundtrack as the Irish music can get slightly annoying! Yet, Barcrest have kept the musical side of Rainbow Riches charming and minimalistic.
Barcrest have also incorporated the Irish theme with some of the high valued and bonus symbols on Rainbow Reels. Of course, you'll see a leprechaun pop up every now and again, wishing wells, pots of gold and the Rainbow Reels logo. The standard low-value symbols on the online slot are 10, J, Q, K, and A so there's a fair number of symbols to match with Rainbow Riches in comparison to games such as Starburst. Yet, it really is the bonus features which help to keep the magic of Rainbow Riches alive. Whether you keep on spinning the reels for the cute aesthetic of Rainbow Riches or the bonus features, you're sure to understand just how the online slot became so popular!
Bonus Features
There's no getting around the fact that a 95% RTP isn't all that impressive, Barcrest don't try to hide the fact, because they know that their online slot has so much more to offer. Even with the recently released online slots which offer a higher RTP of up to 98% players still choose to spin the reels on Rainbow Riches.
Rainbow Riches also lacks free spins rounds and expanding wilds. Yet, you certainly won't miss them when it comes to the exciting bonus rounds offering multipliers to boost your wins. The maximum you will be able to win is 500x of your bet amount!
Here's a quick run down of how you can get your hands on the exciting amount of cash offered by Rainbow Riches. There are not one, not two, but three bonus side games which will take you away from the main game play of Rainbow Riches.
This feature is more than easy to trigger and easy to follow as it uses the same rules of one-armed bandit wins.  Many online slot bonus features can often be accused with over-complicating their bonus features, but that is definitely not the case when it comes to Rainbow Riches. To trigger the feature 3 leprechauns will have to land on the reels. It doesn't matter where they land, the result will still be the same and lead you into an exciting bonus game where you are able to play a 'wheel of fortune' game. Once you're there, you'll see an array of multipliers and that ever-pesky 'collect' possibility, one of the multipliers on the wheel will be selected and applied to your original stake amount. If you're unlucky enough for the needle to land on 'collect' it will be game over for you. But, for as long as you keep hitting the multipliers, the game will continue which makes this potentially the best bonus feature you can trigger in Rainbow Riches.
While many wishing wells only contain pennies, thankfully the Wishing Well bonus feature to Rainbow Riches is slightly more generous. To trigger this feature 3 wishing wells will need to appear once the reels have slotted into place. If this happens, you then get to pick one of the wishing wells, make sure you choose carefully as there will be a multiplier hidden beneath them. The multiplier which you have selected will the boost your original bet amount. You'll only get the chance to choose once with this bonus, so sadly, it is rather short-lived in comparison to the Road to Riches bonus, but once you see the size of the multipliers you definitely won't be complaining.
The Pots of Gold bonus is the third bonus feature which has helped Rainbow Riches ascend to popularity. The rules to triggering this bonus feature is a little harder in comparison to the first two bonus rounds. This time, you'll need three pots of gold reels two, three and four. When this happens, you'll be entered into a visually spectacular side screen. This screen will allow you to come face to face with the leprechaun who is in a naturally verdant setting waiting for you to choose one of the spinning pots which are hovering above his head. There are 12 different spots hovering above his head, some are generous, some are less so, but all will be applied to your stake.
If you are feeling a little less than impressed about the lack of free spins, and sticky wilds in Rainbow Riches, there are plenty more variations of the game which you can try out which have all been produced by Barcrest.
About the Mobile Slots Developer - Barcrest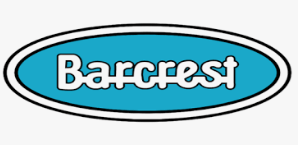 Barcrest are one of the longest established games designers which are still around today. Their story began back in 1968 and they have been at the forefront of every change in the gambling industry since then. Back in the pre-internet days Barcrest's main venture was creating land-based arcade games and innovative solutions for bingo halls. Barcrest didn't just establish themselves in the UK, soon, all over Europe their name became synonymous when it came to quality in the gambling industry.
Just as online slots became popular in the 00s Barcrest used their in-house talent to cook up their first slot games in 2006 which included Rainbow Riches. Yep, that's right, Rainbow Riches is over a decade old and players still can't seem to help themselves returning to the game, no matter how many titles are published! After Barcrest enjoyed the success that slots such as Rainbow Riches, 7s to Burn, Red Hot Wild, Hot Slot, and Monopoly Big Event.
After Scientific Gaming got an idea of how successful Barcrest had become they bought Barcrest from IGT in 2011 for £35 million.
The initial press release for Rainbow Riches was made some time ago, so, here's how proud Barcrest are to this day for their slot machine which they have much to thank for their domination of the online gambling casino.

"What can we say? Rainbow Riches is without a doubt Barcrest Games most popular fruit machine / video slot of all time, also quite possibly one of the most successful slot games throughout the United Kingdom with many other versions such as Rainbow Riches Party. Originally released in land based cabinets with a very tasty £500 jackpot, this video slot became an instant hit, today the game remains just as popular with fans always seeking that next jackpot."
Similar & Related Games to Rainbow Riches
If you found that Rainbow Riches wasn't quite the game for you, you're in luck. Barcrest have created 8 new online slots to allow fans of Rainbow Riches to rediscover the magic of the online slot.
The variations between them may only be slight as it quickly becomes obvious that Barcrest aren't keen on the idea of giving Rainbow Riches a graphics overhaul.
Below you'll find all the details which you need to know to choose the Rainbow Riches game which is right for you!
Rainbow Riches: Pick n Mix Online Slot : Rainbow Riches was released in 2016 and answers who were looking for free spins and a higher RTP rate. The Pick n Mix slot gives you a 98% RTP on the 5 x 3 reel set up offering the same amount of bet lines with a significantly lower jackpot amount of 12500 coins. Well, you win some, you lose some! But at least with the higher RTP you will enjoy more frequent wins, and a jackpot of 12500 coins can still reward you with a life-changing amount of money. There's also the Big Bet feature to look out for in addition to the other bonus games.
Rainbow Riches: Fortune Favours Online Slot : Fortune Favours was released in 2018, and still doesn't look much different to the original, but the RTP has been hiked up to 97.7% for the online slot which happens over the 3 x 5 reels. But at least you get the 25000-coin jackpot. You will only have half the amount of fixed pay lines to play on, but the same amount of wild bonus games and gambling features.
Rainbow Riches: Drops of Gold Online Slot : Barcrest were certainly busy in 2018, as they released yet another Rainbow Riches slot. Even though it was noted by the press that Drops of Gold was one of the most criminally underplayed games brought out in 2018 there has still been a fair amount of reel spinners who have jumped ship from the original game thanks to the promise of a higher return to player rare of 97.75, while it may not be the highest RTP in the whole Rainbow Riches slot series, it's still a generous hike for the online slot to make. Barcrest also wanted to make sure that there were plenty of bet lines to bet across and treated players to a whopping 200 different fixed bet ways for the 4 x 5 grid slot. The jackpot size is the same, and you will also be able to enjoy the new inventive bonus rounds which the genius minds at Barcrest cooked up!
Rainbow Riches: Reels of Gold Online Slot: Of all the sequels to the original, the 2016 online slot Reels of Gold may just be the most exciting one yet. If you've ever felt that watching one set of reels spin just wasn't quite good enough, well, good news!! In Reels of Gold you will get to watch two sets of reels spin, one with a 4 x 5 grid, and at the side of the standard-size grid you'll also see a taller 5 x 12 reel set up! With a return to player rate of 96% and 100 different bet ways to place a stake on for the chance to win the jackpot which stands at the fixed amount of 250,000 coins. There's also plenty of bonus rounds and features to enjoy. And this time Barcrest didn't fail to include free spins either!
Rainbow Riches: Home Sweet Home Online Slot: The Home Sweet Home release of the Rainbow Riches franchise debuted in late 2018, and there aren't too many features which sets the 5 x 5 slot game apart from the original Rainbow Riches game. There's a slightly higher RTP which stands at 97.75% with 50 bet ways to choose from and the same jackpot amount as the original. For all the bonus features the original lacked, Home Sweet Home has more than made up for, and yes, the game also regularly rewards players with some tidy free spins!


Rainbow Riches: Free Spins Online Slot: It takes no stretch of the imagination to wonder just how the Rainbow Riches Free Spins online slot got its name. Since it's 2017 release the slot has enjoyed the popularity status it has retained through the imaginative offering of bonus features and nice RTP of 97.7%. and the same jackpot size. Yet, one way in which the game doesn't quite work as an improvement is down to the offering of only 10 bet lines. While some players may prefer the chance to put as many stakes down as possible, others favour a more simplistic low variance online slot where there's not the pressure to put money down on all of the bet lines.

Rainbow Riches: Leapin' Leprechauns Online Game: Technically, Leapin' Leprechauns can't be described as an online slot, because, well, there are no reels. Instead, Barcrest have used their creative talent to cook up a completely new games which online casinos have been tripping over themselves to get their hands on! The jackpot is only 50,000 less coins than the max jackpot on the original Rainbow Reels but anyone who was a fan of the original will definitely want to give this slot mash-up a go! With a gaming style which is more comparable to a videogame such as Sonic or Mario Bros, the leprechaun will have to ascend using floating platforms. Some of the platforms will hold treats such as multipliers, yet, others will house symbols which will make you watch your leprechaun friend fall. But don't worry, he's back on his feet in no time.
Rainbow Riches: Leprechaun's Gold Online Game: At the time of this review Leprechaun's Gold is yet to be released by Barcrest however it is set to be the sequel to the Leapin' Leprechauns. Keep your eyes and ears peeled for Leprechaun's Gold to be released on Amigo Slots! There will be 5 bet lines to play across, and some unique twists on the Rainbow Riches Leapin' Leprechauns Online Game which can't accurately be described as an online slot, although considering that we love Rainbow Riches so much at Amigo Slots, we've chosen to include It anyway!