Starburst Mobile Slot
Play UK Mobile Slots at Amigo Slots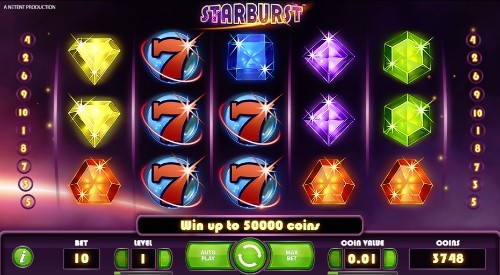 Mobile Slots - Register Here - View Promotions

Starburst Mobile Slots
Spin the reels with NetEnt's most bedazzling online slot yet for a chance to win a tidy 5-figure progressive jackpot. Play from as little as £0.01 and enjoy a generous RTP of 96.09% Amigo Slots are proud to host Starburst along with hundreds of other slots such as 'Rainbow Riches', and 'Bonanza'.
Starburst Game Info
RTP
96.1%
Features
Respins, Wild
Developer
NetEnt
Reels
5 Reels
Paylines
10 Paylines
Anyone who has spent a significant amount of time playing Bejewelled in their youth are sure to appreciate NetEnt's massively popular online slot Starburst. Even though the Mobile Slots has been around since 2012, there are still very few which could match the excitement and exhilaration of Starburst which comes with the perfect pinch of Nostalgia.
Game Summary
There may be plenty of games which invite you to explore the cosmos and the deeper depths of outer space, yet, the key to Starburst's success is the simplicity. The sweet simplicity which allows you to win anywhere up to £50,000 if you're lucky enough to hit the progressive jackpot! There aren't many online slots which can claim to have changed player's lives but it isn't uncommon for Starburst to treat players to a chance of winning the jackpot.
Even though Starburst may be fairly old in relation to NetEnt's later released titles, with the futuristic feel of the game there are definitely no tell-tale signs, especially if you're playing on a desktop or laptop.
The bedazzling slot is set up over a 5 x 3 reel grid which will only give you ten bet lines to place a stake on. While other games can offer bet line amounts in the hundreds this certainly shouldn't put you off when it comes to Starburst. NetEnt were clever enough to ensure that they incorporated less symbols in the game, so the chances of you landing a winning combination is higher than average! Which makes Starburst the perfect game for anyone who likes to experience frequent wins. It can be frustrating spinning the reels and getting nowhere as you watch your coin balance diminish. Thankfully this is certainly not the case with Starburst!
While many other space or jewel-themed slots like to pack in plenty of action, Starburst takes a far more laid back approach. You won't have to deal with animations flashing in the background or stealing your attention from the high-intensity action as you watch the symbols on the reels sparkle and come together to form a winning combination. Whether you prefer to take your time between spins or hit the spin button as quickly as possible, it is highly recommended that you give Starburst a go – there aren't many people who play online slots who haven't already done so!
Starburst Mobile Setup
There's a slightly regal feel to the Starburst slot with the purple background which depicts the sleepy rings of outer space. There's not an awful lot going on in the background, just a few stars far away in the cosmos. Instead, the visual focus to Starburst is with the jewels which are presented on the screen on the transparent reels. It is little details like this that make the game so immersive for so many players, while it doesn't sound like much, once you start spinning the reels you will quickly see how so many players lose hours to the game. It's a good job you can take Starburst with you on the go with the mobile version of the game, which may not be as seamlessly integrated as other online slots which were developed after Starburst.
It is absolutely no secret that the music to online slots can often see you quickly reaching for the mute button! Yet, it wouldn't seem that that's NetEnt's style with the dreamy and hypnotic soundtrack they cooked up for Starburst. So, crank up the volume and have fun as you drink in the subtly hypnotic music which will make you feel right at home in outer space. Any sci fi fans are sure to appreciate the atmosphere which NetEnt have created.
Starburst is also as easy on the eye as it is to play. The low amount of symbols makes following the rules to the online slot easy, which makes it perfect for anyone who is trying out the slots for the first time. The low stake amounts are yet another reason why newcomers to the reels choose to play with Starburst for the first time. Start from as little as £0.01 and when you're feeling lucky you can increase your stake amount to a maximum of £100.
There are only 5 different standard symbols to match on Starburst, from the lowest paying symbol to the highest, they go as follows: yellow, green, orange, blue and purple. The special symbols you'll want to keep an eye out for are the traditional 7 and bar symbols. There is no scatter symbol on Starburst; only a wild symbol, which simply appears as the logo of starburst. We'll cover how the wild to this game can help you out down below.
Bonus Features
Let's be honest, excessive amounts of bonus features and bonus rounds can be a little daunting – especially to people that are new to online slots. Starburst became the perfect game for new players by keeping it simple, but simple doesn't mean that high rewards won't be paid – as many lucky customers have already found out!
With the bonus features which Starburst does include, you won't find many other games with similar perks. They risked losing popularity by not including a free spins feature, but what NetEnt created in place of the free spins is even more genius!
Unlike most other slots, you will be able to win high value rewards if shapes of symbols form on the reels. If you create a triangle which can appear anywhere on the reels, you'll see your coin balance grow soon enough.
The expanding wild also makes the game play a little more interesting! If it happens to land on the middle reels the symbol will expand and take up the whole reel which it lands on. To make the feature even better, it will stay there for up to 3 spins! This happens in place of free spins, but the results can be far more lucrative than with online slots which offer the free spins and wild bonuses separately. It's a great twist to the game which makes finding expanding wilds even more exciting! Some may say that it's an astronomically awesome feature of the game.
But, by now I'm sure you are wondering just how you get your hands on the massive jackpot! Thankfully it is easier than you think to see your screen light up with a 5-figure prize! You'll just need to land 3 expanding wilds at the same time on a spin.
Whether you're playing with low or high stake amounts, there's still the chance to win 300x your stake amount! With such a high multiplier, it's always worth boosting your stake amounts!
About the Mobile Slots Developer - NetEnt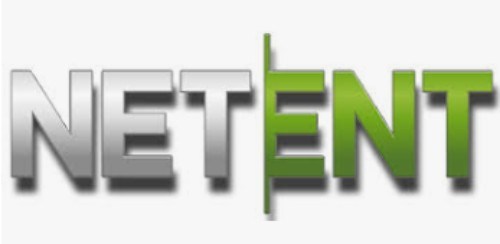 NetEnt is a game development company which have more experience than most when it comes to creating online slot machines. Some may say that they have been pioneers of the industry for the last twenty years, and they would be quite right to say so!
The speed of their innovation combined with their ingenuity and knowledge of what will make people carry on spinning the reels is unparalleled. This is why so many online casinos are keen to feature NetEnt on their portfolio of games.
They never keep online slot fans waiting for their next cutting-edge publication which is always jam-packed with brand-new inhouse content. There are plenty of stats which back up NetEnt's claim that they're the best game developers around!
Since 2017, more than 41.2 billion cash transactions have been made though their online slot games, as they've created more than 200 online slots since their inception, they've certainly given slot fans a lot of variety to play with. No matter how niche your tastes are, there will definitely be a slot to pique your interest.
Although NetEnt's head quarters are in Sweden, they now have representatives from across the globe, the company now employs over 600 people from each corner of the globe, from Malta to Ukraine to America to Poland. There's a reason why 'Better Gaming' is their company slogan which pops up at the start of each online slot game. That slogan has become a trademark of quality over recent years.
NetEnt put the same amount of passion into each of their online slots, as can be seen with the press releases which never fail to get online slot fans excited for new additions which online casinos just can't wait to snap up! In a few words, here is how they got fans excited about the Starburst video slot.

"This renowned video slot is an absolute star. You've heard of it. You know it. Hell, you've probably played it. And if not, you should. The sparkling jewels of the legendary Starburst™ are there for the taking. This 5-reel, 3-row video slot has several exciting features including Win Both Ways and the expanding Starburst™ Wild. If you enjoy high-paced energizing slots, Starburst™ offers many fun features that make playing the game an unforgettable experience. And of course, the potential for huge wins is astronomical! Win anticipation is cranked up to maximum. Arcade-like light effects follow wins, and the Big Win presentation is truly a sight to behold: blasts of light, flashing text, electrifying sounds – it's a rush like no other."
Similar & Related Games to Starburst
If you're looking for a more up to date online slot, or just looking to switch it up with an alternative slot game, NetEnt have created plenty of games which share some of the same features of Starburst.
Berryburst by NetEnt: There was no way Berryburst wasn't making the list of great alternatives to Starburst. They may have got a little more fruity with the theme of the game which was released in winter 2018, but you can be sure that it's just as visually stunning, if not more. If the sparkle of the jewel symbols was one of the greatest selling points for you with Starburst you're going to love the mouth-wateringly juicy fruit symbols on Berryburst. The 5 x 3 grid slot has a RTP of 96.56% with a medium volatility and a very similar game play experience compared to Starburst. If you choose to play in the Max version of Berryburst, you'll be able to enjoy 6000x the stake potential, with the standard edition to Berryburst you'll receive 1868x more stake potential, expanding wilds and cluster pays. Berryburst was very much created a follow up to Starburst, the clue is kind of in the 'burst' in the name. So, anyone who has enjoyed playing Starburst is going to have a blast with Berryburst which offers you the same expanding wilds and sticky sweet re-spins!
Cosmic Fortune: Mix up your online slot playing with the exciting cascade-style online slot Cosmic Fortune! NetEnt have kept the space theme that they know their customers love to play with and have created yet another stunning online slot game! With Cosmic Fortune you can bet from 15p up to £100, so it may not be ideal for those looking to play on a budget, but the high rollers will definitely appreciate the larger number of bet lines. Starburst online offered ten, whilst Cosmic Fortune will allow you to play across 15 bet lines. It's only a slight increase, but it's enough to make some Starburst fans jump ship! If the progressive jackpots to Starburst got you excited, just wait to hear what Cosmic Fortune has to offer with the not one, not two but three progressive jackpots!! Instead of matching symbols on the reels, you will be able to enjoy the cascade feature which is now becoming increasingly popular with many game designers. The set up is also a little more alien than what you get with Starburst, NetEnt certainly didn't hold back when it came to cooking up imaginative characters who will act as the symbols on the reels. They may not be the cutest characters ever depicted in an online slot, but the snaggletooth monsters and demented-looking aliens still carry plenty of appeal.
Double Stacks: With the Double Stacks online slot, you'll need to make a bit of a compromise when it comes to the graphics, so it's a good job that there are plenty of reasons other than the visuals to play Double Stacks! NetEnt obviously wanted the game to be of appeal to high rollers – they didn't set their max stake amount as high as £200 for no reason! The recently released game is optimised for both mobile and laptop play as there is no compromise to the simplistic graphics when they're squeezed onto a four inch screen. If you were less than impressed when it came to the lack of free spins on Starburst,  Double Stacks generously offers you the opportunity to win anywhere up to sixty free spins. Considering that most games never usually give the chance to win any more than 25 free spins, it's definitely a great incentive to give the online slot a go, as is the 1000x multiplier. Although, sadly the jackpot with Double Stacks is fixed.
Neon Staxx: NetEnt really set the bar with their Neon Staxx slot game. If there is any online slot which screams Bladerunner style futurism, it's this one. Yet, it's more than just an arrangement of neon lights, there are plenty of features which could lure players away from Starburst and into the glowing future dystopia which is Neon Staxx. On the colourful reels you'll have to be on the look out for lit up predators such as lions, jaguars, eagles and lions. Neon Staxx packs in plenty of fun features such as scatters and wilds, and those free spins that you missed with Starburst. For those who like to bet across a high number of bet lines, there's a whopping 60 different fixed betting lines to play on if you're feeling lucky. While the game was built with the high rollers in mind, NetEnt were also mindful to make Neon Staxx the perfect game for people looking to play on a budget. With the ability to make a minimum stake amount of 0.2 coins, you really couldn't ask for more! Regardless, Neon Staxx still offers twenty free spins which should be enough to sway fans of free spins!
Similar Mobile Slots (not made by NetEnt)
It is unlikely that Space themed slots will ever lose popularity. Mainly this falls down to the fact that game developers continue to try and recreate the magic of Starburst, but there is just no nudging Starburst off the top lists! Even so, we've curated a list of the two best spacey online slots from NetEnt's rivals.
Mars Attacks: If you were a fan of Mars Attacks, it's safe to say that you are going to love the Mars Attacks online slot which was developed by Bluecrest. The storyline behind the slot follows the same one you saw in Tim Burton's film; a race of angsty aliens have set their sights on the iconic landmarks across the globe and they're about ready to make their attack. Don't let the snoozing alien who is in charge of watching over the monitors fool you, they're hell-bent on global domination. Anyone who was slightly freaked out by this film as a kid will start to see the aliens in a whole new light in the sci-Fi slot which came out in December 2018. So, you can be sure that Mars Attack certainly has a more innovative feel compared to Starburst. Bluecrest poured all of their imaginative souls into the slot to ensure that the game was as immersive as possible. With merchandised games, you usually have to pay the price with the low return to player rates, yet, the 5 x 3 slot still offers a tidy 96.44%! If that doesn't get you excited, maybe the 250,000 coin max jackpot will – if that doesn't do it, it may be safe to assume you're a little bit dead inside!
Reactoonz: Looking for a Sci-Fi slot with the cute factor? Look no further than Reactoonz! Reactoonz is yet another cascade slot, but this one is set up over a 7 x 7 grid. There's no matching on reels, just a simple collecting of clusters which will need to form patterns for you to win. It may take a few spins to get the hang of it, but, it's well worth getting familiar with if you're looking for an alternative to Starburst. Reactoonz is an online slot full of exciting features, which can help you to win significant jackpot amounts. Whether you're betting with the minimum bet amount, or the max at £100 you're sure to become fond of the 4750x multiplier! Now, you won't find a multiplier so high in many other online slots. On the downside, there are no free spins, and it can be a little hard getting some of the bonus features to trigger, but you can still enjoy the wilds, and not to mention the HD graphics which will help Reactoonz to stay looking futuristic for a while yet!

Starburst Slot on Mobile
At Amigo slots playing Starburst is easy, whether that's on the go, or at home from your desktop or laptop. It would have had a hard job becoming one of the most popular slot games of 2018 if it wasn't for the compatibility with handheld devices.
As the online slot isn't full of animations and intricate graphics, it doesn't struggle when it comes to mobile play as some online slots can do! You can always check out for yourself how well Starburst works on your mobile on NetEnt's website before you spin the reels for real cash on Amigo Slots!
When trying out Starburst on mobile, we found that you'll have a much better experience if you use landscape mode, in portrait mode the reels will only take up about 50% of the screen, so, you won't get the same visual hit which landscape mode treats you to. The only slight problem is that there isn't enough space to fit the play button at the side of the reels, instead it will appear over them until you hit spin again.