Temple Of Iris Mobile Slot
Play UK Mobile Slots at Amigo Slots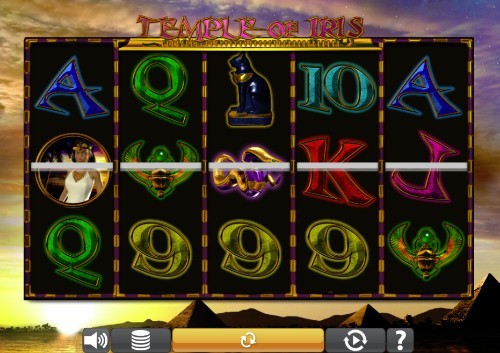 Mobile Slots - Register Here - View Promotions

Temple Of Iris Mobile Slots
Amigo Slots are proud to be hosts to Eyecon's iconic slot celebrating the culture and history of Ancient Egypt. You'll get 25 different ways to win on the reels, with frequent payouts thanks to the 95.4% return to player rate. Enjoy the 50/50 gamble bonus feature, free spins, and the ability to get your coin balance boosted by a 1350x multiplier!
Temple Of Iris Game Info
RTP
95.4%
Features
Free Spins, Scatter Symbols, Wild, Gamble
Developer
Eyecon
Reels
5 Reels
Paylines
25 Paylines
Temple of Iris made history for Eyecon, at the same time as exploring one of the most interesting historical periods that the world has ever seen. The ancient Egyptians in the 18th dynasty was just as exciting and interesting as the Romans.
Game Summary
The way they celebrated their Gods, their rituals, the way they ran their politics is all fascinating. In fact, we are so far removed from how the Ancient Egyptians lived, it is almost easy to see their culture as alien. There are certainly plenty of rumours that the pyramids were built by aliens, as back then, they seemingly didn't have the technology or the tools to help them build such a remarkable structure. Although some may say that wonders of the world are going to be created if the slaves were worked and whipped that hard, wonders are bound to happen.
While Amigo Slots is home to many historically-themed Mobile Slots, we are especially proud to be host to Eyecon's first ever online slot game! With this online slot which was released in 2003, the landscape of online slots was completely changed. Back then, Eyecon didn't have all too much in the way of competition. In 2019, there are plenty of game developers trying to share the same limelight.
But Eyecon always have had a way of leaving their online slots with a cute and charismatic feel. Where the focus isn't solely on creating a HD graphically stunning set up. But instead, there's an intrinsic charm to their games which leave plenty of our players on Amigo Slots instantly enamoured by the immersivity of their games.
Even though Eyecon have released more than 60 online slots since Temple of Iris it still remains to be one of their most popular.
The online slot will transport you right back in time to the 18th Dynasty of Egypt, that was well before the days when Jesus was born. In fact, the dynasty dates all the way back to 1549 BC. If you've forgotten all you learned about the Ancient Egyptians, or it's been a while since you watched a good Mummy film, we'll be glad to run you through the most interesting parts of Ancient Egyptian history so you can truly appreciate what Eyecon have created with this online slot.
Our reignited passion and interest for the 18th Dynasty mainly all falls down to one man who went by the name of Howard Carter. That name will probably ring a bell from when you studied history class at school. He was the British archaeologist who will go down in history for discovering Tutankhamen's tomb in 1922. In the process of doing so, he uncovered treasures that told us all so much more about their ways of living than we ever could have hoped for. After his bones were discovered in his tomb in 2014 scientists were able to construct a 3D digital model of just what he would look like. There are plenty more we can learn from Howard Carter's 1922 discovery. However, there is plenty more that we are unsure of during the time the boy king ruled under the name of King Tut. The 18th Dynasty was the most important fraction of time for the Ancient Egyptians, as this dynasty saw them in the peak of power! Although their power structures were completely different from ours. Religions seemed to shift, and in accordance to who was in power who they worshipped also changed.  There are so many interesting elements to their ritualistic practices, such as mummifying the dead and the power which they placed into animals in their culture. Even their hieroglyphs were incredibly interesting. So, you can see why Eyecon wanted to make the symbols of Egyptian culture symbols on their reels!
If you're not all too up on the symbolism of Ancient Egypt, you certainly will be after you have spun the reels a few times.
While our modern culture may see us seeking out the newest things and not really paying attention to the archaic so we can experience the next best thing many players of online slots may be put off playing an online slot which was released in 2003. Eyecon created an absolute classic with this online slot, and classics always age well! Just look at records and cars! Even the graphics can't be faulted. They may not be Super 4K HD Ultra (and so on) but this really doesn't matter. The slightly darker graphic set up to the online slot allows them to get away with plenty.
However, one thing that Eyecon had to bring up to date was the name of the online slot. Originally, it was called the Temple of Isis. Because Isis wasn't always the word synonymous with terrorism. Isis was originally a goddess, who cared for all and loved all. She was the mother of Horus and the sister and wife of Horus. It's a shame her culture has been stolen – but in a way games such as Temple of Iris still keep it alive.
If you're fairly new to playing online slots, or you prefer a nice and simple gameplay experience, you will definitely find a lot to appreciate about Temple of Iris. By today's standards, it may be a little basic, but remember in 2003 it was ground-breaking stuff! No one was creating games like this in 2003!
Visually, when you load up the reels you will see a part of Egypt that you're well accustomed to seeing. The three pyramids are lit up under a stunning sunset which mixes hues of blue, yellow and pink in the beautiful and crisp clear sky. Most of the screen is taken up by the darker coloured reels which have a slightly regal feel.
Temple of Iris Mobile Setup
Now you know all about the theme, we'll introduce you to the basic functions of the online slot so you can know exactly what you can expect from Temple of Iris.
On the reels, you'll see plenty of Egyptian-themed symbols along with some of the more classic online slot symbols. It can be hard to keep up with all of the themed symbols. So the lower value symbols are fairly easy to spot.
The numerical and alphabetical lower numbers include A, K, J, 10, and 9. However, they can still win you a fair amount of coins if you are lucky enough to see five of them on the reels.
Now moving on to the slightly more exciting symbols which can win you super generous cash prizes, along with adding a lot of excitement to the game! Each of the highest paying and special symbols represent an interesting part of Ancient Egyptian history.
The symbol you will definitely want to get acquainted with is the Egyptian Princess (maybe she is supposed to be the Goddess Isis?) Not only does she act as the highest paying symbol who can win you a whopping 9500 coins if you match 5, but she is also the wild card of the online slot. This means that the priestess will have the ability to help you form more winning combinations by substituting and replacing other symbols on the reels! If the priestess does help you to form a winning combination, what you would have ordinarily won, will be doubled. The more we think about it, she is definitely the Goddess Isis!

You'll also want to be on the look out for the scarab beetle and the eye of Horus which will give you 950 coins for every five matched
The wins continue to decrease in value with the other Egyptian symbols, as the snake will win you 450 coins with every 5 matched, and the Ankh Cross will still cough up a fair 250 coins.
Eyecon have also included a scatter card in Temple of Iris which takes the form of a pyramid – it really wouldn't be an Egyptian-themed slot without a pyramid would it?
The scatter card will help you to unlock the only bonus feature in Temple of Iris, however, before you start to be disappointed – it's an absolute classic of a bonus round which we will introduce you to down below. You'll only need to find three of the pyramid scatter symbols to unlock the bonus feature. However, along with the ability to unlock a bonus round, it also acts as a valuable symbol too which can win you 450 coins if you manage to match 5 of them!
Bonus Features
It is easy to feel slightly disappointed by the lack of bonus features with Temple of Iris, but that's also like watching the original Star Wars series and being disappointed in the graphics! With Temple of Iris you really have to appreciate the classic feel to the game. And who can be disgruntled at the offer of being able to play for free anyway?!
Free Spins Bonus Feature
Eyecon commonly go under fire for not incorporating multipliers in their free spins bonus rounds, but anyone who likes a fair few spins should definitely find out the magic of the online slot for themselves!!  
As we said before, the free spins round is unlocked when the pyramid scatter symbols appear.

3 scatter symbols will get you 15 free spins
4 scatter symbols will get you 20 free spins
5 scatter symbols will get you 25 free spins
If that doesn't feel like enough – don't worry! The free spins can be retriggered when you are playing in free spins mode! There is the potential of playing with hundreds of free spins if you're lucky! Each winning combo will also be trebled from what you would have got if you were playing in the main game. So, don't be too surprised if you walk away from the free spins round which you never had to spend a penny on!
50 / 50 Bonus Feature
Even though in 2019 the 50 / 50 feature doesn't feel 'new', back in 2003 it definitely was, in fact, it was revolutionary of Eyecon to include this in an online slot. The bonus feature is simple, and you don't need to use it if you don't want to! The option will flash up every time that you win any amount of money in the slot and give you the option of playing with it. If you're feeling lucky, why not try your luck and see if you can double your coin balance? However, the catch is that if you make an incorrect selection while using the 50 / 50 bonus feature you'll have to say bye to your winnings forever! So, the feature is definitely only for the brave.
Eyecon have definitely come a long way with what they offer from their more recent online slots. So, if you're looking for a slot by the game developer giants which packs in a little more variety and action, why not check out some of the alternatives we have detailed for you down below?
About the Mobile Slots Developer - Eyecon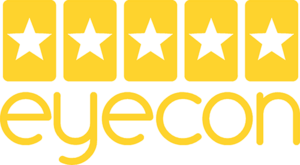 Even though Temple of Iris was the first online slot created by Eyecon, that didn't mean that it was their first ever game. Nope. In the beginning, Eyecon started out as a traditional videogame developer. Afterall, when they first together as a crack team of talent and vision Online Slot games weren't really a thing! People still went to visit land-based casinos to enjoy a bit of slot action. Of course they still do today, however plenty more players now log into sites such as Amigo Slots to play games developed by the likes of Eyecon.
Eyecon first opened their doors in 1997, it took them 5 years before their first Sci-Fi first-person shooter was released, however, the reception of the game was rapturous! 'Gore' was an instant hit for Eyecon. So, it's a little confusing why they totally shifted their focus and dedicated most of their time to creating online slot machines. Chances are they saw a gap in the market and jumped in it. Temple of Iris was the first online slot by Eyecon, but it wasn't long until Fluffy Favourites came along and stole the show. This series made Eyecon a global phenomenon for their unique approach to making cuddly characters come to life. No one can infuse adorability into their games like Eyecon. Many have tried, but in terms of charm, they're unmatched! But cute and cuddly isn't all that they do, as you saw with Temple of Iris, they are also very clever and talented when it comes to bringing history and geography to life!
Global dominance for the game developer came easy as they established themselves in both corners of the globe in Australia and the Channel Islands. Definitely one of the most interesting facts about Eyecon is just how popular they are. If we told you that the reels were spun more than six billion times in 2018, that might leave your head spinning a little bit! But it's completely true – just imagine how much players on Amigo Slots won during those spins! Of course, Eyecon's games are played all around the globe in different languages and countries. We're not sure if Eyecon have jurisdiction in Egypt, but we would say that it's likely!
Back to the online slot in question, here is how Eyecon summed up their seminal online slot on their website. If you need a slightly better idea of what you will expect, you can always pop on over to the website and give the reels a spin in demo mode! Afterall, if you have played any other Eyecon slots, it would be rude not to check out how the magic all started!
"Temple of Iris slot game will take you back in time to Ancient Egypt. First of all, you can visit the incredible pyramids, and furthermore, you'll meet Iris. The graphics are authentic, with hieroglyphics covering the background, and the reels are filled with Ancient Egyptian artefacts and symbols, including the eye of Horus, a gold snake, Bastet, the ankh (an Ancient Egyptian symbol for life) and more. Get ready for the journey of a lifetime as you travel through time and, of course, win big in Temple of Iris Slots."
Similar & Related Games to Temple of Iris
After the success of Temple of Iris, it would be rather questionable of Eyecon if they didn't want to explore Ancient Egyptian lands once more and allow their players to dip their toes in a different pool of 18th Dynasty history and culture.
Temple of Iris Jackpot Online Slot by Eyecon: As you can guess, Temple of Iris Jackpot is a Jackpot version of Temple of Iris! This means that you will have the exciting opportunity to win the progressive jackpot bonus amount and there is absolutely no limit to how high this can go! Practically everything about the game is the same was you will get from the original, even though the priestess has seemed to have disappeared and has been replaced with a blue God-like character, but he seems to be just as generous as the priestess, so we don't mind the switch up all too much. Considering that the jackpot amount to this version of the game is infinite compared to a jackpot amount of 9500x your original stake amount, the temptation to switch to the jackpot version is definitely there. In exchange for the chance of winning six or seven figure jackpots, you can expect the RTP to shrink to 89.9%

Caravan to Cairo Online Slot by Eyecon: Eyecon have gone with one of their more traditional moves with Caravan to Cairo, for anyone who would like to find the adorable appeal of Fluffy Favourites matched against the interestingly authentic feel of Temple of Iris, it's definitely worth a spin! Eyecon have made sure the symbols are as cute as possible, and the gameplay is definitely more interesting. Temple of Iris was fairly limited in number of ways to win offering just 25, Caravan to Cairo offers you nearly double that amount with the opportunity to play across 243 different bet lines. But with a return to player rate of 95.2% you'll see plenty of regular wins anyway! With the bonuses you can expect very similar offerings. If you're looking for more bonus features Pharaoh's Luck may be more up your street.
Pharaoh's Luck Online Slot by Eyecon: Pharaoh's were certainly worshipped back in the day, but whether they can be considered as lucky is another matter entirely. It's clear that Eyecon were prepared to go bigger and harder than ever with their third online slot return to Egypt. It moves back away through the cute and cuddle theme, back into a more serious exploration of culture. It may not be cute and cuddly, but it does offer you the most bonus features you will find in an Egyptian-themed online slot from Eyecon. You'll get the free spins you fell in love with, the 50 / 50 gamble feature and a Prize pick bonus too!

Temple of Iris News
Plenty of our players are Amigo Slots wonder what spinning the reels on a game which is almost 20 years old is like. But once they start to see that the game was well adapted to mobile and other handheld devices there are absolutely no complaints!
Obviously, the game wasn't available for mobile play back in 2003, because mobiles wouldn't have been able to support them! But now that practically everyone has a smartphone, Eyecon went the extra mile to ensure that their players could spin the reels on the go!