Wild Warriors Mobile Slot
Play UK Mobile Slots at Amigo Slots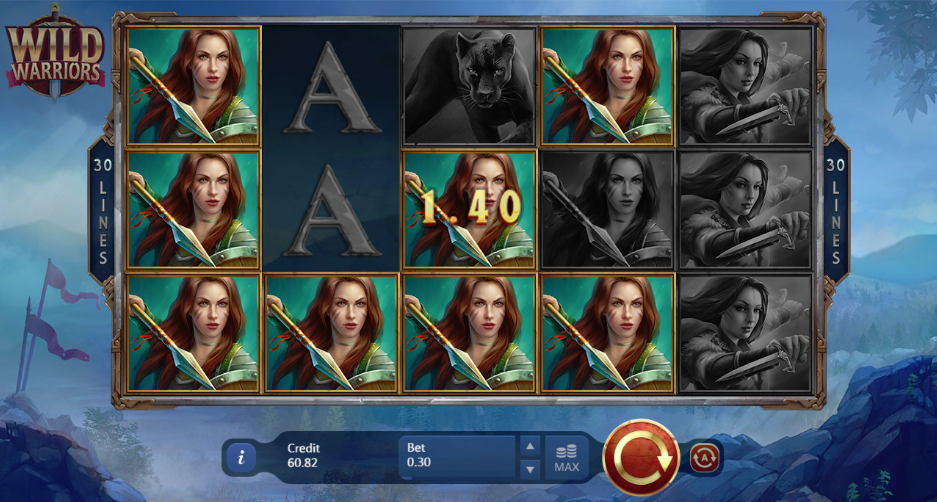 Mobile Slots - Register Here - View Promotions

Wild Warriors Mobile Slots
Get battle ready to spin the reels on Playson's most exciting online slot yet, offering 30 bet lines on the 5 x 3 reel grid, an RTP of 94.60% and a generous enough serving of bonus features such as free spins and expanding wild symbols which will make the free spins round even more exciting.
Wild Warriors Game Info
RTP
94.60%
Features
FreeSpins, Mega Symbol (3x3), Scatter symbols, Wild
Developer
Playson
Reels
5 Reels
Paylines
30 Paylines
Wild Warriors was the 2018 release from Playson who went the extra mile to appease the videogame audiences with this exciting Mobile Slots. The all-female cast of warriors may not be from any particular franchise, but it won't be long until you fall in love with the new characters!
Game Summary
As this has been a fairly recent release from Playson, the visual appeal is one of the biggest selling points to the game as well as the immersive storyline to the game. But you'll need to use your own imagination when it comes to cooking up most of the story. There's no clear view of where or when this online slot was set. But that's part of the fun imagining. But it's possible that Playson looked to numerous sources of inspiration for their online slot such as Game of Thrones, Vikings, and other warriors such as Xena and Lara Croft.
Any slot fans who want to see the women take a front seat are sure to appreciate this online slot offering stunning animations with every spin of the reels. The little touches such as an animation of coins hitting your bank account really do make the experience!
There may be a lot going on with the theme, but when it comes to the reels, Playson have kept Wild Warriors fairly lowkey. There are only eight symbols which will appear on the reels which makes it the perfect online slot for beginners or just people who don't appreciate a complicated slot experience. Even the layout of the online slot has been created to be as easy as possible! You get a nice balance of the atmospherics of the background along with the perfectly sized symbols on the reels.
There are plenty of big wins to be had in the main gameplay, matching 5 of the highest valued symbols will win you the jackpot of the game (3000 coins).
Wild Warriors Mobile Setup
On the reels you will find four female warriors which will act as the highest paid symbols along with four low value symbols which include the fairly standard letters J, Q, K & A. You won't be able to expect much from matching the alphabetical symbols, so cross your fingers that you will get to know the female warriors very well! We're sure you'll quickly find a favourite amongst the women considering that one will only win you 90 coins with 5 matched and the highest valued will gift you 150.
Joining the warriors is also a black jaguar which can be fairly generous if you match five. You'll also see the scatter on the reels which can unlock the bonus round and win you anywhere up to 180 coins.
But it is the wild warriors logo which will grant you 3000 coins if you match 5! It also acts as a wild too!
Bonus Features
Wild Warriors finds the perfect balance between a classic online slot game and a video slot which offers plenty of variance. This makes it the perfect slot for anyone who isn't looking for an overly complicated gameplay experience instead, they just like the potential of winning a nice amount of cash and having exciting characters to play with.
Although there may be a few bonus features with this online slot, there is still only one official bonus round, we'll run you through each of the features to allow you to appreciate just what will happen when you load up the reels.
Wild Warriors Online Slot Free Spins Bonus Feature
Free spins bonus rounds are pretty much the cornerstone to any successful online slot. Many things in this world may not come for free, but free games definitely do!
The initial amount of free spins doesn't seem overly generous, it actually seems that Playson has been incredibly unfair with their bonus round when you consider how many scatter symbols you will need to find to unlock the bonus feature. In most online slots, you'll only need to discover three as a minimum to trigger the bonus rounds. With this online slot it will take seven of the scatter symbols to unlock the bonus round! But don't worry, this happens more than you would expect and you can still enjoy being whisked across to the bonus round pretty frequently.
Here's how many free spins are up for grabs with Wild Warriors.
7 shields = 8 free spins
8 shields = 12 free spins
9 shields = 25 free spins.
It is worth remembering at this point that there aren't too many symbols which you will see on the reels in comparison with other online slots. This means it will be really easy to make a combination of 9 shields! So, don't let this put you off the gameplay! Especially when we are yet to tell you about the best part of the online slot! There are more perks on offer from the Wild Warrior free spins round, which includes the exciting bonus features which pop up while you are spinning for free. You may not have come across giant symbols before, but they are pretty easy to understand. The giant symbols will appear in a 2x2 or 3x3 size and fill up the 5x3 reel grid! This makes it all too easy for you to make more winning combinations. You'll have to cross your fingers that the symbol pops up at the start of the free spins round too! Because once the giant symbols are there, they will stick around right until the end. It is highly unlikely that you will walk away from the free spins round without any boost to your coin balance at all.
Another thing which makes the free spins bonus round a little disappointing is the inability to retrigger the bonus round. We suppose you've got to pick your battles! Not every free spins round comes with multipliers or giant symbols, so it is still worth a spin anyway! See how much you walk away from the free spins round with first!
We're still aware that not every online slot will suit all of our players on Amigo slots, that is why we have got you covered with some of the best alternatives to this online slot.
About the Mobile Slots Developer - Playson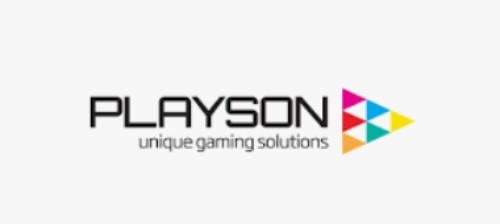 Playson may have a lot of competition to contend with, but they seem to come out on top every time they release a new online slot game. New online slots never seem to make frontpage news, but that doesn't mean that the slot community don't get infinitely excited about each new release, the fever is there if you look for it.
So, Playson may not have got much of a fanfare about Wild Warriors but it certainly didn't go unnoticed; especially by us at Amigo Slots or by our customers.
Of all the game development companies which are currently celebrating any level of success, Playson are potentially the newest, not that their in-house content would let you believe it. But they first put their heads together to create online slots back in 2012 and joined the market which was being dominated by the likes of Pragmatic Play, Eyecon and Microgaming. They all got an incredibly handy head start in the online slot world. But it turns out that Playson didn't need it! Their innovative approach was perceptible at the start. Which was just one of the reasons Amigo Slots along with many other online casinos were keen to feature their content.
The first Playson office opened in Malta and consisted of a small team of talent, but now, they have representation across the globe as Playson now has hundreds of employees all over the globe. If you weren't aware, establishing an online slot company is hard work. It's all very well and good if you can create stunning content and exhilarating gameplay experience. But, there's plenty of red tape to cut before you can make your reels accessible to the public.
Playson have slowly dominated different jurisdictions from all around the world, and in 2015, they finally gained the licence which allowed players in the UK to enjoy their online slots and that is exactly what UK players did. There are plenty of firm favourites which our UK customers play every single day to enjoy the innovative content.
Up to now in 2019, there are only 40 slot games in their portfolio, but that can definitely be forgiven for how much they put into the online slots, along with the fact that they have had to establish their business! We will probably get to see their production rates pick up in future years. However, there is still plenty to enjoy in their current portfolio! Sadly, they haven't created a cult classic, but there are plenty of different games to choose from. Currently, the most popular online slots from Playson are Book of Gold, Claws vs Paws, Viking Gods, Classic 5 Lines, Burning Wins, Sevens & Fruits and Legends of Cleopatra.
The popular slots listed above offer a great amount of variety, so whether you prefer to play on a classic slot game, or experience an action-packed adventure, you definitely won't be disappointed with Playson's portfolio. Some of the games have also been created with a little help from other online slot game developers, although, it doesn't seem likely that the collaborations will be needed now that Playson is considered to be a powerhouse of a company! They even make land-based slot games along with other gaming terminals too!
Going back to Wild Warriors, it wasn't just us that got excited about the release back in November 2018. In the press release from Playson which is available on their website, they are palpably excited! This description will be found on their website. where you can also demo the game for free.
"This 3x5 video slot with 30 lines tells the story of bold lady warriors. It features Wild symbols, which land in stacks and substitute all symbols. Scatter symbols also land in stacks. Seven or more of them on the reels trigger the Free Spins mode with Colossal symbols as big portraits of female warriors."
Similar & Related Games to Wild Warriors
Playson definitely doesn't have the biggest portfolio, so, it would be fairly unrealistic to expect that there are any replicas of Wild Warriors in their portfolio of 50 online slot games. So, we can't really hold it against them that they haven't provided a very similar alternative. But you have always got the option to explore different realms from their online slot. You'll still get to enjoy Playson's distinctive design style which comes paired with plenty of fun bonus features.
We wouldn't advise you to hold your breath for a sequel to Wild Warriors, not only due to the recent publication date, but also for the fact they Playson love to use their imagination when it comes to the themes of their games. They look at everything from contemporary culture to going right back to the dark ages by treating you to dark servings of history.
Viking Gods: Thor and Loki Online Slot by Playson: The Amazon series of Vikings reignited many people's obsessions with Vikings. The Vikings may just have one of the most exciting histories to explore, so, it really is no surprise that we will never allow their traditions to die. You may not be able to meet any of the characters which you enjoyed from watching the show, but I'm sure you can have plenty of fun imagining who Ragnar could be! This online slot is all about the Gods, as you can imagine from the title of the game! We're fairly sure that they won't ask for a blood sacrifice, instead you will just need to put down a stake amount as normal to spin the reels. Although it was questionable as to where the Wild Warriors came from, they definitely share some similarities with the Vikings, although their clothes may be a little more modern. I'm sure that won't be too much of an issue when you consider how much of a good all-round online slot this! There's even a higher RTP to take advantage of, which sits just above what Wild Warriors has to offer. Along with the 96.88% RTP you will be able to enjoy 15 different bet lines, and bonus features such as expanding wilds. The low amount of bet lines may be an issue if you like to put your stake on as many lines as possible, but for those who never usually exceed 15 bet lines there's absolutely no issue!
Spellcraft Online Slot by Playson: The occult never seems to be all too far away from contemporary media at the moment. We've come a long way from the Pendleton Witch Trials to the point where witches are routinely romanticied. And who wouldn't want to be a witch?! Whether you fell in love with the new series of Sabrina the Teenage Witch or the witches in American Horror Story: Coven, you're sure to appreciate the characters which Playson cooked up for this online slot. We all know that there are enough online slots celebrating the magic (no pun intended) of wizards and warlocks, so it was definitely time that a witch-themed online slot was published. This game is yet another brilliant example of Playson's commitment to ensure that reel players have a chance to celebrate femininity as they spin! The witches Playson hooked you up with are on the good side thankfully, and if you're lucky, they will use their magic while you are spinning the reels. Yes, they actually have the ability to do this through a unique feature which we have never seen anywhere else! When the witches feel like it, they will pop up and add a whole new reel to the 5x3 grid which will be transformed by magic into a 6x3 grid! If the prospect of that wasn't enough for you, there are also plenty of other fun bonus rounds to enjoy with the Spellcraft online slot game which come in the form of stackable wilds. Given that the RTP is sat at a generous 96.4% there are definitely plenty of reasons to check out Spellcraft which offers serious competition to Wild Warriors along with every other action-themed online slot which is available to play today!
Similar Mobile Slots (not made by Playson)
Playson have cooked up some exceptional online slots in their time, however, that's not to say that their action-themed slots are the best choice for you as a reel spinner. So, we've scanned the internet to find you the best online slots which celebrate fierce femininity at the same time as having the potential to win you a hell of a lot of cash. Female-fronted online slots seem to be a trend worth jumping on! So let us run through our top three favourites for you!
Agent Jane Blonde Online Slot by Microgaming: In the James Bond films women have been stereotyped into the same archetypes over and over again, so it is infinitely refreshing to see a female spy which is just as clever, calculated and deadly as James Bond himself! As brilliant as the theme is the gameplay is even better. Agent Jane Blonde serves up plenty of style alongside some incredibly exciting bonus features which will help you to make sure that you get the most out of your sake amounts! The fact that there are only 9 different bet lines may be enough to put some players off the online slot, but the high RTP of 96.10% definitely makes turning to the reels on this slot worth it!
Wild Jane Online Slot by Leander Games: While Wild Jane sounds like a character from King Kong, the online slot game invites you on a very different adventure. In fact, you may as well want to start thinking along the lines of Pirates of the Caribbean if you want to get an idea of just how exciting Wild Jane is. We have never really had a female pirate icon, so Wild Jane is a treat of a character who does an excellent job of taking us on an adventure. Leander Games may not be as popular or renowned as Playson, but this online slot game certainly stands as a testament to their talent. Along with the excitement of entering the world of piracy (not the online kind!) you will also get to benefit from fun bonus features. They may not be the most unique of features, but they definitely add a lot of variance to the online slot game and constantly keep you on your toes as you spin the reels. There are plenty free spins and expanding wild symbols to boost your coin balance which will be constantly topped up considering that the RTP rate to this online slot is 96.59%.
Sirens Serenade Online Slot by Saucify: Of all the online slots celebrating femininity, this may just be the ultimate alternative to Wild Warriors, the theme is incredibly similar, however Sirens Serenade take a much darker tonality. The cold and harsh landscape which you will see in the background tells you that the women who are thriving in this environment will probably need to be as hard as nails. There really is no understating how stunning the graphics are on this online slot. It may be dark, but it has no trouble drawing you into the atmospherics of the online slot. The unique selling point to this online slot is undoubtedly the graphics and the gameplay experience, however the 3 x 5 reel grid and offering of 25 different bet lines definitely gives you enough of a reason to check out the game. The RTP may be a little low at 94.99% but the inclusion of expanding wilds definitely makes up for that fact.