Zombie Hoard Mobile Slot
Play UK Mobile Slots at Amigo Slots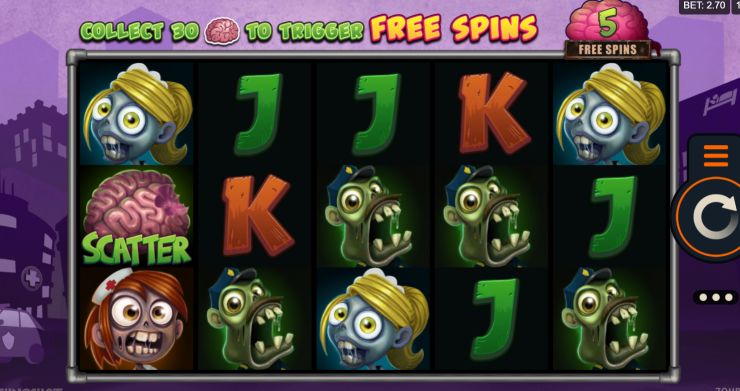 Mobile Slots - Register Here - View Promotions

Zombie Hoard Mobile Slots
Zombie Hoard is a 5 reels, 9 paylines online slot game by Slingshot Studios. Zombie Hoard has WIld, Scatter Symbol, and Multiplier features and an RTP of 95.29%. If you're looking to play this ghoulish slot, you're in the right place here at Amigo Slots. Don't forget we also offer more than 500 great Mobile Slots including Starburst, Chilli Heat, Rainbow Riches and Fluffy Favourites!
Zombie Hoard Game Info
RTP
95.29%
Features
Free Spins, Scatter Symbols, Wild
Developer
Microgaming
Reels
5 Reels
Paylines
9 Paylines
If you're good with spelling, you'll notice that the 'Hoard' part of this slot's title should probably be spelled 'Hoard,' but we'll let Slingshot Studios off, because we suspect that they were going for a pun when they came up with it. A 'hoard' is defined as a store of valuable objects. In the case of Zombie Hoard, an army of the undead has their hands on all the money, and it's down to you to get it back from them!
Game Summary
Zombies have never really gone out of fashion as a horror fiction idea ever since they were first dreamed up in Haiti in the 17th century, although it took until George Romero's 1968 classic movie 'Night of the Living Dead' to bring them to the movies. These days you're more likely to find them starring in the TV show 'The Walking Dead,' or terrorizing you in the latest 'Resident Evil' video games. They're normally a little scarier than the zombies we see on screen in the Zombie Hoard Mobile Slots game though. In fact, we think these zombies actually look a little cute!
Slingshot probably took inspiration from the cartoons and video games of the 1990s when they were designing this slot. It has a retro feel in terms of sound and animation; the background music wouldn't be out of place in an old 16-bit Nintendo game, and neither would the graphics. This slot isn't at the cutting edge of visual design, but we don't think it was supposed to be. It almost feels like you're spinning reels inside an old-school comic book.
Zombie Hoard Mobile Setup
The layout of the slot is safe and familiar at 5x3, with a comparatively low number of fixed paying lines - there are only nine of them. We can put part of that down to the intentionally simplistic design of the slot, and the other part down to how new Slingshot Studios are to all this. This is only the second online slot that Slingshot ever released, and we'll talk more about them later on. Behind the cute-yet-creepy reels, we can see a post-apocalypse scenario in a deserted city, but you'll soon forget about that when ghastly green arms reach around from behind the back of the reels and grab at the symbols! Despite their appearance, they're actually on your side. They applaud and wave when you win. As far as zombie etiquette goes, they're very well behaved!
As this is quite a basic slot, it's only right that the familiar royal values 10, J, Q, K, and A make an appearance to represent the least valuable symbols. In an interesting twist, though, they might sometimes be more valuable than they first appear. All of the low-value symbols can sometimes come with a tiny pink brain token, which adds up and contributes towards the bonus round. It's a nice way of making sure even the boring symbols have something to offer.
A zombie-themed slot wouldn't be complete without plenty of zombies, and so the rest of the symbols consist of a zombie nurse, a zombie girl, a zombie policeman, and what may or may not be a zombie chef. Above them are a wild symbol, which is the 'Zombie Hoard' logo, and a scatter, which is a bright pink human brain of the type that zombies are so fond of gnawing on. The brain is the only thing that can't be replaced by the wild.
It's not just the zombies who are on the hunt for brains in this slot though - you are, too! The more brains you're able to collect, the better your experience with the bonus feature will be. Here's how it works.
Bonus Features
Zombie Hoard only offers players one bonus feature. That's probably to be expected from a fairly straightforward game that only contains nine paylines. There are two different ways you can get into the bonus though; symbols and tokens.
Above the reels, to the right-hand side, you'll see a counter. That counter tells you how many brain tokens you've collected so far. Each time you find a low-value symbol with a little brain symbol on it, that counter will go up by one. When it hits thirty, you get thirty-three spins, and the round starts instantly. Any winnings found during your free spins are subject to a 2x multiplier.
Acquiring thirty brain tokens takes a while, so you can get there faster by landing three of the brain scatter symbols instead. Once you've done that, the round will trigger with as many free spins as you've collected up until that point. If you don't have any at all, you'll be awarded five to get you started. Obviously, the more free spins you have stored, the more money you're likely to win, so you actually don't want to trigger the feature until you've reached a decent level.
Zombie Hoard is simple fun. It doesn't put any demand on you as a player, it's cute enough to put a smile on your face, and it's easy to play. Success in the slot will depend on your ability t generate a sufficient number of free spins, because the rewards in the base game aren't especially high.
About the Mobile Slots Developer - Microgaming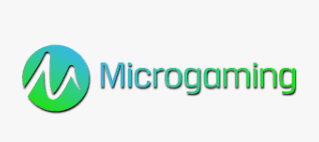 If you load Zombie Hoard to play it, you might be surprised to see the logo of Microgaming appear. Microgaming has brought this product to UK Mobile Slots players, but they didn't create it. As we're seeing more and more from Microgaming in recent years, they've partnered up with a smaller studio, who then make slots exclusively for them. Slingshot is the latest such studio, who have only been in business since the second half of 2018.
Because Slingshot is still so new, it's hard to know what to expect of them. We need to see more slots before we can form a judgment, and at the time of writing, they've only published two. We do know that Microgaming would never back a loser though, so we have every confidence that they'll blossom into a quality development team. Their youthfulness as a company doesn't mean that they lack experience; according to their website, they've drawn on experienced professionals from elsewhere in the industry to come together and create something new. Working with start-up companies in this way might be the next phase of Microgaming's evolution - even after more than twenty-five years in the business, they're still finding ways to stay ahead of the crowd.