Joker's Jewels Mobile Slot
Play UK Mobile Slots at Amigo Slots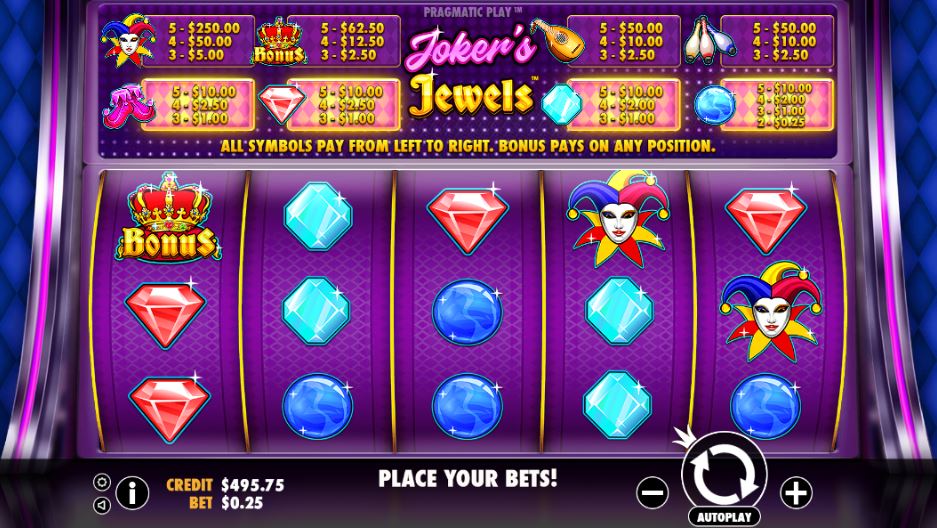 Mobile Slots - Register Here - View Promotions

Joker's Jewels Mobile Slots
Looking for a new fun online slot? Look no further than Pragmatic Play's slot which comes with classic feel but plenty of contemporary appeal! The 2018 release offers a standard 5 x 3 grid formation, 5 different ways to win and a high 96.5% return to player rate which transforms this online slot into a highly volatile Mobile Slots. If you're looking for the big wins, there's every chance you will find them here with the ability to snag 1000x your original bet amount!
Joker's Jewels Game Info
RTP
96.5%
Features
Bonus Symbol
Developer
Pragmatic Play
Reels
5 Reels
Paylines
5 Paylines
There are no prizes for guessing what inspired Pragmatic Play's 2018 slot! So, be prepared to be whisked to the carnival which isn't all too interested in treating you to an all-new, dazzling, contemporary slot. Joker's Jewels still has an incredibly classic feel. So, if you're looking to do nothing other than spin the reels with the excitement of grabbing yourself that nifty 1000x bonus, you're definitely going to appreciate what Pragmatic Play have cooked up here.
Game Summary
With the ever evolving state of technology, it seems like there are always new trends to jump on, so, if you're feeling a little overwhelmed by all of the overly complicated online slots, you're going to love the intriguing simplicity of Joker's Jewels which treats you to a nice, fun and atmospheric setting which you won't tire of very quickly!
Online slot games were an entirely different ballgame back in the 1990s, as were online casino. Even though online slot games were around, they definitely weren't as popular as they are today. The development of tech which is responsible for creating stunning graphics has moved on in leaps and bounds. While we can't imagine that any online slot player would ever complain about that, it is the over-complication of the gameplay experience which many traditionalists are averse to. Be prepared to see elements of the present and future combine with Joker's Jewels.
Joker's Jewels is the perfect solution to your traditionalists needs! Of course, not all reel players are the same, which is why at the end of this review we've included a few alternative online slot games for you to consider before you spin the reels on Joker's Jewels. The temptation is always there to rush your choice in online slot game, but it definitely pays if you spend a little time understanding which online slot games will offer you the most for your money at the same time as suiting your playing style, personality and budget!
With so many ground-breaking online slots being released every month from various different online slot game developers it can be easy to question why it is impressive when any online game developer creates a simple and sweet one. But you'll need to consider the competition in the market, considering that tonnes of game developers have tried and sorely failed.
When you load up the reels on Joker's Jewels, you won't see excessively flashy visuals or overly complicated animations which takes you away from the main action for all too long. Instead, playing Joker's Jewels has a very clever design which has been made to look like you are stood nose to nose with a traditional land-based online slot game. So, this game is the perfect transition slot for anyone who is more used to spending their time hitting spin on a one-armed bandit. At least now you will be able to do so from the comfort of your own home – or wherever you choose to play! You could even go to the casino and play the online slot if you like, no one is here to judge you! That's just our way of saying that mobile players will be especially delighted with the gameplay experience loading up the reels on Joker's Jewels.
If there are any game developers who have proven themselves in the last few years for the ability to create the most enjoyable Mobile Slots games it's Pragmatic Play. And they definitely haven't failed to create a fantastic mobile experience with Joker's Jewels.
If you're easily distracted, you are going to love how little there is happening on the main screen as you spin the reels. There aren't any excessive images or things to keep track on, this really just allows you to sink into the spinning slots and wait for the big wins to drop into your coin balance!
The gameplay to Joker's Jewels is incredibly straight forward, so, if you have spent any amount of time spinning the reels on any online slots, you will feel comfortable with the reels in absolutely no time. All you'll need to know is hit spin and sit back and watch the magic happen – after you have set your stake amount and how many of the betting lines you would like to play with of course.
Another brilliant thing about the Joker's Jewels online slot is that it presents you with how much you stand to win by matching each of the different symbols on the reels at the top. The symbols are all worth different amounts of money whether you match 3, 4, or 5. So it's great to know where you stand every time you win and you don't have to try and find the information away from the main mode of play. If you spent enough time spinning the reels on Joker's Jewels we're fairly certain that you will have those numbers well-memorised.
While the visuals may be fairly minimalistic, sadly Pragmatic Play didn't go with a lax soundtrack, but at least they were kind enough to offer us a mute button so we can play in silence or play music on top!
It was fairly clever of Pragmatic Play to create an online slot game dedicated to the joker, considering that they are more commonly associated with playing cards. Maybe one day the online slot world will have taken over every traditional card game?! Who knows, but what we do know, is that it's always exciting to explore the history and the culture of Jokers who are also known as jesters. Having the job of making people laugh may not be ideal for many people – but it's still better than sitting in an office, right?
Now we've covered the basic theme of the Joker's Jewels online slot, we'll let you know what to expect as you spin the reels. You won't see a lot of special symbols popping up, in fact, you won't see all too many symbols popping up at all.
This online slot is definitely not for everyone. But there has never been a universally adored online slot, ever! So, if you're looking for more complicated online slot games, you may want to skip to the end of this review!
Joker's Jewels Mobile Setup
As we briefly touched on before, Joker's Jewels presents you with a 5x3 reel grid, but far fewer bet lines than what you are usually accustomed to from online video slots. The offering of only 5 bet lines may put plenty of people off this online slot, as it is always nice to have the option to increase your chances of winning by placing your stake on as many bet lines as possible. However, at least you can do this with Joker's Jewels by only using five.
It is easy to feel that online slot games which are offing over 200 different play lines are just being incredibly excessive. But there is no right amount of bet lines in an online slot, only a right amount of bet lines which is perfect for you!
You'll notice that even though the bet lines are incredibly low, the return to player rate is still higher than most online slots. So, it is safe to say that you don't need all too many bet lines when you are betting on this online slot as you will still receive plenty of frequent pay outs.
But how does that work?
It is made all too easy as there are only 8 symbols which will appear on the reels! Some online slot games offer double that amount! So, making a winning combination is made easy, even without the wild symbol! Your coin balance will never, ever feel neglected when you are spinning on Joker's Jewels.
Here's what you can win as you spin
Dark blue jewel will give you 200 coins max
Light blue jewel will give you 200 coins max
Red jewel will give you 200 coins max
Joker's shoes will give you 200 coins max
Joker's skittles  will give you 1000 coins max
Joker's lute will give you 1000 coins max
The joker will give you 1000 coins max
Bonus symbol will give you 1250 coins max
As you can see, there is a lot to win simply by spinning in the main game. With other slots, you will only enjoy small cash amounts by matching symbols and it is the bonus round where you will make your big wins. Pragmatic Play that they knew they would please the traditionalists with the main mode of play, so there really was no need to overcomplicate anything when it came to the bonus round.
Bonus Features
We may have got you a little bit excited when we told you that there was a bonus round which can win you 1250 coins when you match five. However, this is the only power the 'bonus' symbol has.  
Instead of being disappointed with the bonus features, you can definitely start to get excited about the simplicity of the game and how much you stand to win by spinning.
There really isn't much to say here unfortunately! Aside from the fact that Joker's Jewels may just be the best alternative to a traditional land-based slot machine.
About the Mobile Slots Developer - Pragmatic Play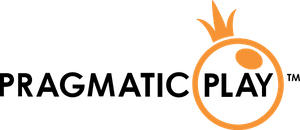 Pragmatic Play certainly aren't the oldest gaming company, but they have made sure that with their leading content that they are one of the most prominent! Their story began just over a decade ago, however, it didn't take them long before they caught up with the competition and established themselves as a powerhouse of creative talent.
They may not have got the head start by establishing their company before the dawn of the internet, but they still proved to be a change focused company has they have not only been able to stay ahead of the curve with their online slot games, they have also been able to carve out that curve with their content which easily rivals what you can expect from the likes of Eyecon, SG, Microgaming and Playson. Their online slots never seem to be all too far away from the top spots, at the moment it is their iconic adventure-themed slot game Wolf Gold which sits in the top ten lists. Which definitely comes as no surprise considering that they cooked up an immersive treat with the online slot which authentically explores the cultures and traditions of shamans.
It truly is the mark of a good game developer when they establish their own signature style with an online slot. When you load up the reels on any game by Pragmatic Play, you don't need their name to pop up to tell you who is behind the stunning graphics.
At the time of writing this review in 2019, Pragmatic Play have a whopping 100+ titles in their portfolio and every single online slot reflects their bulletproof brand identity which other game developers have a hard time keeping up with!
It is highly likely that the key to Pragmatic Play's success is their ability to excel with both classic online slots and highly visual action-packed online slots where the animations will literally make you jump out of your skin if you trigger a bonus round. Every online reel fan is sure to find a firm favourite within Pragmatic Play's portfolio.
Their top online slots currently include Mustang Gold, Wolf Gold, Wild Gladiator, Great Rhino, Leprechaun Song, Chilli Heat, Da Vinci's Treasure, and Hot Safari. Joker's jewels is also high up in the ranks of popularity! But as you can imagine from the diverse selection of games there, Pragmatic Play have covered plenty of ground when they have been looking for the inspiration for their online slots. But that is only half the battle, the next step is to ensure that they offer a fair and inviting gameplay experience which offer plenty of perks. Even with the more classic online slot games, such as a high volatility and high return to player rate!
In the unlikely event that there isn't a title in Pragmatic Play's extensive portfolio, don't despair, on average they release a new online slot every month. And you can rest assured that they always come up with unique and inventive to help you win a life-changing sum of money!
Along with their fast production rate when it comes to online slots, they also spend plenty of time creating land-based gaming solutions too which you will be able to find in most land-based casinos. The slot world hasn't been fully digitalised yet, and it is unlikely that we will ever see a full transition away from land-based slot machine.
Anyway, back to the slot game in question, here's what Pragmatic Play had to say about Joker's Jewels over on their website.
"Joker's Jewels™ is a 3 x 5, 5 lines mechanical slot with a very strong pay table for amazing big wins!"
Maybe they weren't feeling all too talkative on the day that they were asked to sum up their new online slot game. Or maybe they knew that the quality would speak for itself? We're assuming that it's probably the latter considering that Joker's Jewels got an incredible amount of press when it was released and that's fairly rare for any online slot game!
Similar & Related Games to Joker's Jewels
Pragmatic Play's portfolio may be extensive, but that isn't to say that they are game design company which like to explore the same themes over and over again. And the Joker theme is absolutely no exception to this rule, to be fair, not all that many online slot games have ever existed by any other company to celebrate the archaic delights of jokers. In fact, if you say the word 'joker' these days, people will probably just assume that you are talking about the Joker from Batman (Heath Ledger, obviously).
Anyway, after we scoured through Pragmatic Play's portfolio we found a couple of classic/videos online slot hybrid games which allow you to appreciate the classic along with the contemporary! All at the very same time!
Magic Crystals Online Slot Game by Pragmatic Play: If you are looking for yet another classic experience which also comes with a touch of modernity, look no further than Pragmatic Play's slightly older online slot game Magic Crystals. We know, we know, the theme isn't all too similar to Joker's Jewels as there is no jolly fellow who is all too excited to lead you through the excitement of the online slots. So, with Magic Crystals, you get an even more relaxing gameplay experience visually, but it is a whole new kettle of fish when it comes to the specs of the game. For a start, any slot fans who prefer to play with high bet lines are sure to appreciate the much higher offering of 243 with Magic Slots. The increased number of bet lines in Magic Crystals doesn't mean that the return to player rate is any less generous either! The RTP still offers a really generous rate of 96.35%. There is also the inclusion of free spins with Magic Crystals which will make the gameplay experience much more preferable to many players. Who doesn't love spinning for free? Some people say that nothing in life comes for free, but we'd have to disagree with them!
888 Gold Online Slot by Pragmatic Play: If Joker's Jewels made you doubt what Pragmatic Play could pull out of the bag visually, then 888 Gold is sure to put your mind to rest! They pulled out all of the stops to treat players to a stunning visual treat which will be impossibly hard to tear yourselves away from once the reels are in motion. Just make sure that you're doing your best to stay within budget! The reels on this slot take a slightly different formation with the 3x3 grid which will mean that with every spin you will see far fewer symbols on the reels, but there's still plenty of appeal to 888 Gold considering that there is an 97.52% return to player rate. Although, 888 Gold is yet another online slot game which doesn't offer any bonuses, so be mindful about that before you start to spin the reels and get disappointed.
Diamond Strike Online Slot by Pragmatic Play: Pragmatic Play made one of their most iconic online slot games when they released Diamond Strike. If you're looking for a simple, understated, yet spectacular online slot game look no further than this gem which was recently released. Traditionalists won't be able to resist the simplicity of the game's theme and aesthetic. However, what may lose Diamond Strike with some of the most hard to please traditionalists is the fact that the online slot also comes with a hefty serving of bonus features. It may not be for everyone, but we know that tonnes of our players at Amigo Slots have found the appeal!
Similar Mobile Slots (not made by Pragmatic)
If you had your heart set on a Joker-themed online slot instead of a more classic style slot from Pragmatic Play, we've found some of the best options for you which are all available to play on Amigo Slots!
40 Joker Staxx Online Slot by Playson: The joker really does come to life in Playson's 40 Joker Staxx, the Joker will even load the reels for you – which kind of explains the name. But there is plenty more to 40 Joker Staxx than just a fun title. Playson were able to give Pragmatic Play a lot of healthy competition with the release of their online slot game which came out at around the same time as Joker's Jewels. The RTP is also fairly generous at 96.42%
Fruits and Jokers Online Slot by Playson: There isn't much to separate Fruits and Jokers from 40 Joker Staxx in terms of the theme, however there is plenty of distinction in the actual gameplay on the 5x4 reel grid which offers 40 pay lines and tonnes of bonuses. This is probably the most complex online slot which we have provided to you as an alternative!