Kongo Bongo Mobile Slot
Play UK Mobile Slots at Amigo Slots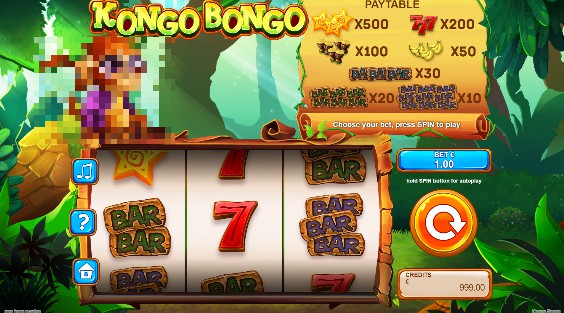 Mobile Slots - Register Here - View Promotions

Kongo Bongo Mobile Slots
If you're looking for the most adorable Mobile Slots game on Amigo Slots, you're definitely in the right place with Tom Horn Gaming's brand-new for 2019 Mobile Slots game Kongo Bongo.
Kongo Bongo Game Info
RTP
96.07%
Features
-
Developer
Tom Horn Gaming
Reels
3 Reels
Paylines
1 Paylines
3 x 1 reel Mobile Slots games aren't as popular as they used to be, however, it is very likely that they will see a surge in popularity after the release of this cute and characterful title. Even if you're more accustomed to 5 x 3 or 5 x 4 reel sets, Kongo Bongo is still more than worth a spin.
Game Summary
There's definitely no exaggerating when it comes to how immersive and spectacular the graphics are in Kongo Bongo, which as you can probably guess is a Jungle-themed Mobile Slots game. But the Mobile Slots comes with one starring character – the charismatic monkey who will sit on top of the reels and make the gameplay experience even more endearing.
As you'd expect from a 3 x 1 Mobile Slots game, Kongo Bongo is incredibly easy to play, so it would be a great choice for any players looking to learn the ropes with Mobile Slots gaming, it is also perfect for players who are looking for that classic sit and spin gaming experience.
In 2019 it can be hard for a Mobile Slots game developer to release a title which feels truly innovative, but Tom Horn Gaming have done it well in Kongo Bongo. The gameplay may be relatively simple, yet, it can also be incredibly rewarding. There's a return to player rate of 96.07% making sure that you see plenty of your stake in return, however, you may need to be careful of your bankroll as Kongo Bongo comes with a high volatility rating.
The maximum jackpot up for grabs in Kongo Bongo is 80,000, so you can be sure that you will encounter plenty of massive multipliers as you spin. You'll be able to place your stakes in Kongo Bongo from as little as 10p, or you can try for the max jackpot with a stake of £100.
If you're used to playing on larger reel sets, it may be slightly strange to play on a Mobile Slots game which only offers one bet line, but you'll soon be able to get used to the simplistic generous action. As, unlike with Mobile Slots games which offer multiple bet lines, your stake amount won't be split between them. Instead, whatever you put down on a stake will be the amount which is boosted by the multiplier. So, it's easy to see why more and more players are starting to turn to one reel Mobile Slots games.
Kongo Bongo Mobile Setup
To make it even easier to see what wins are coming your way in Kongo Bongo, Tom Horn Gaming has kindly left the paytable visible at the top righthand corner of the reels – there's another added bonus of Kongo Bongo only being a 3 x 1 reel slot game!
There are seven different paying symbols in total, in order of the lowest paying to the highest they include the purple bar symbols, the green bar symbols, and the blue bar symbols, the highest paying of these symbols is 10x your stake. However, the bananas, bongos, lucky red sevens, and gold stars will be even more generous! The gold star symbol can award you with up to 800x your stake when you find three on the same spin. However, it is worth noting that the value of the line wins can change depending on your stake amount.
So, if you opt to use a smaller bet amount, you may only receive 500x your stake. With that in mind, it is safe to say that Kongo Bongo probably is more aimed at players who are looking to throw down the higher stake amounts on the Mobile Slots game. The variable multipliers are slightly disappointing, however, being able to win 500x your stake from a standard line win definitely isn't something to grumble about. The size of the wins in Kongo Bongo should tell you plenty about the frequency of the payouts. Considering that the least valuable line win is 10x your stake, you can't really expect more than 1 win in 10 spins. 
Bonus Features
It is quite rare for such a characterful and fun Mobile Slots game to not have any bonus features at all. But with Kongo Bongo, Tom Horn Gaming have chosen to keep the design totally basic, all that it will offer is the main mode of play.
So, there may not be any wild symbols, bonus symbols, or free spins bonus rounds, but don't forget, there's an 800x multiplier up for grabs just by matching together three of the highest valued symbols!
Kongo Bongo may not be the perfect Mobile Slots game for all of our players at Amigo Slots, but thankfully, we have plenty of other Mobile Slots games to choose from, which includes a great selection of Tom Horn Gaming's fabulous in-house content.
About the Mobile Slots Developer - Tom Horn Gaming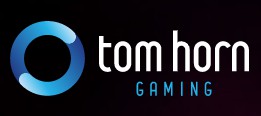 Tom Horn Gaming's production style definitely shouldn't be judged by what is on offer in Kongo Bongo. In their selection of over 90 Mobile Slots games, you'll be able to find plenty of variety in terms of themes and gameplay! The Mobile Slots game developer produced their first title back in 2008, but in the decade since their inception, they've been able to grow into a globally renowned company. The Malta and UK based developer's games are now played in over 20 countries.
If you're looking for a gameplay experience a little different to what was on offer in Kongo Bongo, you're sure to appreciate the following titles: Hot Blizzard, Sherlock: A Scandal in Bohemia Online Slot, Wild Weather, 243 Crystal Fruits, Frozen Queen, The Cup, Dragon Riches, Inca's Treasure. As you can see, there's plenty of variety to choose from, but whatever set of reels you choose to load up, you can be sure that there'll be big wins to come.