Shamans Dream Mobile Slot
Play UK Mobile Slots at Amigo Slots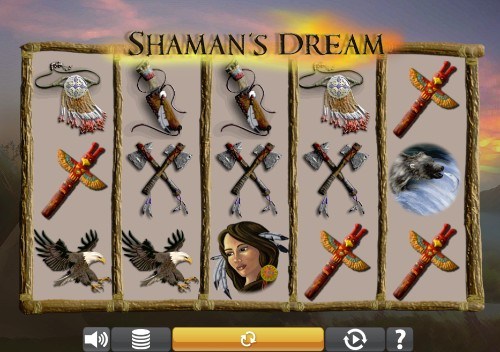 Mobile Slots - Register Here - View Promotions

Shaman's Dream Mobile Slots
Amigo Slots are proud to present the UK's favourite UK Mobile Slots centered around Native American culture! Eyecon created another classic with the 3 x 5 reel set up, return to player rate of 95.44% and 25 bet lines to play across along with a fun free spin bonus round and Eyecon's exciting 50/50 gamble option.
Shaman's Dream Game Info
RTP
95.4%
Features
Free Spins, Gamble, Scatter Symbols, Wild
Developer
Eyecon
Reels
5 Reels
Paylines
25 Paylines
There's a lot to explore in the Native American culture, which is why it made a perfect theme for Eyecon to explore with one of their most popular Mobile Slots. It hasn't quite reached the heights of popularity which Fluffy Favourites enjoyed, but the slot game which was released in June 2016 doesn't seem to be losing popularity, even though it has been a while since the release. It's still the number one option if you're looking to explore this theme while spinning the reels.
Game Summary
Eyecon chose to mix things up from their cuddly and cute style to create a somewhat serious theme, where there's plenty to learn. As well as allowing you to appreciate the North American landscape, you will also get to go back in time. We'd hazard a guess and say you're thrown back by quite a few decades. If you've got plenty of fond memories of kicking back and watching old Westerns featuring Cowboys and Indians, prepare for your passion to be reignited by the classic style online slot.
As you're playing an Eyecon game, you won't be disappointed however you choose to play. If you're a mobile player, you definitely won't have any issues with enjoying a seamless playing experience. Eyecon never like to over complicate the graphics so squeezing them down onto a three- or four-inch screen is definitely no issue! There may not be a lot going on in terms of animation with the 2D graphics, but no one can deny that the authenticity of the theme is there thanks to the background of the game and the symbols which you will appear on the reels. You'll get a sense of how Native American tribes used to live and get a feel for their culture. There's a fair amount to learn about them, they're really rather fascinating. Especially when it comes to Shamans.
If you haven't unravelled Shamanism before, Shaman's are highly regarded in their tribes, tribes depend on them for their otherworldly knowledge when it comes to spiritual, psychic and emotional healing. Even with the introduction of modern medicine and psychology their practice is still truly alive and well today. Shaman's gain their knowledge by connecting with worlds outside of the material world. These practices weren't just seen in North America, all around the world there shaman's can be found – even today! Even though its easy to be cynical about people using spirit guides to connect to other worlds and travel astral planes, it's unlikely that the importance of Shamanism will ever diminish.
If all that has got you excited about what you will unravel on the reels, you're definitely not alone. Thousands of people spin the reels on Shaman's Dream every single day. In 2018 Eyecon's slots were spun over 6 million times and Shaman's Dream definitely helped them reach those heights of popularity.
The background to the Shaman's Dream online slot is almost transcendental and mystical itself, if you love watching hues of pink and blue blend in a sunrise you will love looking at the sunrise over the sparse rocky lands of North America. While on the reels you will find plenty of themed symbols which are all worth different amounts of money if you're lucky enough to strike a winning combination. Considering that Shaman's Dream is considered to be a highly volatile slot, you will be enjoying plenty of those wins!  The slot grid also incorporates the Native American aesthetic with the cute wooden frame which is rickety and charming.
For the soundtrack, Eyecon went with a fairly minimalistic approach, instead of constantly listening to a soundtrack, your speakers will only ring to the sound of pan pipes when something exciting happens! That means that there is no music playing on a loop that you will quickly get tired of! Instead, Shaman's Dream is a fairly relaxing online slot to play, to make it even easier for you there's the auto spin option which will allow you to set how many spins you'd like to play with in auto mode. For those who want to get stuck in with the game there's also a manual option.
Shamsn's Dream Mobile Setup
Now you've got a little taste of the aesthetic side of Shaman's Dream we'll introduce you to how it works and all of the fun little features which Eyecon have included. Even two years after the release of the game, Slot Catalog still have Shaman's Dream in the top 50 slots – at the time of writing it's currently ranked 26. That's a fairly impressive feat considering the fact that there are thousands of online slots out there today. Amigo Slots are home to 550 of the best of them, but Shaman's Dream is still one of our most popular.
You'll see no standard symbols while you are playing Shaman's Dream, instead each of the symbols are an interesting part of Native American culture. There's 12 in total that you'll soon become familiar with once they have contributed to your coin balance!
As you would expect, the Shaman is one of the highest paying symbols in Shaman's Dream. If you're lucky enough to match 5 Shaman symbols you will receive 950 coins. The amount is even higher when you match the win with the Wild which is the white wolf, then you can win anywhere up to 1900 coins! It happens more frequently than you would think too.
If you thought that the Shaman was generous, when you match the wolf wild, you might as well start celebrating straight away. As well as helping you to create winning combinations when matched with any other standard symbol aside from the scatter symbol represented by the dreamcatcher it can also allow you to win 9500 coins when you match 5!

In order from the highest paying to the lowest are eagles, daggers, jewellery, wigwams, crossed axes, tomahawks, and a Native Indian girl.  

in Shaman's Dream, Eyecon chose the dreamcatcher for the symbol which can trigger the bonus round for you. All you will need to do is match 3 or more for you to be transported into the bonus round. There's only one bonus round to Shaman's Dream, which may be disappointing for some reel spinners due to the lack of variety, although some may favour the simple approach to the classic slot which keeps everything fairly simple. Eyecon never seem to like overcomplicating things, so this must be a major factor in their popularity.
You'll have 25 different ways to win on the 5 x 3 grid slot, for higher chances of winning on Shaman's Dream, bet across as many as you can – as long as you make sure that you are playing within your budget! Keeping your playing costs minimal is easy to do as you can set your minimum stake amount at 25p, and the max stake amount is set to £12.50. So, in terms of stake variance, Shaman's Dream definitely doesn't give the highest maximum stake amount, or the lowest minimum stake amount, but it's great for those with medium budgets looking to play responsibly. When with the low betting ranges, you can still stand to win the 9500 max jackpot from matching 5 of the wolves which are the wild cards in this game. You'll be able to win more money in the Jackpot version of Shaman's Dream which we will cover in more detail down below if 9500 coins isn't enough to get you excited. But considering the volatility and how fun the Wolf wild makes this game, there's still plenty to get excited about!

Bonus Features
As there is only one bonus round, there's not a lot to say here in comparison to the games which have five or six of them. But despite how light Eyecon have left the bonus rounds, that shouldn't stop you from getting super excited when it is triggered.
As we said before, it will take 3 or more of the scatter dreamcatcher symbols to trigger the free spins game. How many free spins you will get to play with will depend on how many dreamcatchers made up the winning combination.
2 scatter symbols = 2 free spins
3 scatter symbols = 5 free spins
4 scatter symbols = 20 free spins
5 scatter symbols = 450 free spins.
Now, there aren't all too many games which realistically offer you a staggering 450 free spins, so this is definitely a major selling point for Shaman's Dream. If you find more of the scatter symbols on the reels, you will also be able to gain more free spins. However the cap is still set at 450 free spins, Eyecon are generous, but definitely not that generous.
But in the free spins round you will enjoy plenty more than just spinning for free – the pay outs are huge when you make a winning combination in the free spins round. You will get three times the amount which you would have got in the main gameplay. If the white wolf wild card pops up again, the trebled amount will get a nice 2x multiplier! That may be a lot of maths to contend with, but the maximum you are able to win is a whopping 380x your stake.
If you're feeling lucky, you might also want to take advantage of the 50 / 50 feature which gives you the chance to double your wins. However, if it doesn't go in your favour you can wave goodbye to what you have just won sadly! So always use the feature wisely to avoid massive disappointment!
About the Mobile Slots Developer - Eyecon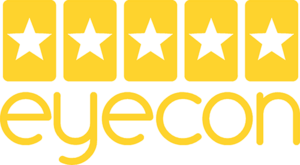 Eyecon is a games developer which is hugely favoured by Amigo Slots, you can find plenty of the 60 games in their portfolio available to play on our website! They are hugely popular in the UK, but their dominion stretches to many corners of the globe.
The history of Eyecon dates back to 1997 when they first put together a crack team of game developers and other talent to create what would come to be the ultimate success story for the new company. As online slot games weren't all too popular back in 1997 Eyecon originally focused on creating more traditional style videogames. Their first being a horror-themed game named 'Gore'.
But, by the time that online slots were starting to increase in popularity, Eyecon were right on the cusp of the change as they released Temple of Iris in 2003. Originally it was titled Temple of Iris, but the online slot had a bit of a rebrand for obvious reasons. They left their love of Sci Fi, horror and gore aside when they started creating their online slot, which is definitely the case when it came to their most iconic game yet – Fluffy Favourites. Now, Fluffy Favourites is part of a massive franchise with new titles or sequels constantly being released.  Even though Fluffy Favourites was released in 2006 it is still listed in the top 20 slot games!
Even though Eyecon never seem to pay all too much attention to high intensity graphics, their games seem to have an individualistic charm of their own, they're cute and cuddly, and super easy to slip into for an immersive gameplay experience.
Other popular slots by Eyecon include Irish Luck, Stampede, Fluffy Too, White Wizard, Piggy Payout, 99 Time, Fireworks Frenzy and Secret Garden. In recent years Eyecon have seemed to increase their production rates, so fans of their slots have a lot to look forward to in the next few years! The global industry which has offices in both the Channel Islands and Guernsey, are quickly starting to be seen as the biggest game provider in the world.
But no matter how many games they have behind their names, they will always be excited about their classics. Here's how they excitedly summed up Shaman's Dream so you can get a taste of the hype and passion which went into creating the slot over on their website. Eyecon also give you the chance to play for free on their website to see if the online slot is for you – if not, you can always check out our list of alternative games to Shaman's Dream. Whatever your playing preference, we've got you covered!
"Shamans Dream is one of the most popular online video slot games! You can go back in time and discover and learn all about the Native Americans, including exploring their fascinating traditions. The shamans are said to be the guardians of magic and wisdom in ancient Native American culture, which makes for an extremely interesting and exciting gaming experience in Shamans Dream. This top game incorporates some incredible graphics, with reels filled with dream-catchers, tee-pees, wolves, Native American Chiefs and more. There are FREE spins bonuses, Wilds and multipliers, so in addition to learning more about shamans, you can also win big! This game is truly one of a kind, but there's only one way to find out why. Play today – we promise you won't regret it!" 

Similar & Related Games to Shaman's Dream
Looking to play with the Native theme but you're not too stoked about what Shaman's Dream has to offer? We've got you covered with some of the best alternatives to the online slot to suit individual player preferences.
Shaman's Dream Jackpot Online Slot made by Eyecon: I'm sure you can probably already guess what the deal with Shaman's Dream Jackpot is about. Jackpot versions of pre-existing games are becoming more and more popular, and for good reason. They allow reel spinners to enjoy the reel spinning action of the original game, with the extra added bonus of the possibility of winning a progressive jackpot. If you're not familiar with progressive jackpots, the rules are simple. The jackpot is constantly being contributed to by players all around the world, however, the maximum amount it can reach in Shaman's Dream Jackpot is £32,000! All you'll need to do is spin the reels and the jackpot will be allocated to one lucky player. The only downside is that the return to player rate is slightly lower to make up for the massive jackpot amount.
Shaman Spirit Online Slot made by Eyecon: There isn't a whole lot of different between Shaman Spirit and Shaman's Dream, however if you're looking for a close alternative along with a bit of variance, the online slot is still a solid option. There aren't as many themed symbols on the reels as you would play with on Shaman's Dream as there are some alphabetical and numerical symbols to play with. The theme has also been somewhat diluted. Instead of a nice sunny and hazy backdrop, you'll see a background which is more similar to the wall from Game of Thrones, but there are still plenty of elements which allow you to experience Shamanistic culture. There's a 95.4% return to player rate on Shaman Spirit with a max coin jackpot of 120,000 which is very impressive. It's almost a wonder why Eyecon also created a jackpot version of the online slot as they did with Shaman's Dream.
Similar Mobile Slots (not made by Eyecon)
If you're still not sold on any of Eyecon's games, we've looked outside of their portfolio to present you with two of the best Native American-themed online slots from two other industry leading game developers.  
Wolf Gold Online Slot by Pragmatic Play: Wolf Gold Mobile Slots Game takes the focus off the Shaman's in the Native American culture and instead focuses on the animals which act as spirit guides to the Shaman's, animal lovers are sure to find plenty of appeal to this online slot. You'll love the animals even more when they have won you a significant amount of cash! If you were let down by the amount of bonus features to Shaman's Dream, Wolf Gold is definitely a great option for you to play on! Pragmatic Play have been incredibly generous with the bonuses as well as the RTP which is set to 96%. No wonder Wolf Gold is so popular!
Wolf Run Online Slot by IGT: As wolves are a massive part of shamanism and North American culture, it really is no surprise that there are so many online slots dedicated to their wild enigmatic ways. You don't commonly get up close with wolves, but Wolves Run will definitely change that! The graphics to the game are a little more picturesque, but in terms of quality, some players may be a little let down. But there is definitely still a fair amount of reasons to play the online slot such as the 94.98% RTP, and higher amount of pay lines. You'll be able to have the pick of 40 different ways to play, that's double what Shaman's Dream offered! The stackable wild cards are also definitely enough of an incentive to play!

Totem Treasure Online Slot by Microgaming: Wondering what Totem Poles are all about? Playing Totem Treasure will give you a great idea of just how important they are to Shaman's and the Native American tribes. There's a fun twist to the online slot too. On the 5 x 3 reels, you will also get to create your own poles! We've never seen such a unique feature in online slots, the high return to player rate of 96% also makes this online slot very volatile, so even though the graphics definitely aren't the prettiest, there's still loads to enjoy about Totem Treasure.
Shaman's Dream News
Releases of online slots never tend to make all that much noise in the media, however the unique charm of Shaman's dream wasn't lost with Shaman's Dream. The online slot was impressive enough to be featured in VENTS magazine when they rounded up the best spiritual slots. It's safe to say that we definitely agree with them!