Stampede Mobile Slot
Play UK Mobile Slots at Amigo Slots
Mobile Slots - Register Here - View Promotions

Stampede Mobile Slots
Fancy spinning on a reel which is a little on the wild side? Discover the dangerous delights of Eyecon's most adventurous UK Mobile Slots! Choose from over 243 different bet lines and a RTP of 95.26%! The reels will take you to African planes, where if you can survive the wildlife, you can win generous amounts of money through the 50/50 bonus features, free spins and multipliers!
Stampede Game Info
RTP
95.2%
Features
Free Spins, Multiplier, Scatter Symbols
Developer
Eyecon
Reels
5 Reels
Paylines
243 Paylines
If you were looking for adventure in real life, you'd head to Africa. If you're looking for adventure in reel life, you'd log onto Eyecon's iconic game Stampede! It may not have the friendliest title, but once you get to grips with the generous slot game, you'll find plenty of fun features which you will quickly come to admire.
Game Summary
Not everyone has the opportunity to go and visit Africa for themselves, so Eyecon have created the next best option for people who'd like to explore the culture and climate of the continent. The fact that you can also win yourself a nice serving of cash is also a massive incentive!  
With a name such as Stampede, you can definitely expect a wild ride from this online slot which is playable from 25p – perfect for players on a budget. Who knows, you may just be able to win yourself a trip to the continent!
Eyecon seem to have two distinctive styles, packing their reels full of adventure, or packing their reels full of adorable creatures. For Stampede they went with a more action-packed theme which will allow you to come face to face with some of the wildest animals you will find in Africa. Although the African Elephants may be the stars of the game, you'll also get to enjoy the presence of many other animals.
Even though Eyecon's name is behind plenty of successful slot games, it is with Stampede that they really showed just what they could pull out of the bag in terms of graphics. Instead of leaving the aesthetic light and breezy, they put serious consideration into each aspect of the games.
When you load up the reels you can expect to see a serene landscape consisting of a lit up sky illuminated by the sunset which has left an amber glow over the arid landscape. There really is no overexaggerating how great the visual side is with Stampede. They've also ensured that the visual treat is paired with a fantastic soundtrack. While most soundtracks can be a little grating after you have listened to it for any amount of time, the soundtrack and effects to Stampede offer a vibrant sense of catharsis. Experience authentic African beats and exciting effects whenever you're lucky enough to strike a winning combination or get transported to a bonus round.
Each aspect of the online slot game was designed to offer the player an immersive experience. The reel grid fits in well with the theme, as does the wooden typography which will give you all the stats you need.
Stampede Mobile Setup
Hopefully by now you have got a good impression of just how stunning and aesthetically alluring Stampede is as an online slot. But Stampede is more than just a pretty set of reels. Eyecon have poured their ingenuity into the game to make sure you are treated to their iconic classic in-house content along with some innovative features which will excite anyone who has spent a large amount of time on Eyecon reels.
With Stampede you will see a 5 x 4 reel grid. Which will give you an extra row compared to their more popular games such as Fluffy Favourites. That means you'll be playing with even more symbols, each time you spin – so it isn't for everyone as it is slightly more difficult to create a winning combination. But if you are looking to increase your chances just make the most out of the 243 different bet lines which Eyecon have offered players! This means that there are 243 different ways to land a winning combination. Just be sure that you keep within your budget if you use a high amount of bet lines.
You'll get acquainted with 10 standard symbols on the reels of Stampede. Unlike with their other online slots such as Fluffy Favourites there is a couple of standard symbols on the reels which come in the form of letters and numbers. These are the least exciting symbols on the reels, and they will also offer the least in terms of cash rewards. But every win counts right? Even if those wins will only come to the amount of 8 coins when you match five.
Thankfully, the specially themed symbols will offer you lots more in return for matching them!
Lion symbols will offer you 40 coins for every 5 matched
Cheetah symbols will offer you 32 coins for every 5 matched
Rhino & water buffalo symbols will offer you 20 coins for every 5 matched.
That may not seem overly generous from Eyecon, but the attraction to the online slot for many players is the special symbols and the bonus features. They may be fairly minimal, but no one can deny that they are classic.  
The African Elephant will appear as the highest paying symbol of the game which can get you 50 coins when you match 5, however in this game the Elephant also unlocks the bonus free spin round! When the bonus round is unlocked it will become excitingly clear why Eyecon chose to call this game stampede. While you would never want to be in the way of a stampede in real life, with this online slot, it means that the potential for massive wins is just around the corner. We've already told you how stunning the graphics are with Stampede. But when unlocking the bonus round this is when you will get the best from Stampede. The animations spring to life as you watch the elephants charge across the screen!
The wild card for Stampede is the glowing sun symbol, the wild works as they usually do with Eyecon's games by replacing every symbol on the reels aside from the scatter symbol (the elephant). Yet, one way in which the wild is different is that in Stampede you will only find the sun symbol on the 2nd, 3rd, and 4th reels.
Bonus Features
If you are looking for a bonus heavy online slot game, the chances are that you will be slightly disappointed with Stampede, however if you are looking for classic simplicity from Eyecon you've definitely come to the right place. Eyecon have hammered out the perfect formula to ensure that their games keep reel spinners coming back for more. This is why Amigo Slots are always proud to showcase Eyecon's slots in our portfolio of over 500 online slots!
As with many of their games Eyecon have gone with the classic free spins round. The rules for unlocking it is easy! All it will take is you finding 3 or more wild symbols which is represented in this game by the elephant. Yet, Eyecon have mixed it up slightly, and it doesn't matter how many symbols appear on the reels. Instead, with Stampede you are absolutely in control of the free spins rounds!
After the elephants have charged across the screen you will have a choice to make. You'll need to choose between five options which will allow you to personalise your free spins round. Every reel player is different. Some will prefer a large number of free spins while some will favour multipliers more.
Although you definitely won't be able to have your cake and eat it. The more free spins you get, the smaller the multiplier gets.
If you're looking for the highest amount of free spins, you'll get 20 free games but only a 2 x multiplier. However, if multipliers are more important to you, you can get a 10 x multiplier but only 5 free spins! It's totally up to you! It may only be a small mix up on Eyecon's more classic bonus features, but it is definitely the first time we have ever come across such a feature. If you are feeling lucky, choosing the highest multipliers will give you the greatest pay outs. But the higher number of free spins will give you more chances to win!
Whichever option you choose, you will be able to retrigger the free spins round by finding more of the elephant symbols on the reels. Sadly, you won't be able to retrigger the bonus round an infinite amount of times. Eyecon have capped the ability to retrigger the game to 15 times. But they have been generous enough to ensure that every win is boosted by at least 2x (on top of the original multiplier) if you happen to create a winning combination using a wild symbol.
If that's not enough for you and you would like to boost your coin balance even further, you can always choose to play with Stampede's 50 / 50 gamble feature which you will have gotten acquainted with if you have played any of Eyecon's earlier releases.
For new players, the bonus feature is simple. Each time you win a coin amount you will get the option to gamble your bet. If you win, the amount will be doubled, if you lose, then you may feel very sorry for yourself as you watch your coin balance disappear into the ether. You don't have to use the bonus feature, but the option is always there if you want to take it!
Once you've activated the feature, you'll need to choose from one of two options – cross your fingers and you've made the best selection! You can use this gamble feature up to five times on each win – if your luck allows you to get that far!
We know that Stampede may not be for everyone, which is why we've also got you covered with a list of fun alternatives down below.
About the Mobile Slots Developer - Eyecon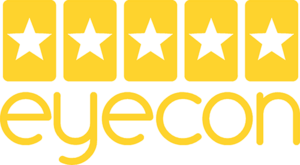 If you've spent a fair amount of time spinning reels, chances are that you will have come across Eyecon before. Amigo Slots are more than happy to introduce the iconic (maybe that's why they called themselves Eyecon?) industry-leaders who have made online casinos possible.
It's hard to think back to a time where online casinos weren't such a massive part of culture and people had to head down to casinos or other leisure centres spin the reels. But that was happening back when Eyecon first started out back in 1997. As online slots weren't really a thing back then, they first turned their attention to Sci-Fi video games. They had a massive amount of success with their first game "Gore" which received millions of downloads shortly after their release. As you can imagine from the name of the videogame, it was very different from what Eyecon choose to create with their online slots. But, it is evident that they kept the same key for success with their online slots as they were able to boast some pretty impressive stats in 2018 too. Their reels were spun over 6 billion times last year! Now if that isn't a testament of their success, we're not all too sure what is.
While the reels on Stampede were spun a fair few times their other popular games also contributed to that number. Their most popular slots currently include 99 Time, White Wizard, Irish Luck, Enchanted Prince, Beez Kneez, Fluffy Favourites, Temple of Iris and Fluffy Too.
Eyecon's games don't seem to struggle when it comes to fairing well against the test of time! Their first slot game was Temple of Iris (back then called Temple of Isis) which was released in 2003. Temple of Iris certainly allowed Eyecon to establish themselves as serious contenders in the slot game industry. Yet, their popularity skyrocketed in 2006 with the release of Fluffy Favourites. Now, there's a whole series of online slots which celebrate the cute and quaint magic of Fluffy Favourites!
While Eyecon never fail to explore themes well, it is safe to say that they excel when it comes to cute and cuddly slots. Their cute and breezy graphics paired with the endearing characters certainly has the effect on our reel players at Amigo Slots. Yet, we're not the only ones that appreciate Eyecon for their innovative talent and creativity. Their online slot games are played all across the globe. Eyecon happen to be dotted all across the globe too. Their main headquarters are currently located in the Channel Islands and Australia.  
Their games are played in hundreds of different countries and many different jurisdictions. And there's always the excitement of what is just around the corner from Eyecon as they continuously add amazing content to their portfolio which currently stands at around 60 names.
Back to the matter in hand, here's how Eyecon summed Stampede on their website after the release of the game.
"There are loads of wild animals in addition to loads of wins in Stampede Slots, so spin it to win it today! This exotic online slot game follows the African Big 5, with some incredible 3D graphics and a beautiful sunset in the background to accompany your play. Most noteworthy, there are FREE spins, multipliers and more, giving you extra chances for enormous wins. In conclusion, you'll go on a one-of-a-kind safari adventure and have a great time online when you play Stampede Slots. Good luck!"
Similar & Related Games to Stampede
As we've just mentioned, Eyecon have over 60 games in their slots. There is a great range of diversity, however, most of their slots seem to go down the cute and cuddly route. So, that just leaves us with one alternative to Stampede made by Eyecon! We're sure it won't be all too long before they release yet another wild and adventurous online slot!
Stampede Jackpot Online Slot Made by Eyecon: For anyone who was disappointed about what you can win with Stampede, the Jackpot version of the online slot is a great option to consider. It is becoming a fairly common thing for Eyecon to offer their players a Jackpot version of the game; so that must mean that they offer a great alternative to the original. The Stampede Jackpot online slot stands as a testament to Eyecon's commitment to creating a portfolio through which every reel player will find a game that they agree with! With the jackpot version of the game you'll see pretty much the same set up that you saw with the original – with the exception of how much you can win with the progressive jackpot and the lower RTP. Instead of being able to win a fixed jackpot amount, you will be in with the chance to win the progressive jackpot. This jackpot can be randomly triggered with every spin! It's constantly growing, and you could end up with a 5-figure sum in your coin balance. However, you will see fewer wins than what you were offered with the original as the RTP drops to 89.9%!
Similar Mobile Slots (not made by Eyecon)
As Eyecon didn't really leave us with all too many alternatives to Stampede, we've included a run down of slot games from other game developers which may be more to your taste!
Hot Safari Online Slot by Pragmatic Play: With Hot Safari, the elephants don't get to steal the show. Pragmatic Play created a great alternative to Stampede – whether they knew it or not. The slight variance on the bonus games will add some diversity to your reel spinning experiences, but it has to be said that it doesn't really match up graphically. Yet, Eyecon certainly made it hard for other developers to compete with the game on a visual level.
Wolf Gold Online Slot by Pragmatic Play: While Hof Safari may not have been all that hot, the dame can't be said for Wolf Gold Mobile Slots Game which Pragmatic Play knocked it out of the park when they created the game. While you won't find yourself in Africa, there's still a heavy focus on majestic animals. Although this time you will get to explore the wilderness of North America where the animals that you will see on the reels are a massive part of Shaman culture. The online slot is never far away from the most popular lists, and for good reasons, there are plenty of nice and juicy bonus features serving up free spins and multipliers. The cherry on the cake to this online slot is the 96% RTP rate.
Jungle Spirit: Call of The Wild Online Slot by Net Ent: Net Ent have also brought their taste for adventure to the table with their Call of the Wild online slot, and it is definitely far from what you can expect from Stampede, in fact, it is a little bit scary. But the wilderness is only a happy place in Disney films, so you have to admire Net Ent's approach to creating the online slot. Much of the set up of the online slot is the same as with Stamped. The added perks come in the form of the higher RTP rate which sits at 96.47% and no one can deny that they went the extra mile when it came to the bonus features which even offer expanding wilds! So, if you were looking for a more complex slot game, Jungle Spirit: Call of the Wild is definitely worth a spin.
Stampede Slot on Mobile
When it comes to Eyecon's games, we are sure that you will never be disappointed when it comes to the mobile version of the game! Each of their games is expertly optimised to give you the pleasure of choosing how you'd like to play! Your winning streaks don't need to end away from the laptop! Take them with you wherever you are!