The sight of some natural beauty and greenery is able to rejuvenate you for a moment while living your life in the concrete jungle. Some of the most popular and promising slot machines have nature as the theme just with the idea of attracting those who love the life away from the city. Here is a list of best nature Mobile Slots available in the market today, and they boast of a variety of features and a host of opportunities to win. Created by some of the best developers out there, these slot machines have the perfect balance of rewards, features, and fun. You are invited to read the brief reviews below and select yours to play, and let us know what you think of them.
Secret Garden Mobile Slots – Eyecon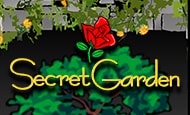 Walk among the beautiful creatures that adorn your garden, and enjoy the greenery while winning some great prizes in addition as you spin the reels of the Secret garden UK Slot. The first thing you would notice is the beautifully designed cartoon style symbols that could also be appreciated as some great works of cartoon art. The beautiful Secret Garden is not expensive to explore at its minimum entry fee of 25p and the highly affordable £12.50 maximum. The 25 Paylines are generous as much as the RTP of 95.4% allows, but the Gamble Feature would see that once you win, you will have the opportunity of doubling it up if you dare. When it comes to Free Spins, there are 15 of them initially which could be retriggered 15 times more which means, theoretically, 225 Free Spins are possible on an exceptionally lucky day. With or without extra luck, this slot machine brings the best of nature to your screen.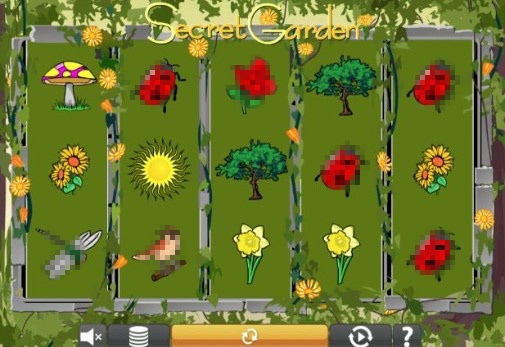 Seasons Mobile Slots – Yggdrasil Gaming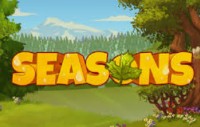 Watch as the seasons pass-by leaving you beautiful memories, and possibly handsome prizes, while enjoying the experience of mobile gaming with the Seasons Online Slot created by Yggdrasil. Each season comes with colourful symbols specific to it, and you may start with the season you like. Whatever the season you love, the RTP of 96.2% will be a cool breeze while up to 30 Free Spins will be a beautiful bird song. This 20 Payline game has 4 Wild Symbols one for each season, and they also incorporate a Multiplier that would be applied to your win when you are aided by a Wild in making a winning combination. Whether it is the green reels of the summer or the snow-capped reels of the winter, the warm and lovely prizes will always be inviting you for yet another spin. Enjoy the Seasons Slot machine on iPhone, Android phone, or the computer whichever is your favourite.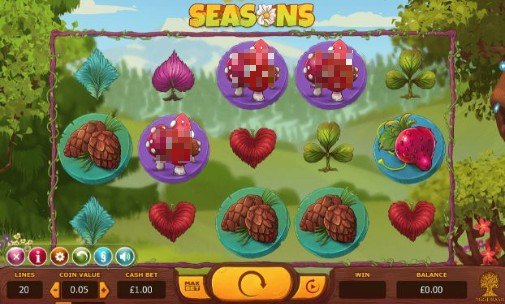 Secret garden 2 Mobile Slots – Eyecon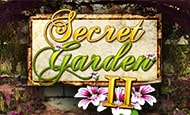 A follow up to the successful Secret Garden slot machine, Secret Garden 2 Mobile Casino is an updated version of the same game with some joyful tweaks and rewarding add-ons. This game has 5 reels and 3 rows of beautifully designed symbols just like what you find in the previous game, and 25 Paylines for them to fall on in order to reward you. The RTP of 95.3% may look average compared to many other nature slots available online but the Gamble Feature gives this game the edge as you can make a much bigger win at just a single correct guess. Free Spins start at 15 for 3 Scatters, and goes up to 20 for 4 Scatters and 25 Free Spins for 5 Scatters. This game too carries the highly affordable stake range of a minimum of 25p and a maximum of £12.50 which makes the game popular among players of all levels. Secret garden 2 Slot Machine is available of all popular devices and operating systems.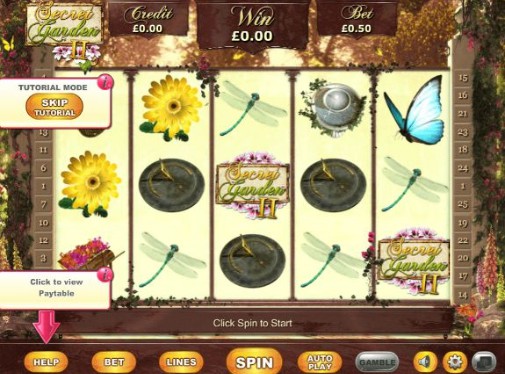 Volcano Eruption Extreme Mobile Slots – NextGen Gaming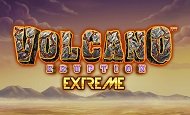 Beauty of nature has many faces, some loved by everyone, and some feared by everyone. Volcano Eruption Extreme Mobile Slot Game, as the title implies, discusses one of the most feared features of nature. But when you are with NextGen Gaming the fumes of the volcano may come down with some generous prizes to take home as the atmosphere cools down. Respins may come after any spin in this game. You only have to watch out for the fumes that signal the impending Respin Feature after you win in the base game. At its RTP of 95.41%, the Volcano Eruption Extreme Slot Machine features Free Spins and Wild Reels too across 5 reels and 3 rows of cartoon style symbols. The 25 Paylines may be called average but the possibility of a Respin after each win, this will suddenly seem much more profitable than the average slot machine. Quality assured by the reputation of NextGen Gaming, you can play this game without any reservations on your favourite device be it an Android phone, iPhone, or the computer.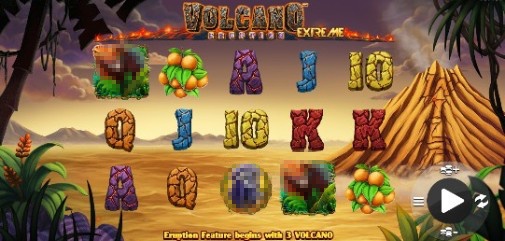 Stampede Mobile Slots – Eyecon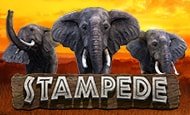 Here is a slot machine that would take you to the African savannah to enjoy the beautiful yet merciless wildlife that rules the jungle. Stampede Mobile Slots has 5 reels and 3 rows of symbols, and the RTP is 95.2% which you would regard low but the 243 Ways to Win would change that impression. The Free Spins feature comes with a choice of multipliers. However, if you choose bigger multipliers you get less Free Spins while you may get more Free Spins if you choose lower multipliers. But the good thing is that whether you decide to go with big multipliers or smaller ones, the Gamble Feature which is called "Double Up" in this game would let you take a shot at doubling your win. Remember however, if you go for the Double Up it will be either double your winnings, or nothing at all. Only the high pay symbols represent wild animals which could be a negative effect in the graphics department but the symbols are huge making the dazzling animals rule the slot game just like they do in the jungle. You may enjoy this game on your smart phones or the laptop, and all major operating systems are supported too.