Irish Luck Mobile Slot
Play UK Mobile Slots at Amigo Slots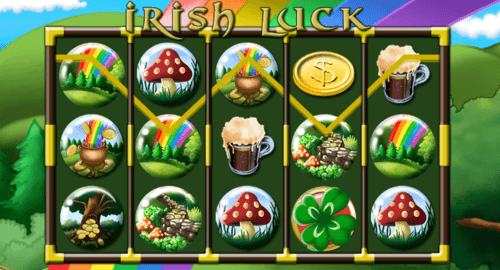 Mobile Slots - Register Here - View Promotions

Irish Luck Mobile Slots
Enjoy one of the greener slots online with Eyecon's charming online slot offering 5 reels, 25 pay lines and plenty of exciting features which will want to make you spin the reels over and over. The 95% RTP also offers you plenty of frequent wins. Amigo Slots are proud to host Irish Luck along with hundreds of other Mobile Slots such as 'Star Burst', 'Rainbow Riches', 'Fluffy Favourites' and 'Bonanza'
Irish Luck Game Info
RTP
95%
Features
FreeSpins, Gamble, Scatter Symbols, Wild
Developer
Eyecon
Reels
5 Reels
Paylines
25 Paylines
Irish-themed slot machines are everywhere, in fact, you're pretty much spoiled for choice when it comes to the theme.  Game developers just can't help themselves when it comes to exploring the Emerald Isle for inspiration for their latest and greatest slots.
Game Summary
Ireland really is the Island which keeps on giving, that's due to a little help from the charming characters which make their mythology so rich and interesting. From fairies to leprechauns, you'll find it all in the mythical representations of Ireland. However, if you were to take a trip there today, you would be more likely to go on a trip to the Guinness factory, or maybe even go to see Oscar Wilde's statue.
Anyway, back to Eyecon's perpetually popular online slot! Irish Luck is one of their most successful games yet – aside from the Fluffy Favourites franchise which we're sure you've already come across on online casinos such as Amigo Slots.
There are plenty of fun features which make Irish Luck an exceptional online slot to play, along with the fact that it is a great all-round game offering plenty of frequent wins. And no matter how much you place down on your stake amounts, you will see plenty of generous rewards from the online slot.
So, even if you've spent hours spinning the reels on Irish-themed slots, there's plenty of magic still left in the theme with a little thanks to the leading slot game designers Eyecon games.
With Irish Luck you'll have five reels to play with, and twenty five different pay lines to play across. This means that you'll be able to boost your chances of winning when you place a stake down on a high number of pay lines. 25 isn't the highest number of play lines offered by an online slot, but it's certainly enough to keep your coin balance lighting up when the rewards are granted. Anyway, the luck of the Irish is on your side, which should help keep your spirits high while you are playing the game.
Irish Luck may not be the most avid depiction of Irish culture – but in their own distinctive way Eyecon have put a spin on the theme. Going with the same approach they went with for Fluffy Favourites they made the slot incredibly cuddly! Cuddly and accurate to the historical mythology.
It's nice to imagine that Ireland is still a place where the streets are lined with gold, and you're never too far away from a rainbow. So to be transported back in time, there's no faster way to get there than with Irish Luck!
The 5 x 3 reel slot grid is easy to get to grips with for new players, however the amount of bonus features also makes the online slot a great choice for experienced players who are looking to mix up their online slot playing experience.
Along with the charming fantastical creatures, you will also be in with a chance of winning the grand prize of 3000x your original stake amount. So, the incentive is definitely there to amp up your stake amounts – as long as it's in your budget of course. While there is no progressive jackpot or fixed jackpot amount, the multiplier still offers a significant win.
The bonus rounds and the fun symbols contribute to how popular Irish Luck is today. This review will fully run through all of the bonus features included Irish Luck and let you know how to make the most out of the reels. Eyecon made sure that their Irish-themed slot could compete with Leprechaun Song and Rainbow Riches which are amongst the most popular slot games dedicated to celebrating the charm of the Irish. After we saw what Eyecon could do with their Fluffy Favourites franchise, it was no surprise that they were able to create such a successful Irish slot. Plus, with Eyecon games you always have the little added incentive of being able to play on exceptionally cute games with adorable characters. However, they can also be accused of creating their reel games as rather light and breezy. Which explains why they didn't go all out in terms of animations and graphics which feature behind the reels in the background.
But still, there's plenty of immersive allure to be found in the simple and understated setting of the Irish untouched countryside, where hills will roll into the horizon and great the blue sky where you'll also see a rainbow. There may be no leprechauns in the background, but you'll definitely see them on the reels waiting to take you to exciting bonus rounds.
As cute as the online slot is, it is also incredibly easy on the eye when spinning the reels on the slot. You'll either love or hate the lack of a cheery soundtrack with Irish Luck, Eyecon have made the soundtrack incredibly minimalistic, so there's no chance of becoming irritated with the Irish music.
Irish Luck Mobile Setup
With Irish Luck, you'll see nothing but Irish-themed symbols on the reels, with a very exciting alphabetical exception which can see you winning the major jackpot to this online slot.
Each symbol that you will see on the slots is a different charming icon of Ireland's culture.
You can expect to see the following standard symbols on the reels:

Trees, Posts of Gold, Rainbows, a Strong Stone Wall, A Game of Thrones style Castle, a Charming Magic Mushroom, Golden Coins, and a Nice and Frothy Pint of Stout.
We have listed the symbols there in order of highest to lowest paying symbol. You'll be able to win plenty of coin prizes with the standard symbols, but what the special symbols will offer you is incredibly exciting!
The max number of coins to be won by matching standard symbols is 1000, this is what happens when you match five of the tree symbols. But there's plenty of ways to win! With some of the top symbols you only have to match two of them to win! But that's definitely not all there is to the very clever online slot.
As we mentioned before, there are some alphabetical symbols on Irish Luck, however each of the letters happens to spell out the word "IRISH" on the reels. If this happens, you might as well start celebrating now! Because spelling out "IRISH" is how you will land that 3000x multiplier!  
If you're missing a letter or two from the word "IRISH",  you will still win a prize – Eyecon have been incredibly generous in that way. Matching two letters will allow you to win five coins, three letters will get you 25 coins, and if you get four on the reels, you'll cash out with 500 coins! That's a pretty sweet deal. Imagine how many pints of stout you would be able to win with that!?
Now we'll move onto the wild symbol of the Irish slot, which is very appropriately the four-leaf clover. They are lucky when you find them in a field, and they are definitely lucky when you find them on the reels! If you're not new to online slot games, you will already be aware of how Eyecon's wilds generally work. They will take away other symbols and replace them, helping you to form even more winning combinations. They also come with the extra added ability of doubling every win when a combination is made using the wild. So, what a combination would usually pay out, you'd get double!
If you were wondering when a leprechaun would pop up in the online slot, it's about time that we introduced you to the scatter symbol of the online slot. Well, one of the scatter symbols anyway!
There are two scatter symbols in Irish Luck, the leprechaun and the fairy, that is because there are two different bonus rounds. Which bonus round you are entered into will depend on which scatter symbol you find on the reels.
All things considered, that is a fair amount of symbols to play with. This may make getting used to all the symbols at the start tricky and you may see fewer matches, but the matches you will see are bound to be impressive.
That being said, each online slot player is different, so if Irish Luck isn't for you there are still plenty of different alternatives which we have detailed down below. But, don't make your mind up about Irish Luck before you see the bonus features provided by the exciting slot game which was released in 2017.
Bonus Features
Now we come to the part you've all been waiting for – the exciting bonus rounds offered by Irish Luck, you'll be able to decide for yourselves whether the four bonus round and features of the slot match up to Rainbow Riches or Leprechaun Song, but at Amigo Slots, we'd say it's definitely likely.
We've already introduced you to the "IRISH" bonus feature which will see your coin balanced boosted by the 3000x multiplier!
Now let us introduce you to the three other exiting bonus features which will really amp up the gameplay!

Irish Luck Prize Pick Bonus Round
The lucky Leprechaun we introduced you to earlier is the key to unlocking the Prize Pick bonus round. When three or more pop up on the reels, you will be taken to a brand new game which definitely switches up the gameplay.
As you can imagine from the game, you will have your pick when it comes to different bonuses.
How many picks you get at this round will depend on how many leprechaun scatter symbols unlocked the game for you. You'll get a minimum of three choices to make your selections. However, there are only two symbols which you will find in this round. You'll either be greeted by more leprechauns or have a chance of meeting the fairy.
Even though they are both as adorable as each other, you'll definitely want to see more of the leprechaun who will gift you with a 2x multiplier and 10 free spins! But that's not to say the fairy doesn't have a lot to offer, by picking fairies you can win pretty significant multipliers up to 100x your original stake amount!
Match & Win Bonus Round

The match and win round is very similar to the prize pick bonus round – or entering into the bonus round is the same anyway. Once again, you'll need to find three or more fairies to enter into the bonus round. If you've played any online digital scratch cards before, you'll be familiar with the set up of the bonus round of the online slot. You'll need to uncover what lies underneath the foil with your mouse to see what you have won from the match & win bonus round. There's slightly less options with the Match & Win bonus as it is only multipliers up for grabs. There may be slightly less variation, but the multipliers are even more generous. This time, the biggest multiplier you can get your hands on is 1000x! All you'll need to do is keep scratching away until you've found a matching pair of multipliers. Obviously, the highest multipliers will be best. The multipliers will be applied to the stake amount you used when you entered the bonus round.
50/50 Bet Feature
Last but certainly not least is the 50 / 50 bet feature which is offered by Eyecon. You will have got to grips with them already if you have played any of Eyecon's more popular games as this tends to be a very common feature. You don't have to take advantage of the feature if you don't want to, but the option is still there if you're feeling lucky, but you're playing an Irish-themed game which surrounds you with plenty of good luck omens. You'll either be able to double your wins, or if luck isn't on your side, you'll lose the reward completely.
About the Mobile Slots Developer - Eyecon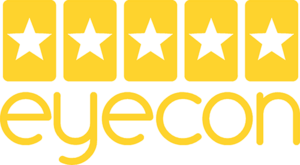 When it comes to online slots, there is almost no bigger name than Eyecon. They are responsible for some of the most well known slots, and they have been for the best part of a decade. If you've spent any length of time playing online slots, you've probably already spun the reels on one of Eyecon's pragmatic designs!
Most online slot developers tend to make games directed towards a particular target audience and it's no secret that they tend to stick with simpler set ups for their games. So, if you're new to slots, you will definitely appreciate what Eyecon cooks up with their simple but smart online slots which are designed to give you the best from a simple slot experience.
The simplicity ends when it comes to the bonus features, you will be able to expect a great range of bonus features when you play Eyecon slots, they're constantly cooking up different ways to keep reel players excited.
Technology has come a long way since Eyecon first opened its doors in 1997, of course, they weren't solely dedicated to creating online slots in 1997 – the internet wasn't nearly as popular as it was today. I know that's hard to believe when everything is now online. Eyecon used their talents for videogames in the beginning, their first videogame 'Gore' was released in 1997, but it wasn't until 1999 that they tried their hand at their first online slot game.
Now that there are plenty of online casinos such as Amigo Slots there are plenty of ways in which their online slot games can be enjoyed, there are now thousands of people spinning the reels every day on Eyecon slots.
Their first online slot 'Temple of Iris' debuted in 2003 and is still played by thousands of players each day. Eyecon HQ is located in both Australia, and literally on the other side of the world in the Channel Islands, so it really is no surprise that they've become a global success with their games. They have also become recognised for their other online casino games such as bingo and interactive card games.
Here's what they had to say about Irish Luck
"Embrace your inner lucky leprechaun when you play Irish Luck Slots. It's one of the best online slot games around, and once you start spinning, it'll be clear why! It's a fun and light-hearted Irish themed game, filled with all things lucky – Four Leaf Clovers, Leprechauns, Fairies, Frothy Beer and more! It's an easy game to play, and you're guaranteed to have the best time whilst winning big! Green never looked so good! Don't miss another minute of luck – spin to win Irish Luck Slots today!"
Similar & Related Games to Irish Luck
Before we mentioned that there are plenty of online slots with an Irish theme, there are also plenty of slots by Eyecon by the same theme!
Here are the top two by the online slot developer.  

Kiss Me Clover Online Slot by Eyecon: Kiss Me Clover is definitely a game which is tailored more towards the female audience. However, that's not to say both genders don't enjoy the online slot. The 5 x 3 Irish-themed online slot will feature a female leprechaun – which may very well be your first time of encountering one. The slot offers a slightly higher RTP rate of 95.3% with the same number of pay lines. But sadly, there aren't as many fun bonus features in this game. Having said that it is still a solid choice for anyone looking for a less complex gaming experience. There's still plenty of multipliers to be had!  

Fiddle de Dough Online Slot by Eyecon: Fiddle de Dough may as well be the same online slot as Irish Luck, it has a very similar feel, however the reels will look slightly different as it works on a 3 x 3 reel grid. The fewer number of rows on the reels will give you more of a chance to match a winning combination on any active pay line, but the RTP will be the same as you got with Irish Luck. Another returning feature is the Prize Pick bonus, and the music will be a little extra bonus if you missed it when playing Irish Luck, there's fiddles aplenty to Fiddle de Dough. I suppose the clue is in the title!
Similar Mobile Slots (not made by Eyecon)
Out of hundreds of other Irish themed slots, we've picked the best 2 for you!
Rainbow Riches Online Slot by Barcrest: Rainbow Riches slot has to be one of the most popular online slots ever. The online slot seriously raised Barcrest's profile in the online slot world. Even though the slot game isn't the most modern of online slots, there's definitely a reason why there is still a cult following around the slot. Now, after we've gone through all of the bonus features to Irish Luck and we were to tell you that there are even more in Rainbow Riches, that should be enough to get you a little excited about spinning the reels on the classic!
Leprechaun Song Online Slot by Pragmatic Play: If there's anyone that can compete with the games from Eyecon it is Pragmatic Play. If you were let down with the graphics with the former suggested slots, then it's definitely the one for you with the HD stunning graphics. But it's not all about what you will see. Leprechaun Song slot also has plenty of fun features along with a RTP rate of 96.4%

Irish Luck News
Sadly, there isn't much in the way of news for Irish Luck, but you don't have to take our word how amazing the online slot is, why not read what the popular online review site online-slot.co.uk had to say instead?
"The theme may be as old as they come but Irish Luck is pretty fresh. Both the Prize Pick and Match & Win features offer some decent winning potential. It's not the most beautiful slot you'll see but the range of extras on offer are top class and deliver plenty of action. It's a medium variance game with potential wins of up to 300 times your stake on each spin."