Fluffy Favourites Jackpot
Play UK Mobile Slots at Amigo Slots
Register Here - View Promotions - Mobile Slots

Fluffy Favourites Jackpot Mobile Slot
The Fluffy Favourites franchise is back with a jackpot version of the original! You'll get the same 25 pay lines and 5x3 reel grid along with the chance to cash out with a progressive jackpot prize. You'll also have plenty of fun along the way with three bonus features which make up for the lower RTP of 89.9%
Fluffy Favourites Jackpot Game Info
RTP
89.9%
Features
Free Spins, Toy Box, Jackpot
Developer
Eyecon
Reels
5 Reels
Paylines
25 Paylines
Here's an UK Mobile Slots which really needs no introduction. Ever slot player knows the 2006 release of Fluffy Favourites. Fluffy Favourites Jackpot is simply a twist on the original which offers you the chance to win a significantly larger jackpot amount with the only sacrifice being the return to player rate!
Game Summary
So, be prepared to fall enamoured by your favourite cuddly characters once again – they're always welcome here on Amigo Slots. We know that our reel spinners love the nostalgia trips which Eyecon's games take them on! With this online slot, you may want to pack your bucket and spade, because you're off to the beach and taken on a trip back in time with this adorably themed online slot.
With the bright and light layout of the online slot you're treated to a visual delight, which may not be the most impressive you've seen from an online slot, but no one can deny that it is easy on the eye. Be warned – you could lose hours in this game! It is also all too easy to stay within your budget thanks to the low min stake amounts which make this online slot game very popular with beginners, as well as those who just like to have a little bit of fun!
Bonus Features
When it comes to bonus features in a Fluffy Favourites franchise slots, you're always in for an absolute treat. Even though Eyecon may not go all out with the bonus features to their other online slot games, with Fluffy Favourites it's much, much different. The clever bonus features literally make the game! And they've ensured that any fans of the franchise won't be let down by what the Fluffy Favourites Jackpot online slot offers, because as well as the chance to cash out with a mega jackpot, there are some pretty nifty features included in the main gameplay experience!
We'll run you through every bonus feature which you can expect to crop up as you spin the reels!
Free Spins Bonus Feature
Everyone loves free spins, and that's a fact that hasn't been lost on Eyecon. It is easy to take the staple free spins bonus features for granted, but just imagine if they weren't included in the game? The hope of winning for free is often the biggest incentive a lot of reel fans will have when it comes to playing an online slot.
So, here is what is on offer from the Fluffy Favourites Jackpot free spins bonus feature!
To trigger the round, you'll need to collect three or more of the scatter symbols which will unlock the game. Yet again, Eyecon have gone with the pink elephant to bring a bit of familiarity to the game. How many free games you are awarded will depend on how many pink elephants you manage to herd together in the reels during the main mode of play!
3 scatters = 15 free spins
20 scatters = 20 free spins
25 scatters = 25 free spins.
Don't worry if that number of free spins doesn't sound all too high, you can re-trigger the game at any point during your free spins if you are lucky to see more of the pink elephant symbols. There aren't many things in life which are unlimited, but the free spins in Fluffy Favourites Jackpot certainly are! If you want another reason to get excited about the free spins round, would it help if we told you that each and every winning combination was worth a whopping 3x the amount what you would see in the main mode of play?!
The free spins bonus round is classic, but it is also incredibly, incredibly generous.
Toy Box Bonus Feature
Remember spending hours (or as long as your parents would let you) playing on the claw grabber machine at the beach, arcade or fair? Remember how ridiculously frustrating it was, because you knew the claw wasn't going to work properly and snag you that awesome teddy? Well, the Toy Box Bonus feature in Fluffy Favourites jackpot is a little like that. Aside from the fact that it is much easier to win!
Sadly you won't walk away with a new cuddly toy, but you do have the potential to win a nice amount of cash! The Toy Box Bonus Feature round works in a fairly similar way to the free spin bonus. You'll just need to find the claw symbol instead of the elephant to unlock it!
You won't get up to 25 'picks', instead you will get however many claw symbols you found on the reels. So, for example if you found three, you would get three picks, and so on! Try not to be all too disheartened about that considering that what you can walk away with is infinitely more impressive!
If you make all the right choices in this round, this could mean that you end up with a showstopping 100x multiplier which will be applied to your original stake amount when you entered the bonus round. Just think of all the stuffed animals you can win with that amount of money!? You could even buy your very own grabber machine if you really, really wanted!
50 / 50 Gamble Feature
Just in case you haven't stumbled across Eyecon's 50 / 50 Gamble feature before, we'll give you a little run down on how this fairly standard feature can work to improve your gameplay.
Ever get a winning combination and wish that it was higher?  How about double? Well, Eyecon have given you that chance with the 50 / 50 bonus feature which is completely up to you whether you want to play with it. The feature will become available after every win in the main game. If activated, you will be presented with two options. Pick the right one to double your cash, but if you end up with the wrong one, your money will be lost forever! So, always proceed with caution when it comes to this online slot! It is definitely only for the brave. If your luck will permit, you
If you make the right choice whatever you won in the game last will be doubled. However, if you do choose incorrectly you'll wave goodbye to the winnings forever. There's definitely no going back, so always use this feature really carefully! Especially if you use it the maximum number of times which is set to 5!
Progressive Jackpot Feature
We've already covered a bit of basic ground of what it is to play with a progressive online slot. But here's the full lowdown.
Instead of a fixed jackpot, you are offered a jackpot prize amount which is constantly growing – every player of the online slot is feeding into the jackpot amount, once the jackpot has reached a life-changing amount of money, it will be randomly allocated to a slot player at complete random.
It doesn't matter what stake amount that you are playing with, you will be in with just as much of a chance as anyone to be considered for the jackpot. In fact, there are three differently sized jackpots on offer, the smallest one will give you £50, but you can expect a 4 or 5 figure number to be allocated to your account if you win the major jackpot!
About the Mobile Slot Developer - Eyecon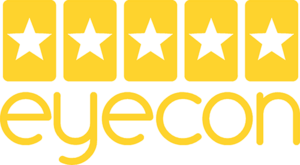 If you've spun the reels on Eyecon slots and never took the time to really get to know the developer, it may be about time that you uncovered exactly what Eyecon is all about as a game developer.
In their time they have created a myriad of successful and exhilarating online slots through their ability to create the best characters in online slot games. Sure officially licenced games are all the rage now, but Eyecon will never disappoint with their own characters!
Eyecon first started out in the late 90s when online gaming wasn't massively popular, still, they had plenty of success with their first game which was released in 1997. But it may surprise you to learn that Eyecon weren't always creators of online slots. Instead, they started their legacy with a sci-fi first person shooter game named Gore. It was an incredibly dark game which players couldn't get enough of. Eyecon was an instant success story thanks to this game. But they sensed a change in the tides after the release when they thought they'd stake their claim in the land of the online slots. They were perfectly prepared to make show-stopping slots which was affirmed with the release of their first online slot game "Temple of Isis", the online slot has had a bit of a rebrand since. It is now playable under the name of "Temple of Iris" which was an online slot that centred around the celebration of the Egyptian Sun Goddess.  You've probably noticed the Temple of Iris online slot available to play on Amigo Slots, in fact, we're proud to host plenty of Eyecon's in-house content. Their ability to bring new characters to life is nothing short of miraculous. Whether that's in their action and adventure slots, or their more cuddly and cute slot games. They'll never have the graphics which blow you away, but when Fluffy Favourites came along in 2006, that online slot proved that show-stopping graphics were never a key component when it comes to online slot games!
It is always worth checking back on Eyecon's portfolio to see what they have recently cooked up. They may not have the biggest portfolio of titles out there, but they are constantly keeping us surprised at Amigo Slots. They are currently working around the clock on their new titles – literally, they have offices in two totally different time zones in Australia and the Channel islands! So, day or night, there will be people working away at the office, just as there are slot players spinning the reels day and night. In fact, there's a fairly impressive statistic which will show you just how popular Eyecon are. Their online slot reels are spun over 11,000 times every minute! That figure is just almost too much to compute! However it does amount to 6 billion times in 2018! You can imagine just how much money they paid out over the duration of 2018.
Back to the game in question; Fluffy Favourites Jackpot was never really officially released, there was no big fan fair made of the release. Eyecon simply offered an alternative, and they were pretty humble about it. So, here's what they had to say about Fluffy Favourites on their website.
"Fluffy Favourites is the most popular online slot game around! Play now to find out why. The reels are filled with the cutest stuffed animals, and the bonuses and prizes available are simply irresistible! Fluffy Favourites is nostalgic in its design, which will keep you coming back for more. Furthermore, it's colourful and bright, fun and rewarding – what more could you want? Join your fellow Fluffy lovers and spin Fluffy Favourites today because the fun waits for no one!"
Eyecon really could have pushed the boat out a little more when it came to letting the world know that they had created yet another exceptional online slot game! But, by now, online slot fans know to expect quality from Eyecon and the Fluffy Favourites franchise!
Similar & Related Games to Fluffy Favourites Jackpot
You probably guessed that we would cover all of the Fluffy Favourite slots here, and you were absolutely right. Usually, we like to cover some other games from other game designers. But considering that there is such a high amount of variance with Fluffy Favourites games, there really is no need to explore outside of the franchise!
Fluffy Favourites: If you haven't played the original Fluffy Favourites yet, can you even really call yourself a fan of online slot games? Well, of course you can. But Fluffy Favourites is still an online slot which everyone needs to check out at least once or twice to get the feel of the cult classic! The original was released all the way back in 2006, that is over 13 years ago! So, it is incredibly amazing that the game is still enjoyable today. We don't know the exact number of players from around the world who spin the reels on Fluffy Favourites, but we know that at Amigo Slots our customers can't get enough of it! Yes, the graphics are a little dated, and the gameplay in itself isn't exactly innovative by todays standards, but somehow, oddly, that only adds to the charm of the iconic slot which revolutionised the online slot game world! It is also worth noting that the original shares many similarities with Fluffy Favourites Jackpot as implied before. Fluffy Favourites Jackpot is simply a Jackpot version of this game, and they are never usually all too much differently! You'll see a higher RTP when it comes to the original which is set to 95.3% RTP, and you will be able to expect plenty more wins! The wins may be smaller, but if you would like more frequent wins, this is definitely the game for you!
Fluffy Too Online Slot: Of all the online video slot sequels, Fluffy Too may have been the most anticipated of them all! So, it really is a good job that Eyecon didn't disappoint. Even the name is genius! If you haven't noticed, it's a clever little pun! And that's only a fraction of the magic which you can expect when you spin the reels on the Fluffy Too online slot game. However, if you were looking for a total switch up of the game, you definitely won't find one here. It's got a slightly newer feel, and of course a brand-new coin pusher bonus round, but aside from that you will be able to expect plenty of the same stuff which you enjoyed in the original! Aside from that, you can expect the same return to player rate from the original game, along with the exact same amount of ways to win. Triggering the bonus round will also be exactly the same, the same, as will be the host of fluffy characters you will see on the reels. We get that some reel spinners may have been after just a little bit more from Fluffy Too, but don't be too disappointed because there are also plenty of other solid titles on offer from the Fluffy Favourites Franchise.
Fluffy Favourites Fairground Online Slot: As you can imagine, Fluffy Favourites Fairground is yet another sequel which finds a new way to celebrate Fluffy Favourites magic! It would seem that after the first sequel was released Eyecon didn't hang around by giving us plenty of other fun options to play with. Usually, with Fluffy Favourites it is all about the characters. Eyecon probably knew that other game developers may have been wondering if they could pull off a highly visual online slot. And that is exactly what they did with Fluffy Favourites Fairground where the characters literally come to life right in front of your eyes in 3D form! Yep, that's right, there's no more 2D characters, each fluffy, cuddly toy is brought to life! That's pretty much the big sell when it comes to Fluffy Favourites Fairground – aside from the brand new bonus feature of course! It wouldn't be a Fluffy Favourites sequel without one of those! This time, you'll get to reignite your love of hook a duck! If you aren't already familiar with that game, it's where you get a stick, then use it to fish out a floating rubber duck, the duck is concealing a secret prize which will be revealed when you successfully hook a duck. Usually you'll win a teddy or a goldfish that will last forever or die within a day. Thankfully, with Fluffy Favourites Fairground you just get a nice offering of cash, and some pretty juicy multipliers.
Fluffy Favourites Instant Online game: While Fluffy Favourites Instant isn't technically a slot game, we thought we'd include it as an alternative, because that's exactly what it is. All forms of games which we have previously enjoyed in the 'real world' have made their digital debut in recent years. Even the humble scratch card. That's right, there's no going to the shop if you fancy winning some money on a scratch card! You can do it right from the comfort of your own home. And if you are on a winning streak, you'll be able to keep on scratching. As you can imagine, the gameplay experience is fairly simple. There are no overly complicated rules to follow, just scratch away with your mouse (or your finger on your smartphone). There's a great return to player rate with this online slot. Plus you will get to see all of your favourite characters from the Fluffy Favourites franchise who you came to love in the online slots!
Fluffy Favourites Bonus Online Slot by Instant Win Gaming and Eyecon: Sequels can be hit or miss at the best of time. So, with Fluffy Favourites Bonus, Eyecon had to make sure that they went the extra mile. While it would have made sense for them to do that with the first sequel, it is easy to feel that they played a pretty ingenious move by waiting for the third sequel before totally mixing everything up!
The 5 x 3 reel grid has been expanded into a 9 x 6 reel grid, so there is quite a lot going on with the gameplay here. But it is fairly easy to get to grips with playing with more symbols on the reels at the same time. You'll see plenty of your firm favourites such as the pink elephants but they won't appear on the reels as they usually do. Instead, it's much more like playing a game of Tetris where the symbols float from the top and slot into place – hopefully winning you a nice amount of cash along the way! As you can expect from an online slot game called Fluffy Favourites bonus, you can expect a pretty sizeable jackpot. The jackpot can be won from finding 15 bonus symbols which are the hippos. That might seem like it may never happen, but, don't forget the size of the reels you will be playing on. If you do find 25 hippos, you can expect to see 10,000 coins hitting your balance.
Hottest UK Mobile Slots